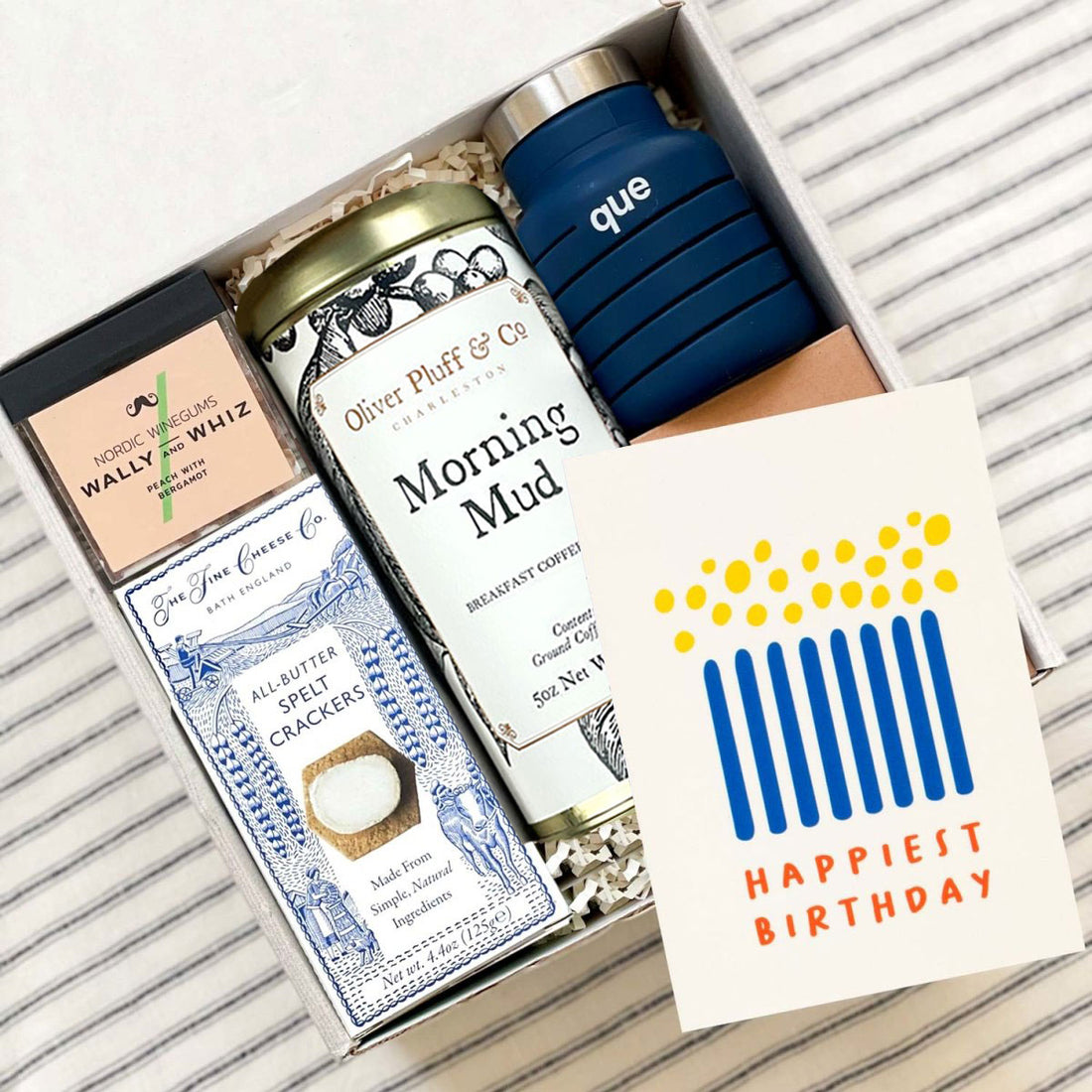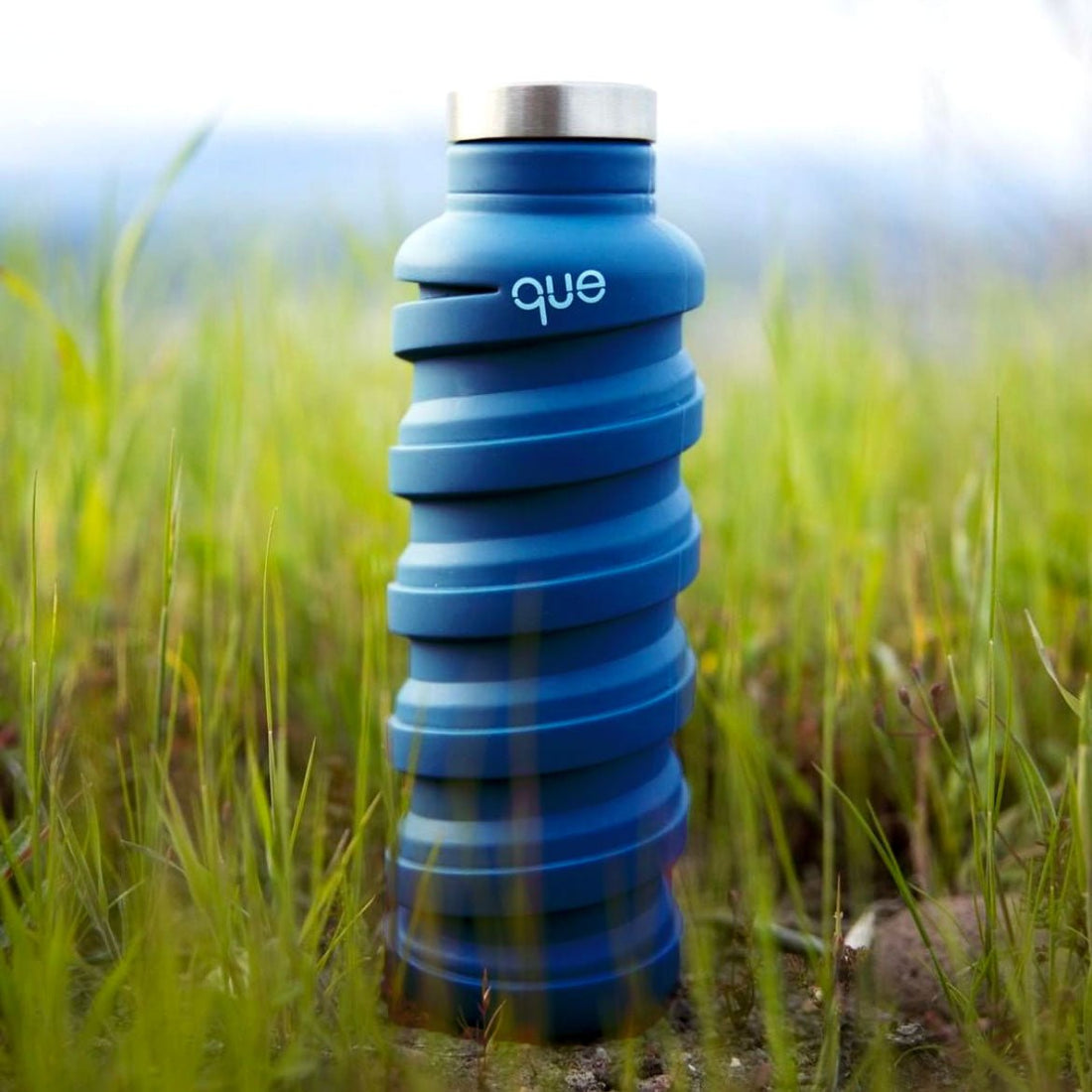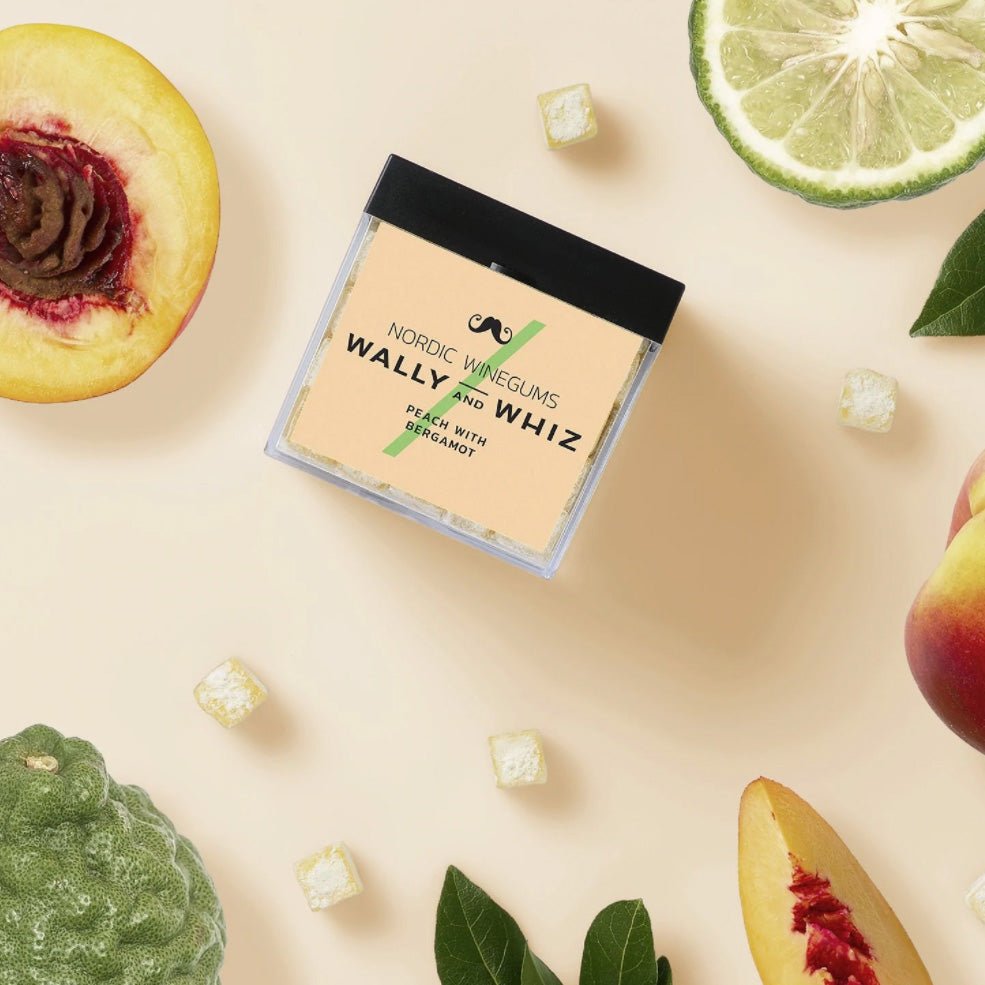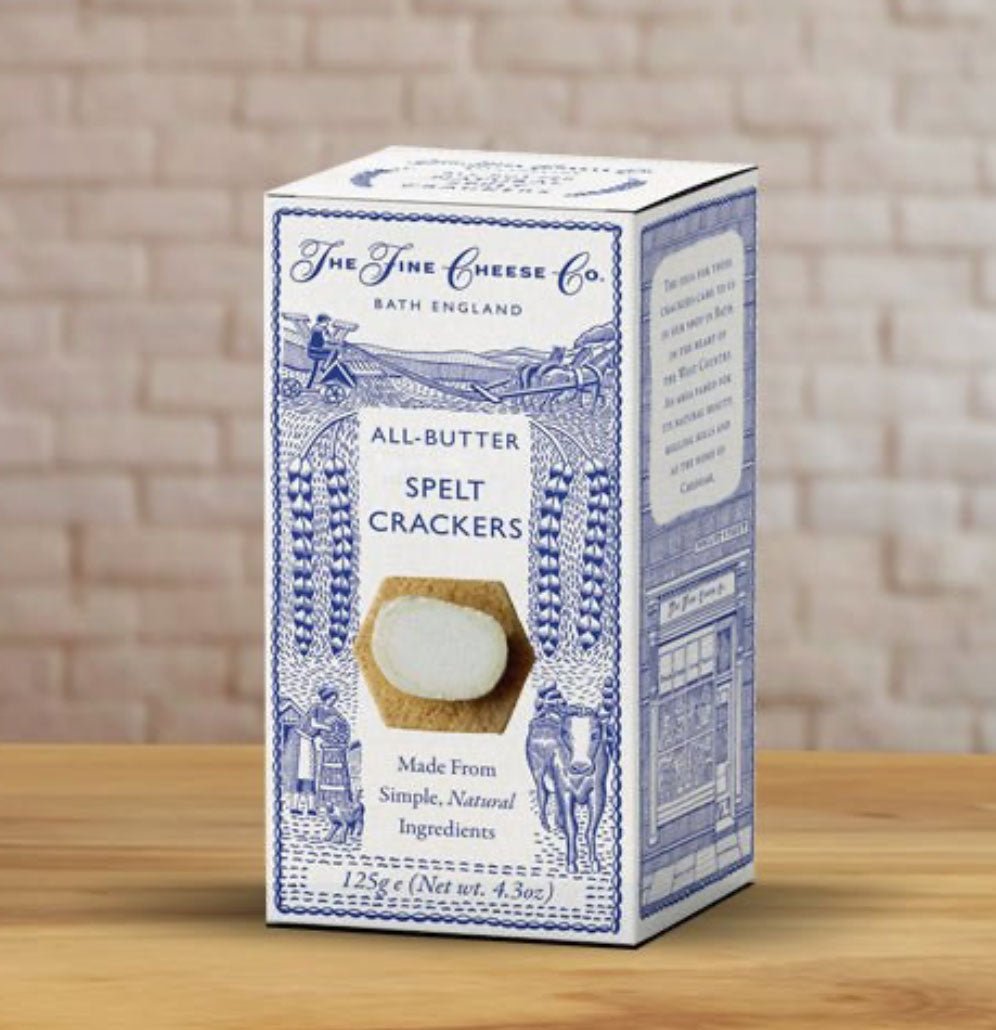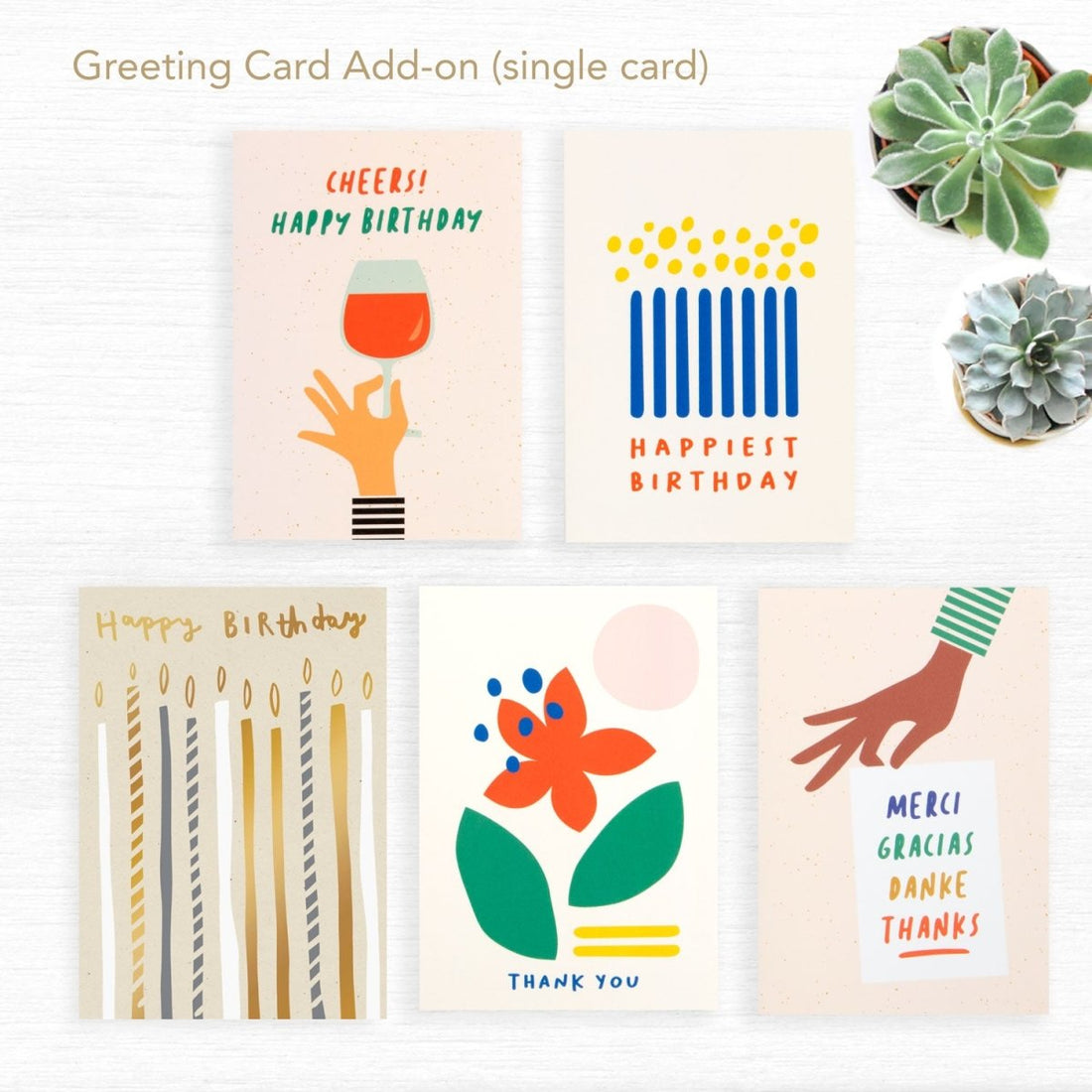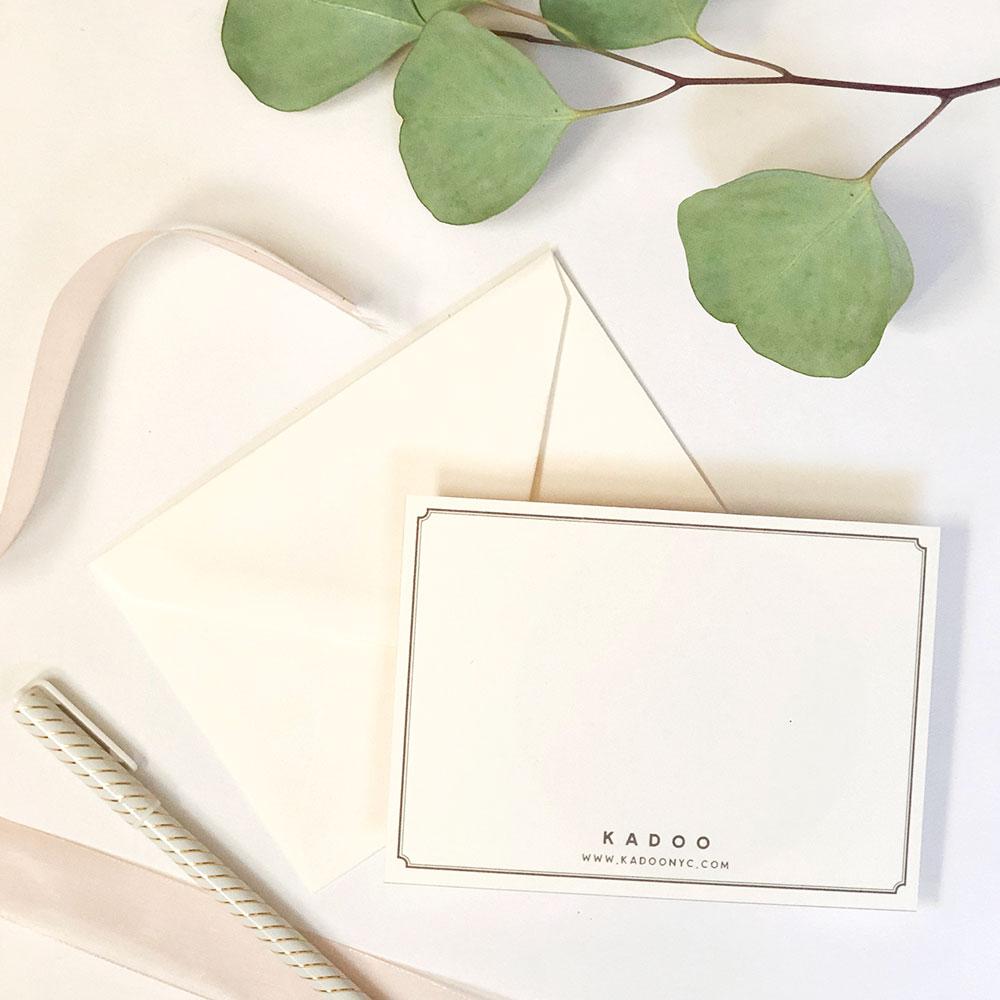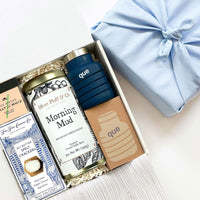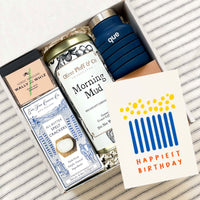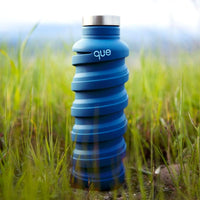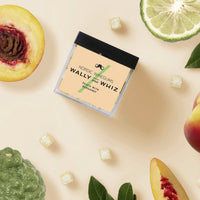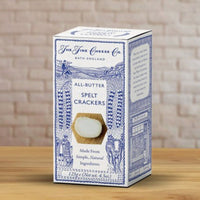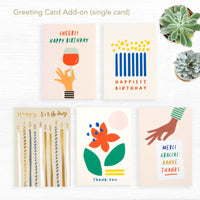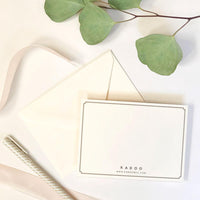 On The Go Curated Gift Box
Give the gift of these hand curated products, a sweet treat for the active man who is always on-the-go. A selection of collapsible water bottle, morning coffee, brown butter cookies and wine gums.
Featuring:
Eco-friendly collapsible water bottle by Que Bottle to keep hydrated. 
Gourmet Blend Morning Coffee by Oliver Pluff & Company.
All-butter spelt crackers by The Fine Cheese Co. 
Nordic peach and bergamot wine gums by Wally & Whiz.

Wrapped in light blue 100% Furoshiki linen.

Your custom message in complimentary KADOO ivory notecard or a choice of adding a greeting card.

On occasion we may substitute another item of equal or greater value to assure your gift item arrives on time. We may also substitute a product of equal or greater value for chocolate components during warm weather. 
Que Bottle in Midnight Navy
Meet the original collapsible bottle. The patented spiral design allows the bottle to be compressed to take up less space, which also reduces its carbon footprint during shipping. 100% Plastic Free (BPA Free & Non-Toxic and 100% Food-Grade Silicone (Bottle). Leakproof & Shockproof Temperature Resistant up to 400F. Dishwasher Safe. Collapsed Height: 4.8in. Expanded Height: 8.4in. Capacity: 20 fl oz.

Morning Mud Coffee by Oliver Pluff & Company
Great Coffee to start the day or to enjoy with your favorite evening treat. Tasting notes: milk chocolate, caramel, nut flavors, medium roast with a medium acidity, medium body and average sweetness. Blend note: A blend of Columbia Supremo, Brazil Yellow Catuai and Guatemala Antigua. One tin, 5oz roasted ground coffee bean blend.

The Fine Cheese Co. was founded by Ann-Marie Dyas. A judge at both the British and World Cheese Awards, Ann-Marie was committed to the survival of traditional cheese-making, and to introducing farmhouse cheeses to as wide a public as possible. Based in Bath, UK a world's heritage city built by the Romans, the company also produce gourmet products to complement the cheeses. Their dedicated and unique ranges of Crackers (made by our sister Company, Artisan Biscuits), Fruits, Whole Fruits, Chutneys, and English Pickles for Cheese are the result.

Wally & Whiz Nordic Peach and Bergamot Wine Gums
Bergamotte is probably best known from the taste of the calm Earl Gray tea. The sour and sweet Peach combined with the Bergamot is a delicious and nuanced tasting experience. One box, 140 gr.
Que is the design company for people and the planet they live on. Their mission is to reduce plastic waste by creating a practical and stylish alternative that can be taken anywhere you go.

Oliver Pluff & Company is a Veteran Owned small business based in Charleston. They tell the story of historic American beverages--including teas, spiced-drinks, cacao, and coffee--for historical sites, National Parks, gourmet markets, and consumers looking for a great beverage, hand-packaged in signature, artisan tins. They are connecting people around the country to the early American experience through these historic beverages.

The Fine Cheese Co. All-Butter Spelt Crackers
Sweet and slightly nutty, all-butter, melt-in-the-mouth crackers. A neutral partner for cheese.

Wally & Whiz adventure started back in 2014 with Kristian Them Hansens love for winegums. With a bag of winegums in his hand, it appeared to him that he could not taste what sort of fruit the winegums tasted like. This sparked his curiosity on whether it would be possible to make a winegum with the actual taste of fruits, based on the best possible ingredients, and furthermore without all the nasty elements normally found in a winegum. Months and months of testing and experimentation finally resulted in a product that satisfied his needs. This is where the name "Whiz" comes from.