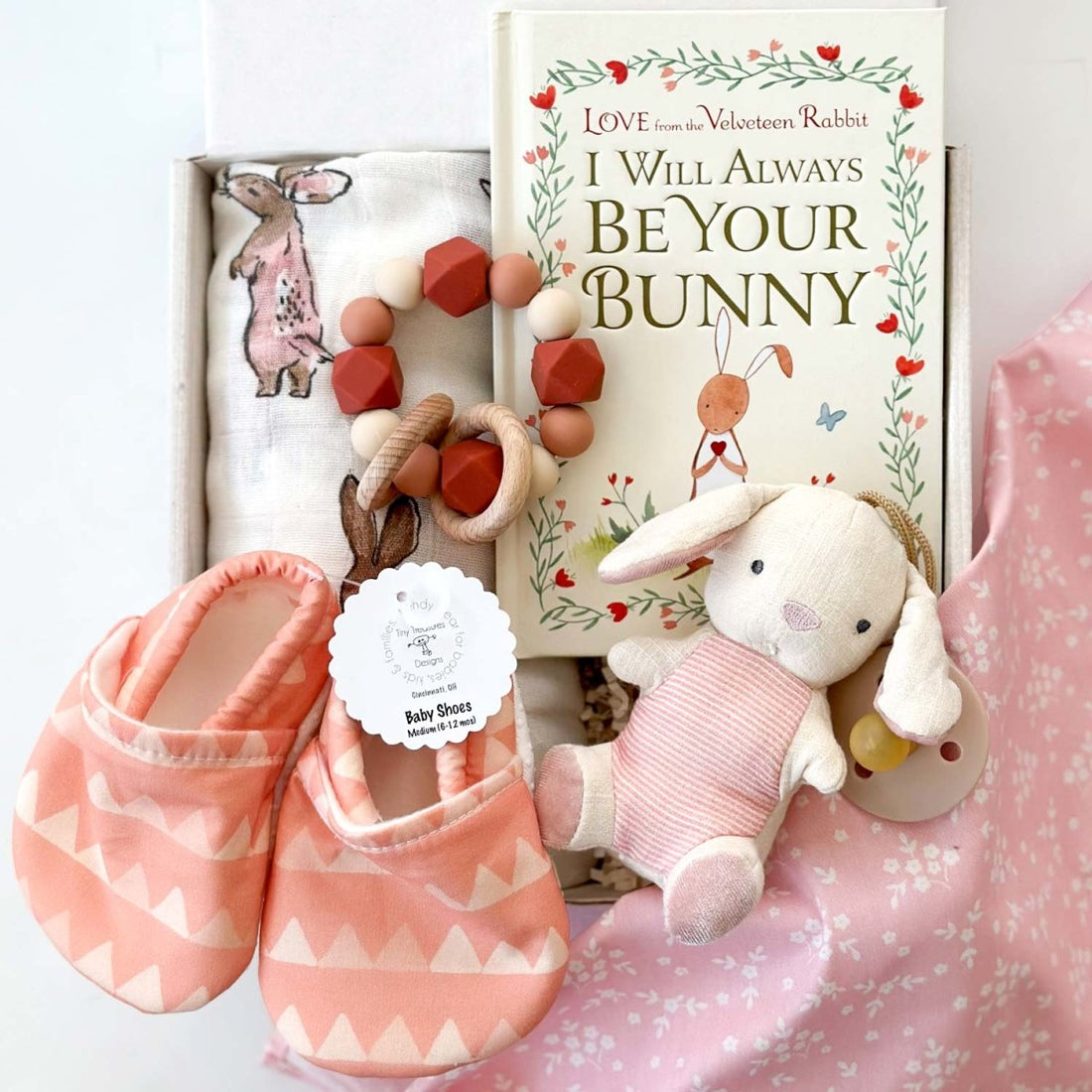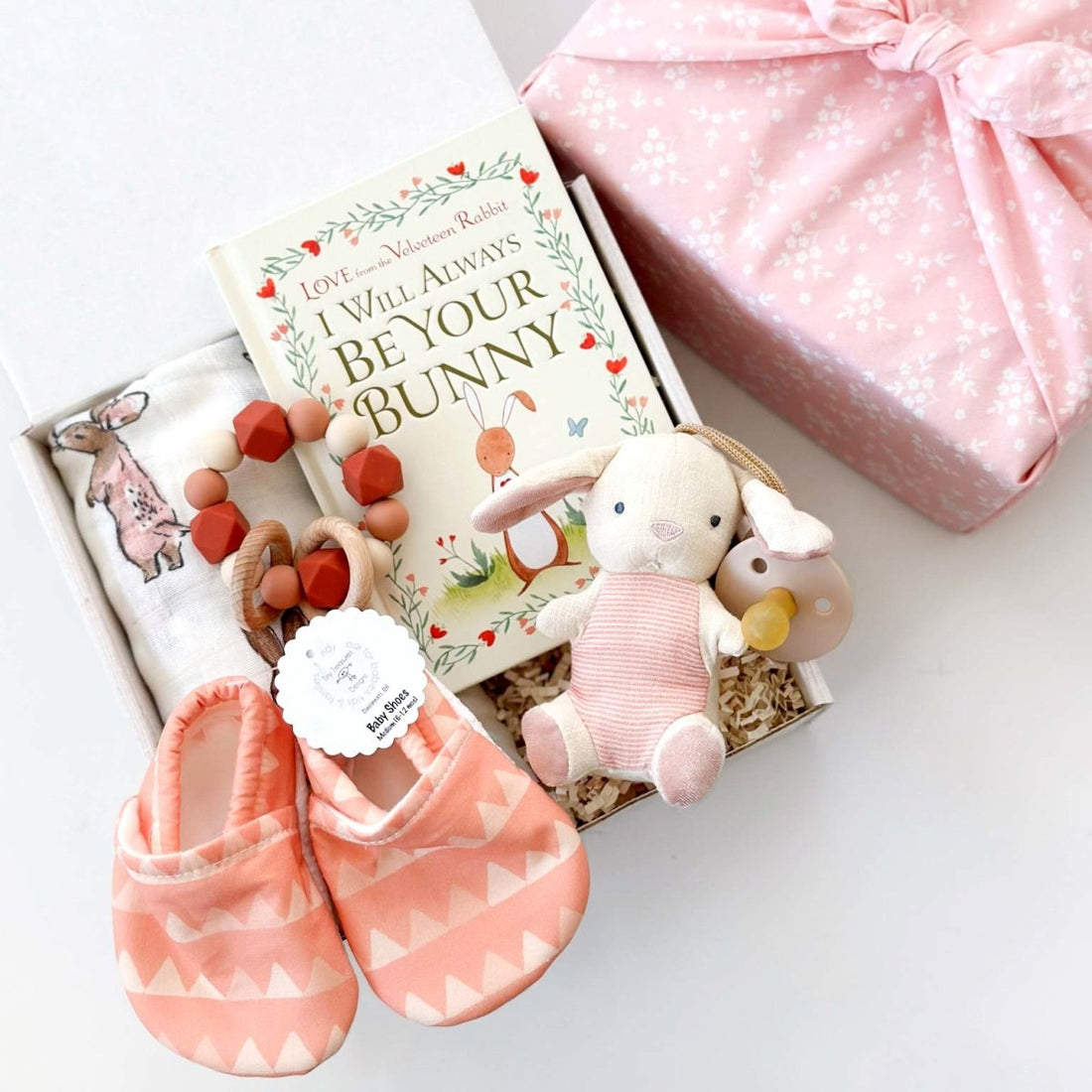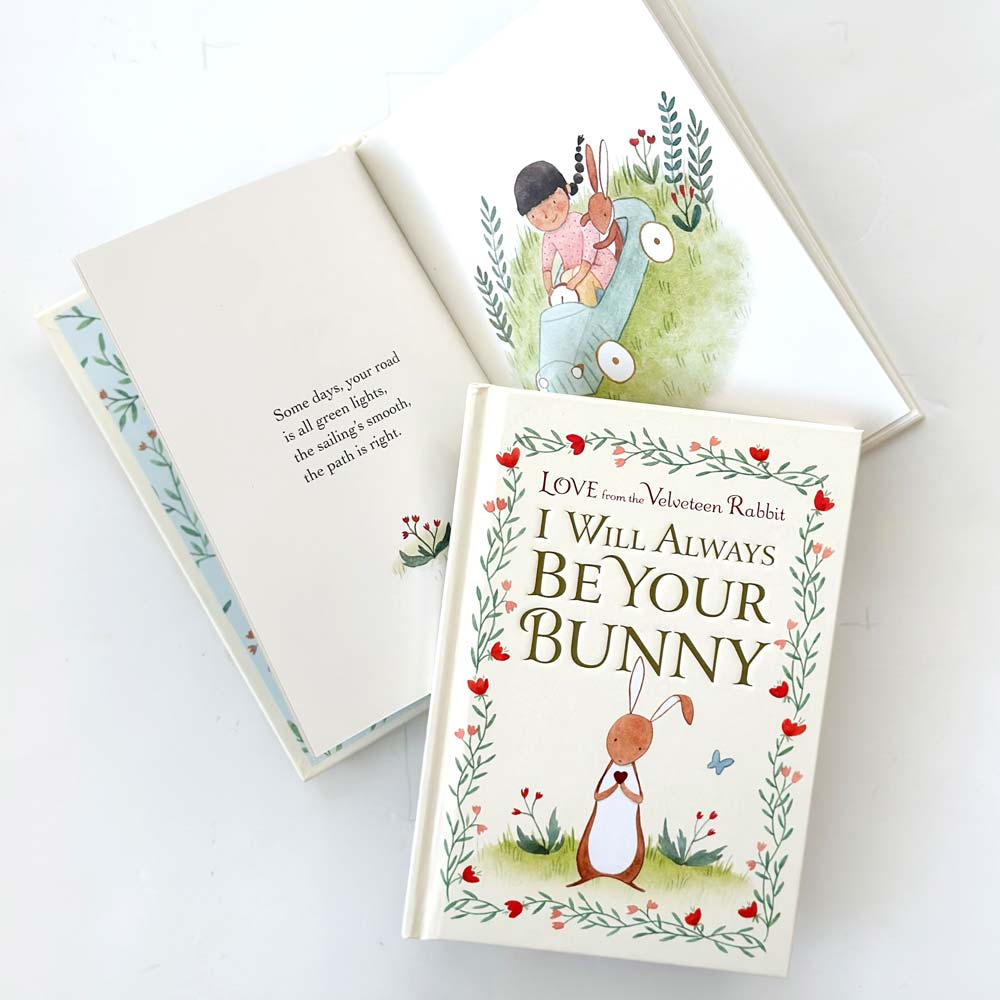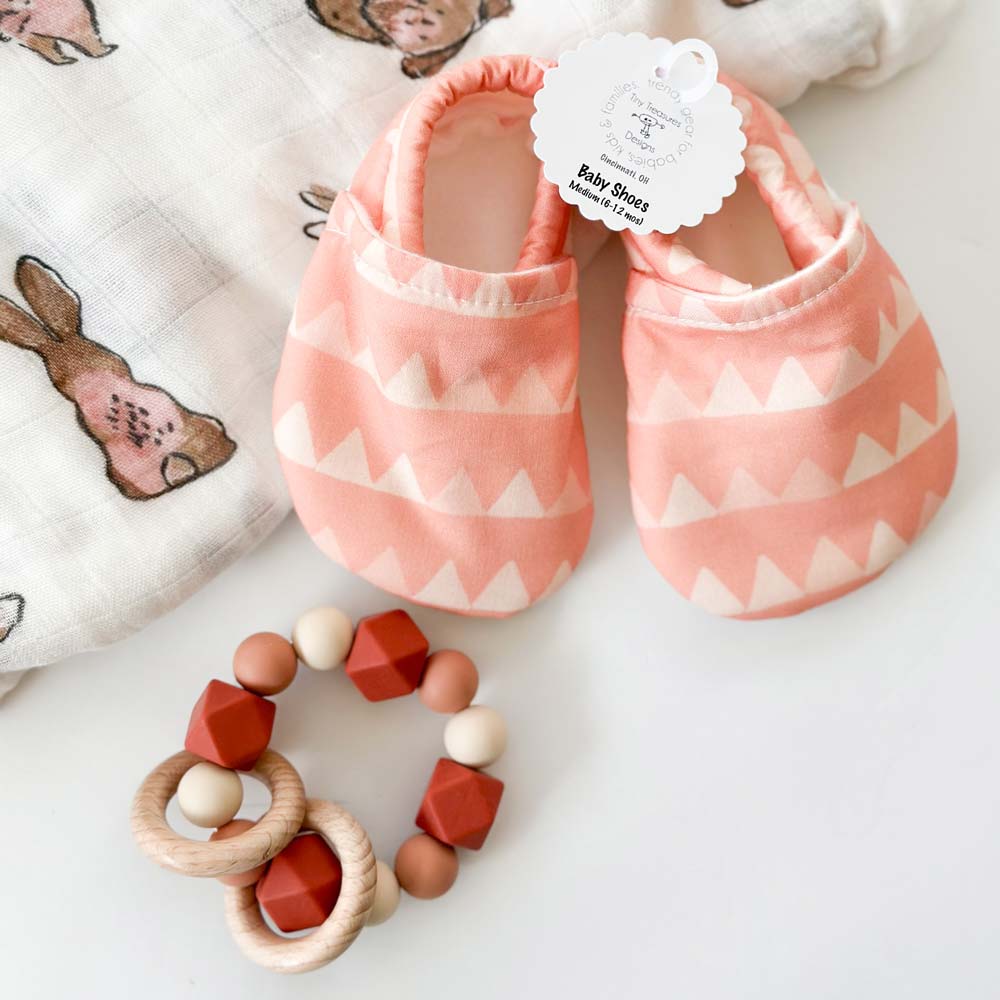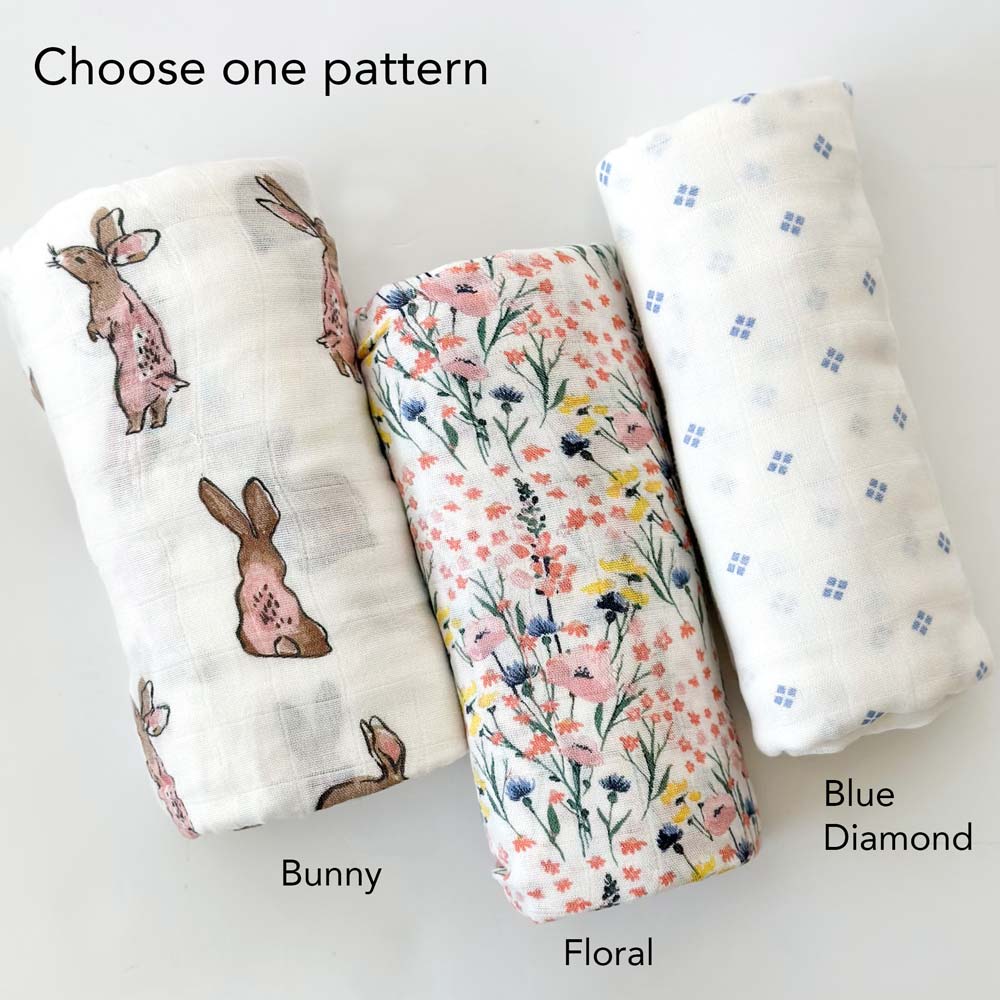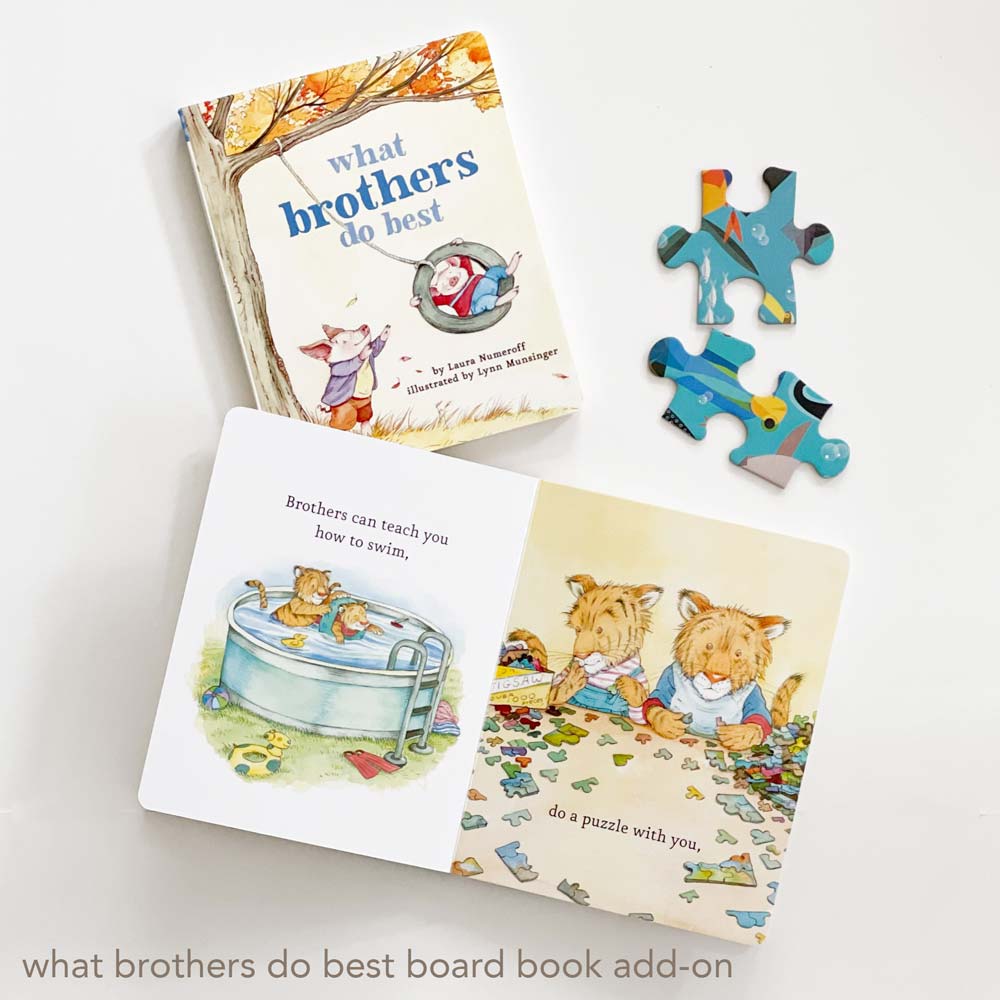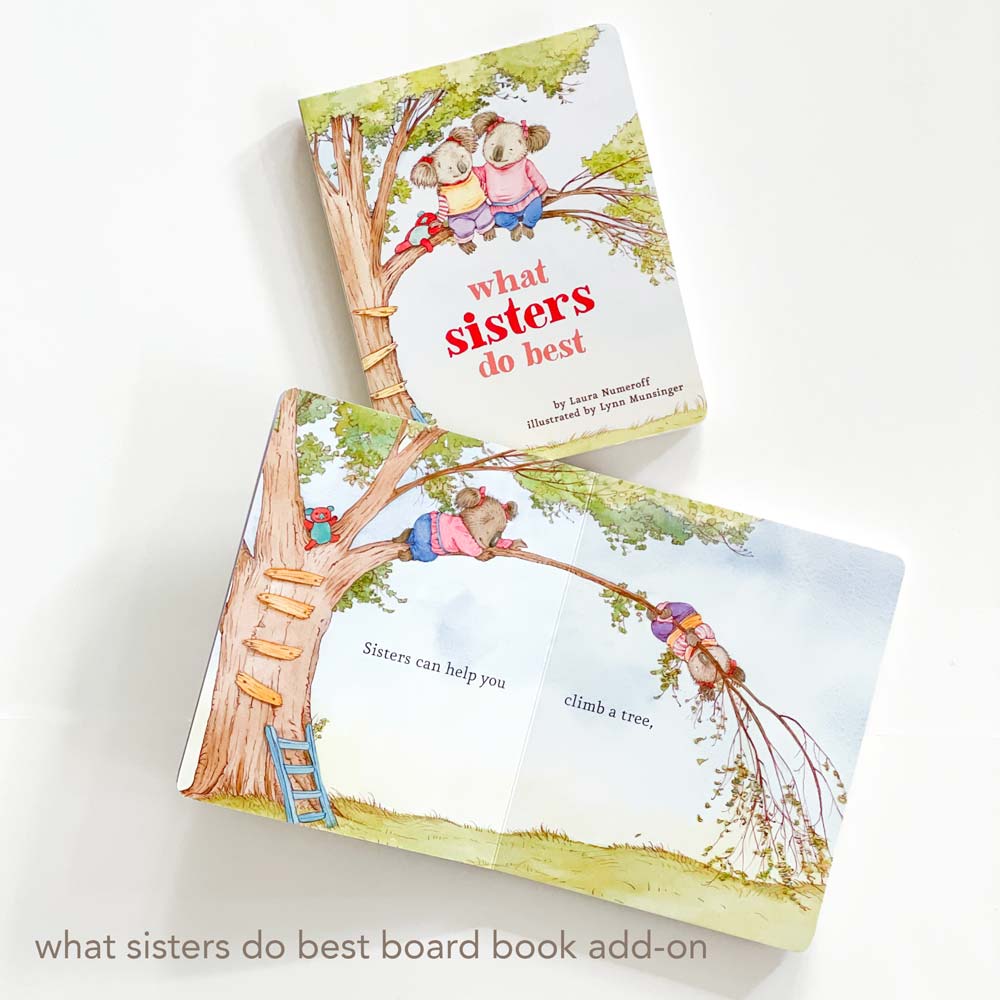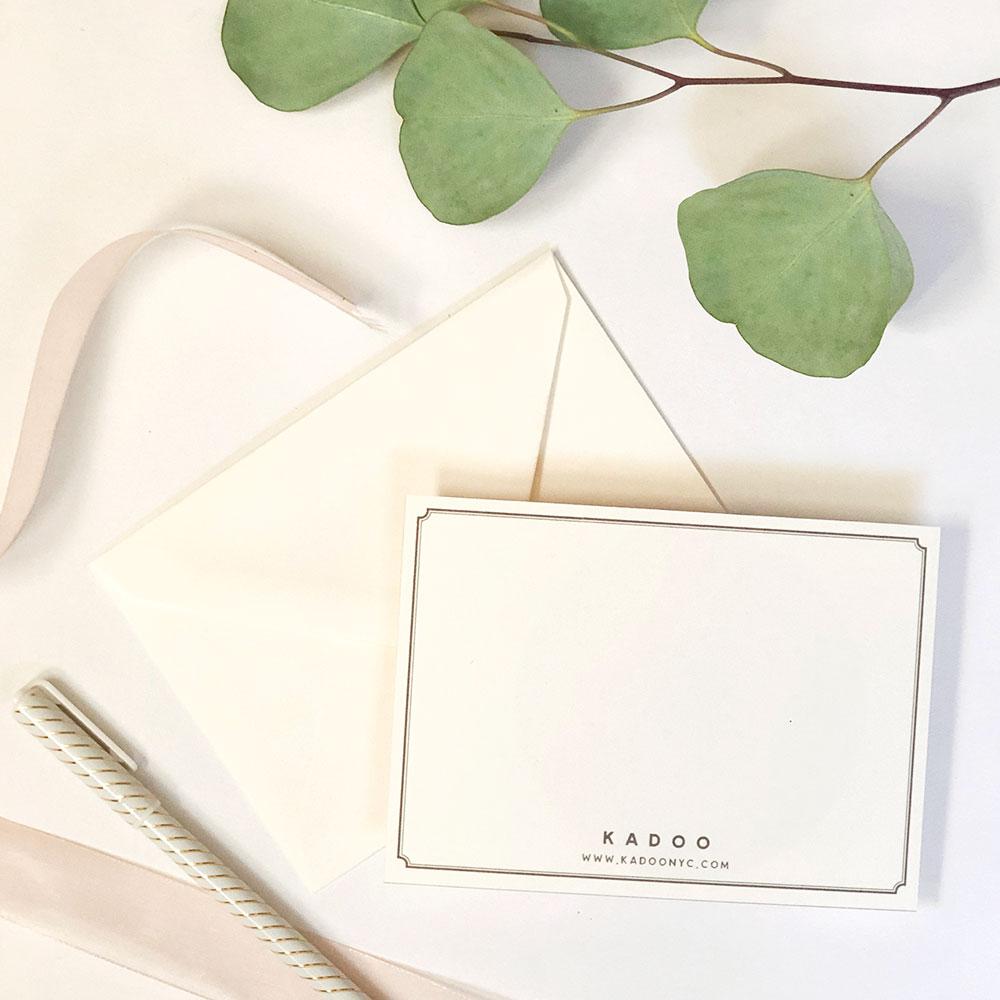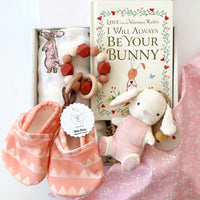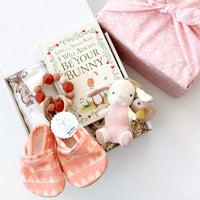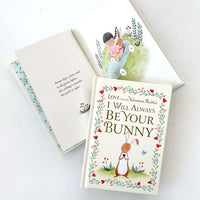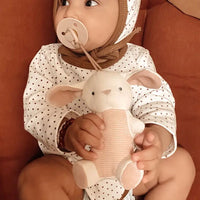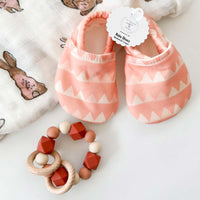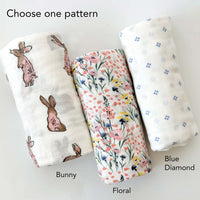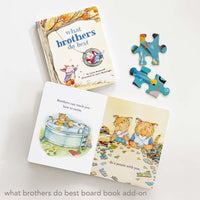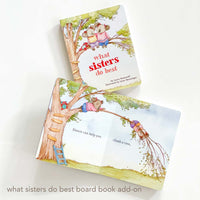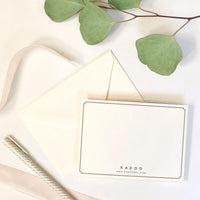 Curated Baby Girl Sweet Bunny Gift Box
Welcome the baby girl with a Sweet Bunny Gift Box. Featuring a soft swaddle blanket, baby shoes, rattle, and more. Your gift will be cherished for years to come. Wrapped in our reusable Furoshiki 100% cotton, with an option of add-on sibling board book.
Featuring:

A super soft muslin bamboo swaddle for delicate skin by Newcastle Classics (choose one pattern).
A wooden ring silicone bead teething rattle by LT Shop.
A pair of pink garland baby shoes by Tiny Treasures Designs.  
A natural rubber pacifier and stuffed animal bunny by Itzy Ritzy.
I Will Always Be Your Bunny book by Frances Gilbert, illustrated by Julianna Swaney and published by Penguin Random House.
An eco-friendly Furoshiki organic cotton fabric wrap.
Your custom message in complimentary KADOO ivory notecard.
100% Natural Bamboo Muslin Swaddle in Three Patterns
Soft, breathable, pre-washed three patterns of muslin swaddles made from natural bamboo fibers. Use these swaddles as a stroller or nursing cover, changing pad cover, burp cloth, tummy time blanket and more. The breathable fabric helps reduce the risk of overheating while the generous size makes swaddling a breeze. Size: 47" x 47" (120cm x 120cm). Please choose one pattern.

Wooden Ring Silicone Bead Teething Rattle by LT Shop
These beautiful handmade minimalist teething rattles encourage fine motor development and sensory exploration. They make a light rattling sound and can soothe sore gums. Materials: Food-grade Silicone Bead & Natural Wood Rings. Size:8cm x 7cm.

Baby Shoes in Pink Garland Patterns by Tiny Treasures Designs
Their handmade baby shoes make the perfect gift to give or keep for you little one! Their sizes grow with baby and featuring designer cotton upper/cotton fleece lining and grippy soles. Fit for 6-12 months (5" length).

Bitzy Pal Natural Rubber Pacifier & Stuffed Animal by Itzy Ritzy
Meet The Bitzy Pal™, your baby's new bestie & self-soother all-in-one! Extending from the Bitsy Bespoke™ toy collection comes a playful plush lovey beautifully crafted with a soft, cotton textile & complemented by a pacifier featuring a natural rubber nipple. Vibe check: instantly soothing & cuddly.

I Will Always Be Your Bunny book by Frances Gilbert, published by Penguin Random House
Inspired by The Velveteen Rabbit, this adorable gift book celebrates friendship, loyalty, and everlasting love. It's the perfect present for both children and adults, a warm read-aloud for those who enjoyed Love from the Very Hungry Caterpillar, and a thoughtful choice for year-round gift-giving.

Sibling Gift | Children's Book (optional add-on):
What Brothers/Sisters Do Best - Children's Book by Chronicle Books
This delightful board book by renowned author-illustrator team Laura Numeroff and Lynn Munsinger celebrates all the wonderful things brothers/sisters can do. Brothers/sisters can push you on a swing, make music with you, and take you to the library. But what do brothers/sisters do best? The answer is clear in this appealing board book, celebrating siblings and the everyday things they do.

Newcastle Classics is a women-owned boutique exclusive brand in Newcastle, California. Featuring timeless swaddles, blankets, bibs, and towels for kids and baby. Their goal is to provide timeless designs for a more modern mom, with elevated packaging, as well as competitive prices. Their company was started by a mother of two boys who wanted to create products with classic prints that would blend well with her everyday style.

LT Shop is based in Ely, Minnesota. They are an online kid's toy store with a huge variety of toys available. No matter your child's interests, you will find something in stock that sparks fun and enjoyment. They believe that play is an essential part of growing up, and they are doing our part to encourage all families to play together!

Tiny Treasures Designs is a women-owned company based in Cincinnati, Ohio. Tiny Treasures was born with the birth of the founder's second daughter and her desire to create handmade baby items for her. In 2011, she left the corporate world to stay home with her girls and grow her company. They are currently in over 250 shops and boutiques throughout the U.S. and internationally.

Itzy Ritzy is a women-owned company based in Naperville, Illinois. At Itzy Ritzy, they believe parenting in style is possible. They work hard to make a collection of baby, toddler, and lifestyle accessories that provide smart solutions to everyday challenges since 2009.

FRANCES GILBERT is a children's book editor and the author of the picture books. Illustrations by JULIANNA SWANEY, an illustrator, designer, and fine artist whose work is inspired by themes of imagination, whimsy, and melancholy.
Penguin Random House is the international home to more than 300 editorially and creatively independent publishing imprints.