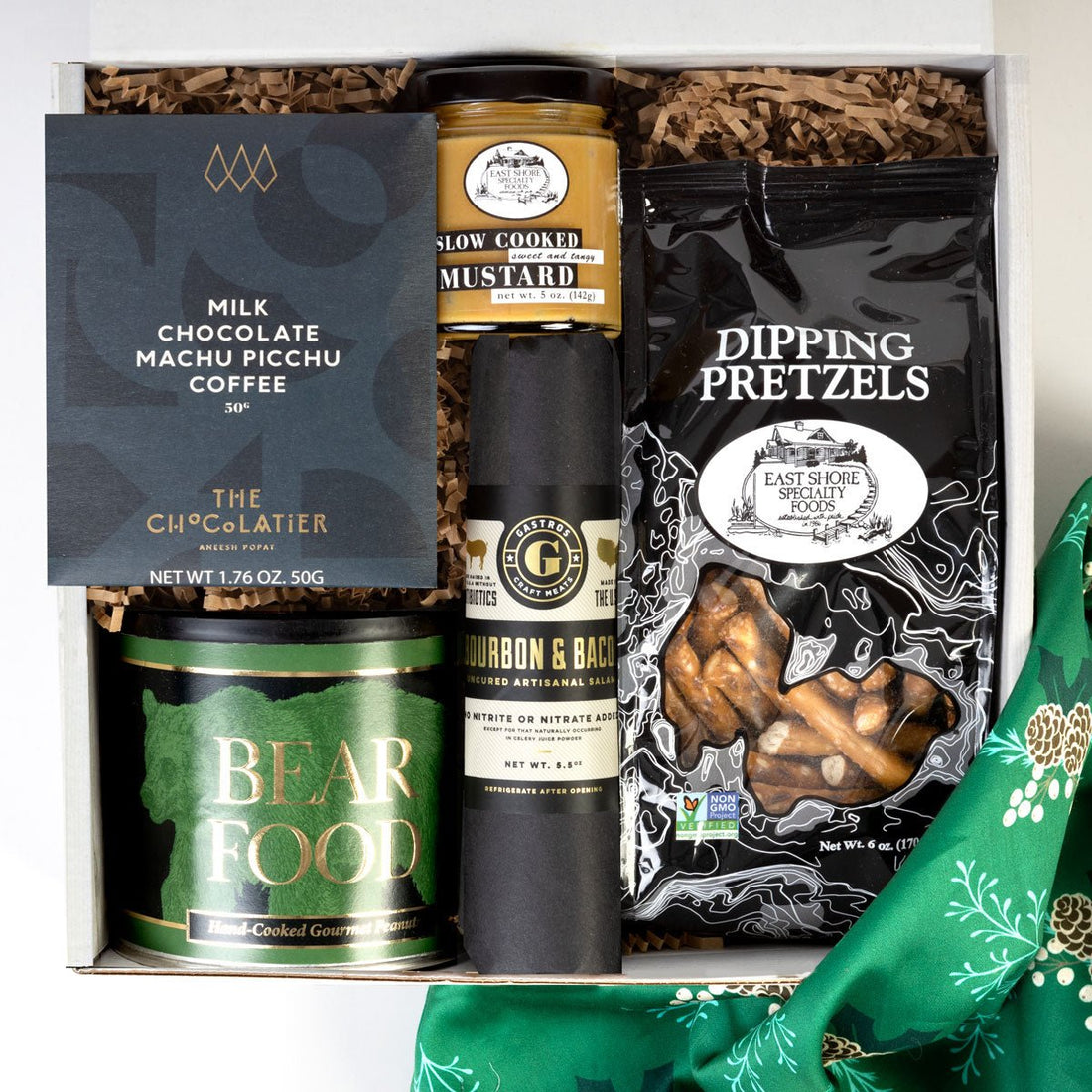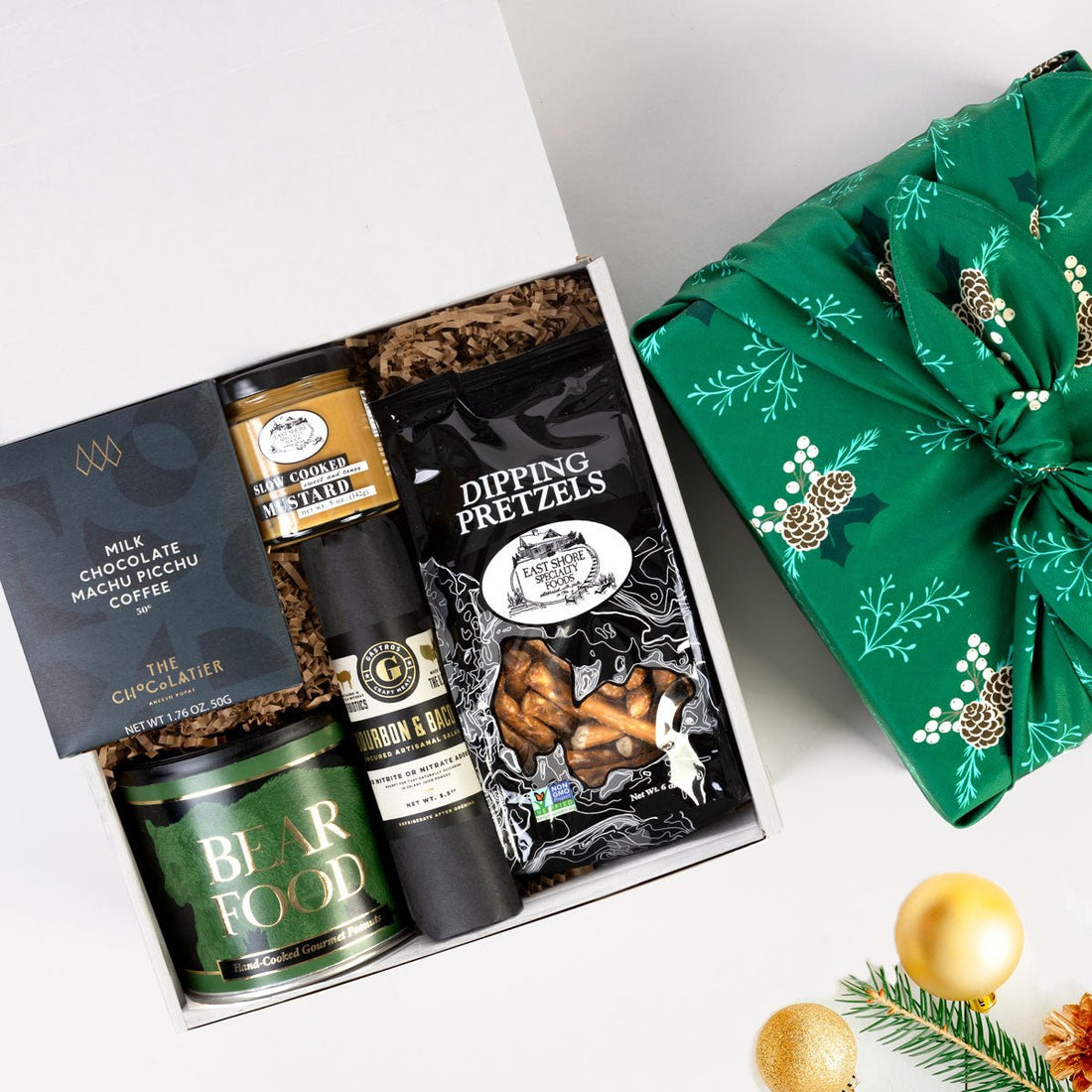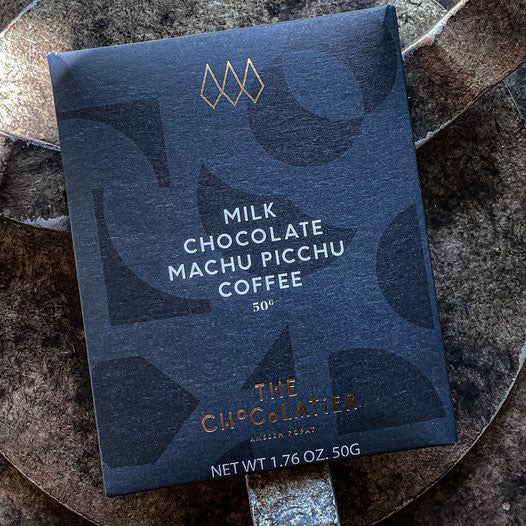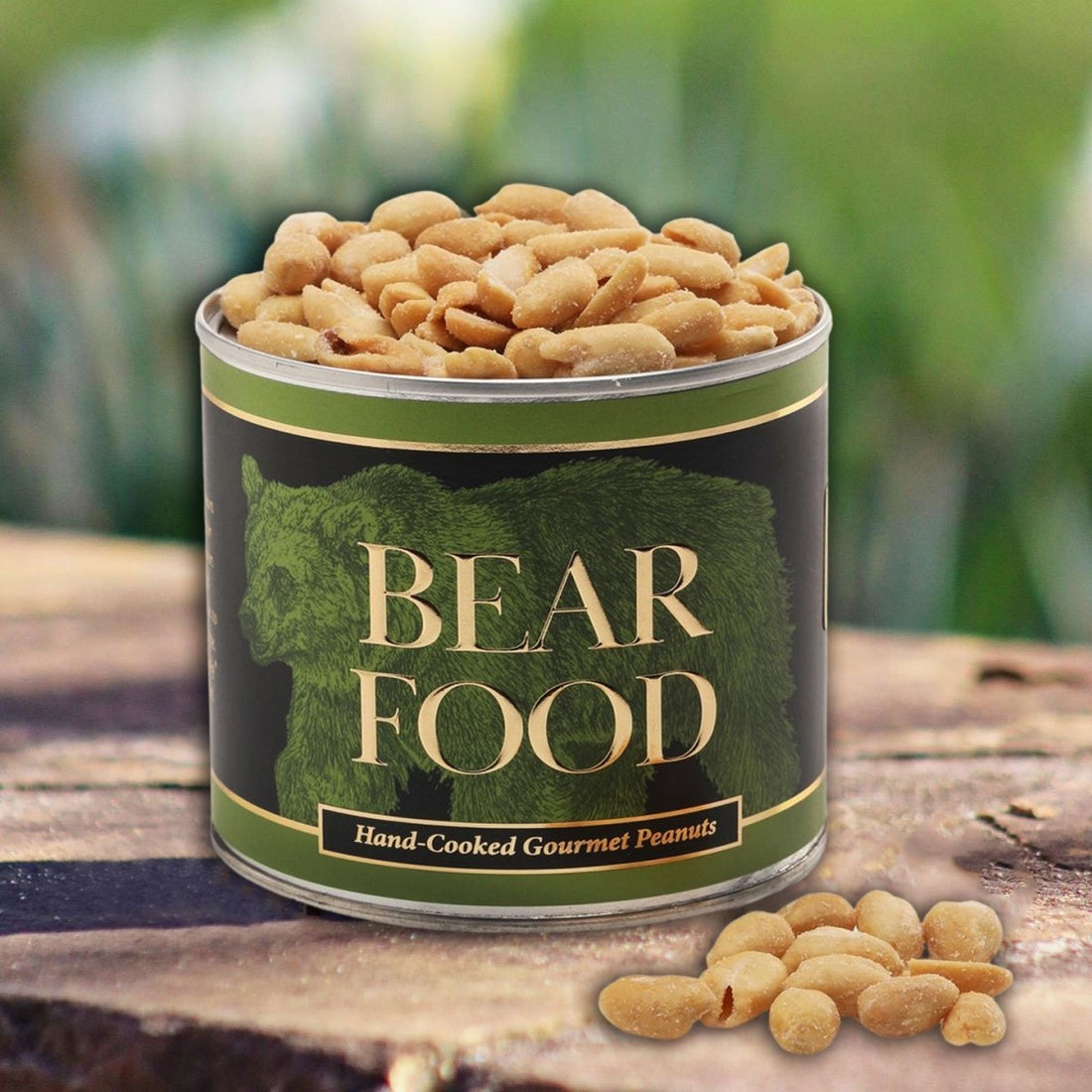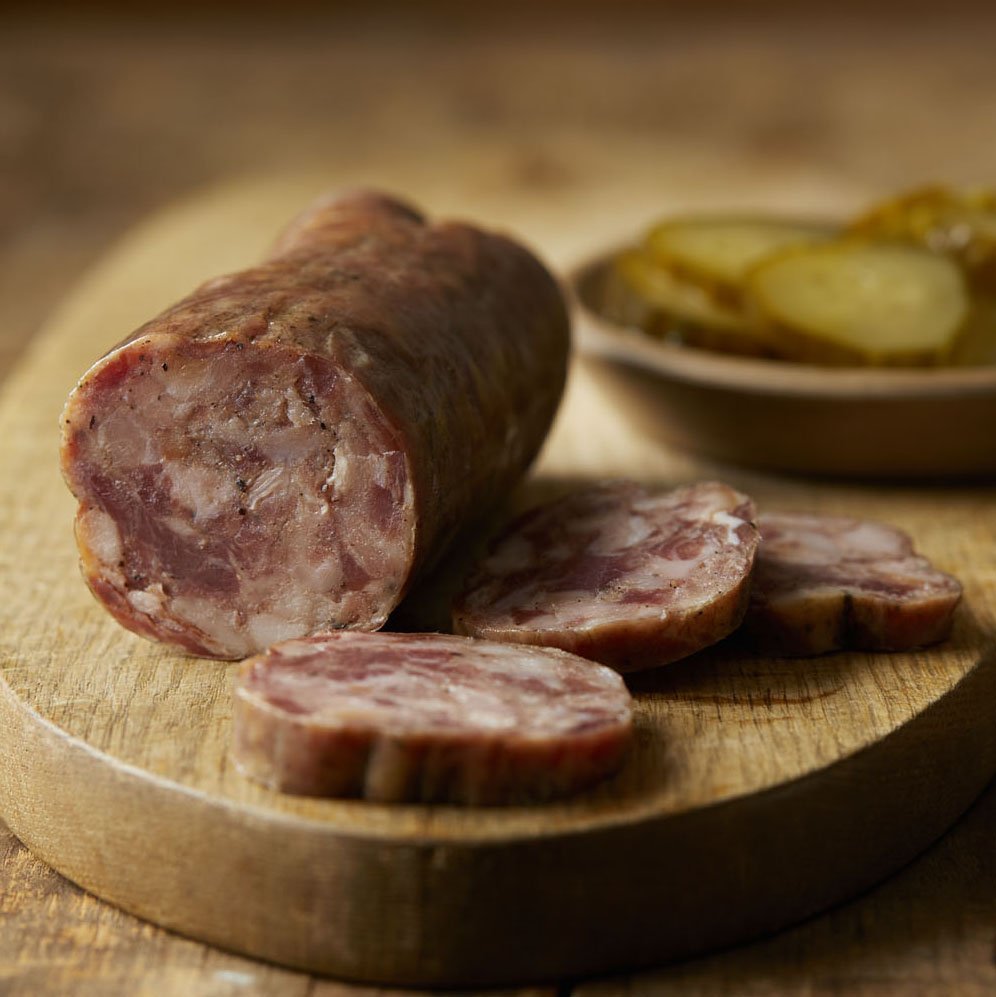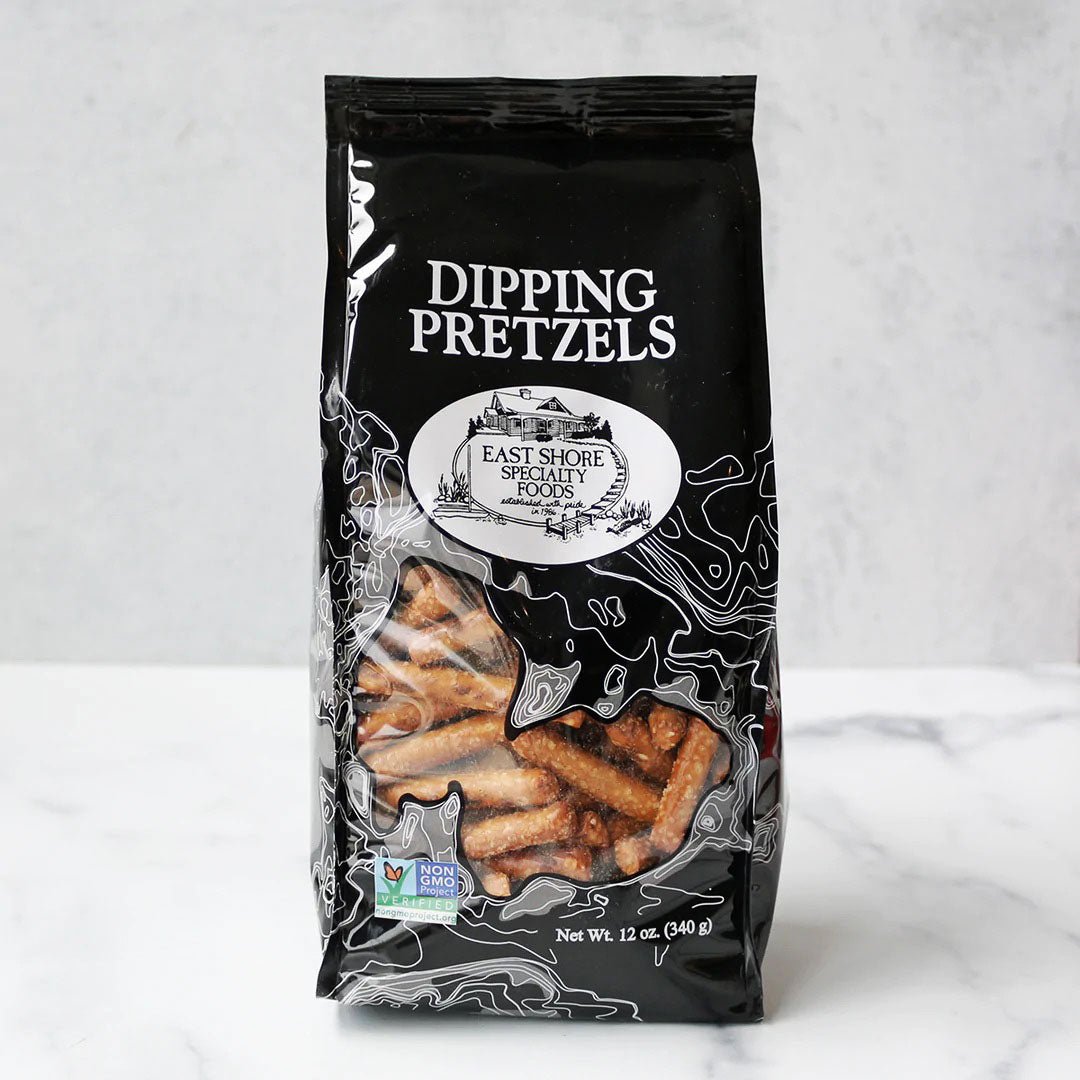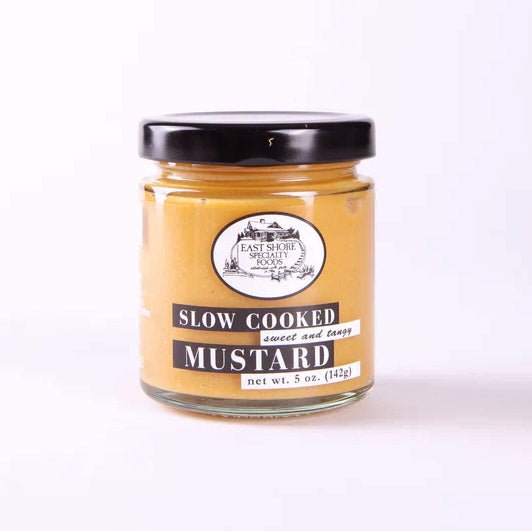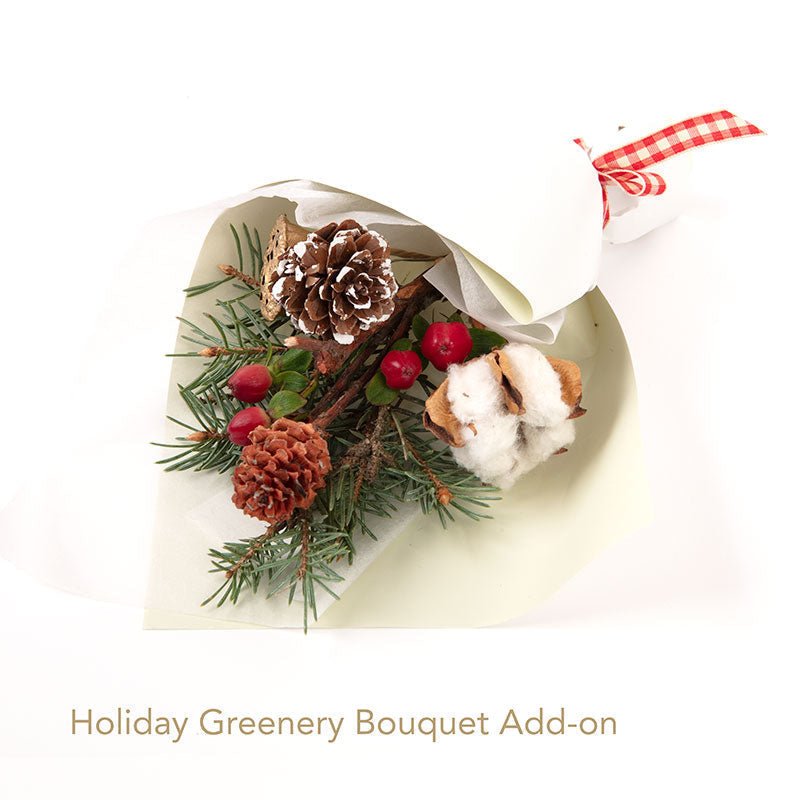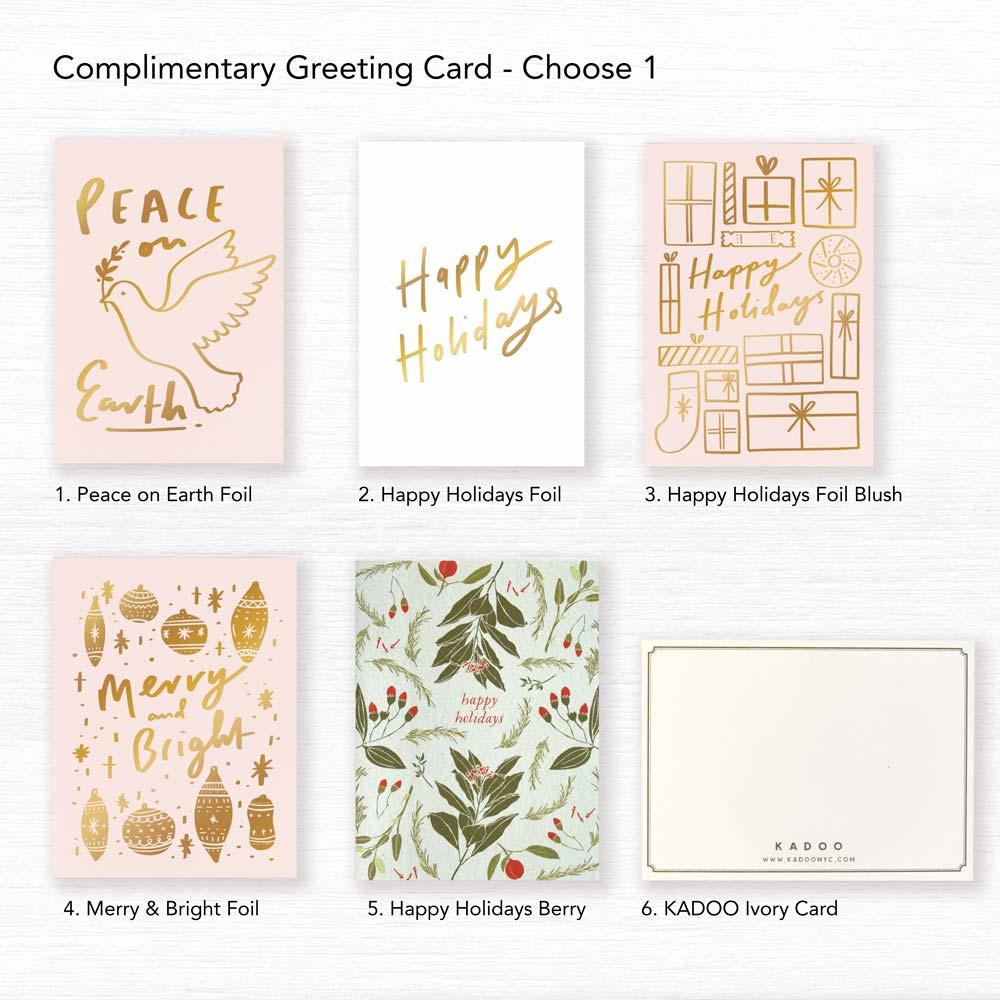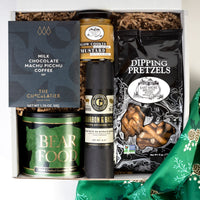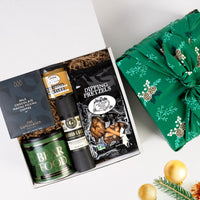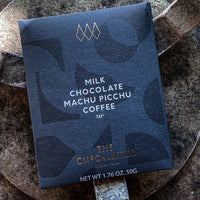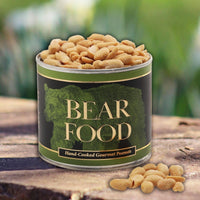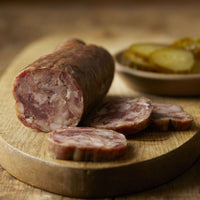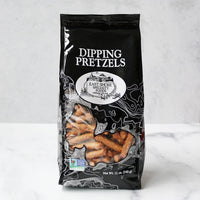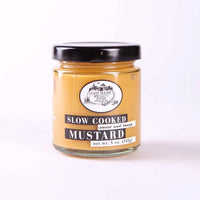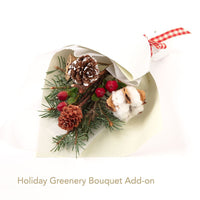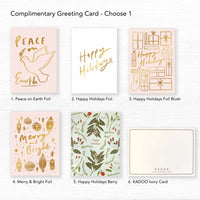 Sweet and Salty Holiday Curated Gift Box
Coming into holiday season with heartwarming treats, curated for any charcuterie and savory snack lovers to pause for a moment and savor the season. This gift is a great choice for employee appreciation, client gift and corporate gifting. 
Featuring:
Machu Picchu Coffee Milk Chocolate Bar by The Chocolatier.
Dill Pickle Gourmet Peanuts by Bear Food.
Sweet and Tangy Dipping Mustard by East Shore Specialty Foods.

Bourbon and Bacon Artisanal Salami by Gastros Craft Meats.

Dipping Pretzels by East Shore Specialty Foods.
Holiday Pine Cones Furoshiki 100% cotton wrap.
Your custom message in complimentary KADOO ivory notecard or add-on a Festive Holiday notecard.
The Chocolatier Machu Picchu Coffee Milk Chocolate Bar
Peruvian Arabica coffee and Javanese milk chocolate both with matching notes of caramel and hazelnuts, making this bar truly harmonious. One bar, 50 gr.

Bear Food Dill and Pickle Gourmet Peanuts
This addictive combination of dill pickle and peanut pair perfectly with a cold beverage! The surprising punch of flavor is irresistible and will catch you craving more!

East Shore Specialty Foods Sweet & Tangy Mustard
The original East Shore mustard has an intense taste with a zesty burst of flavor. It is the perfect secret Ingredient in any recipe calling for mustard and a great dipping for the East Shore Pretzels. No salt added. Product of USA.

Gastros Craft Meats Bourbon and Bacon Artisanal Salami
Who doesn't love bourbon and bacon? This salami showcases bacon, generous amounts of bourbon and antibiotic free Berkshire Pork raised in the USA. No nitrites or nitrates added.

East Shore Speciality Foods Dipping Pretzels
Anything goes with this unseasoned pretzel! These plump, salted sticks are true to their name. They are excellent for dipping in mustard. Non-GMO Project Verified. Product of USA.
The Chocolatier was founded by Aneesh Popat. Voted as one of the 1000 most influential Londoners, Popat is an award winning chocolatier and an ambassador of fine chocolate. Their mission is to "change the world one chocolate at a time". Every chocolate expertly made and savored, makes a positive difference by contributing to the education and materials for children in India. The Chocolatier also focuses on carefully sourcing ethical cacao from plantations to support the conservation of nature and wildlife.

The story of Bear Food peanuts is as much about Mac Brydon as it is about his best friend and older brother, Miller. Miller has Down's Syndrome. Brydon said this is the typical story for many people with special needs across the country, the majority of which are unemployed. He wanted to change that, so he created Bear Food — a hand-cooked gourmet peanut company that gives people with disabilities a chance to learn job skills and responsibilities. Bear Food's jumbo gourmet peanuts are cooked by a supplier using a time-honored Virginia recipe that's been handed down by generations.

East Shore Speciality Foods is a women-owned company founded by Jeri Mesching. She started with one product, Sweet and Tangy Mustard. The label shows her family home which is on the east shore of a small lake, hence the name East Shore Specialty Foods. Her old-fashioned cooked mustard was far too special to be served with an ordinary pretzel so she developed East Shore Seasoned Pretzels as a companion for the mustard.

Gastros Craft Meats artisanal products are made by hand in a USDA inspected facility, with a strong commitment to responsible sourcing and sustainable farming practices including the use of exclusively non-GMO and antibiotic-free Berkshire Pork and Wagyu Beef. The choice to utilize only the best Berkshire Pork and Wagyu Beef exemplifies Gastros' ethical commitment to quality and sustainability, and results in products of unparalleled quality.