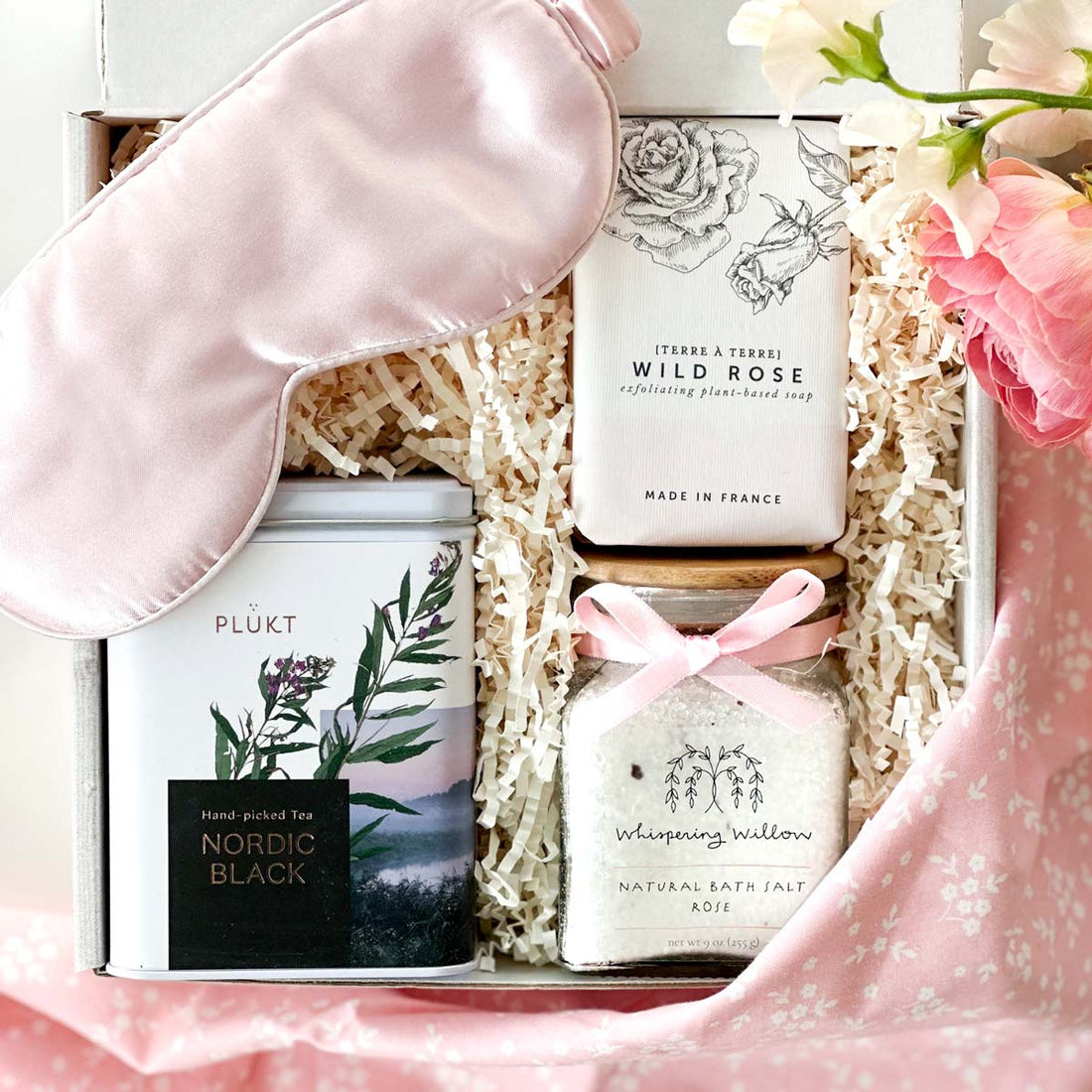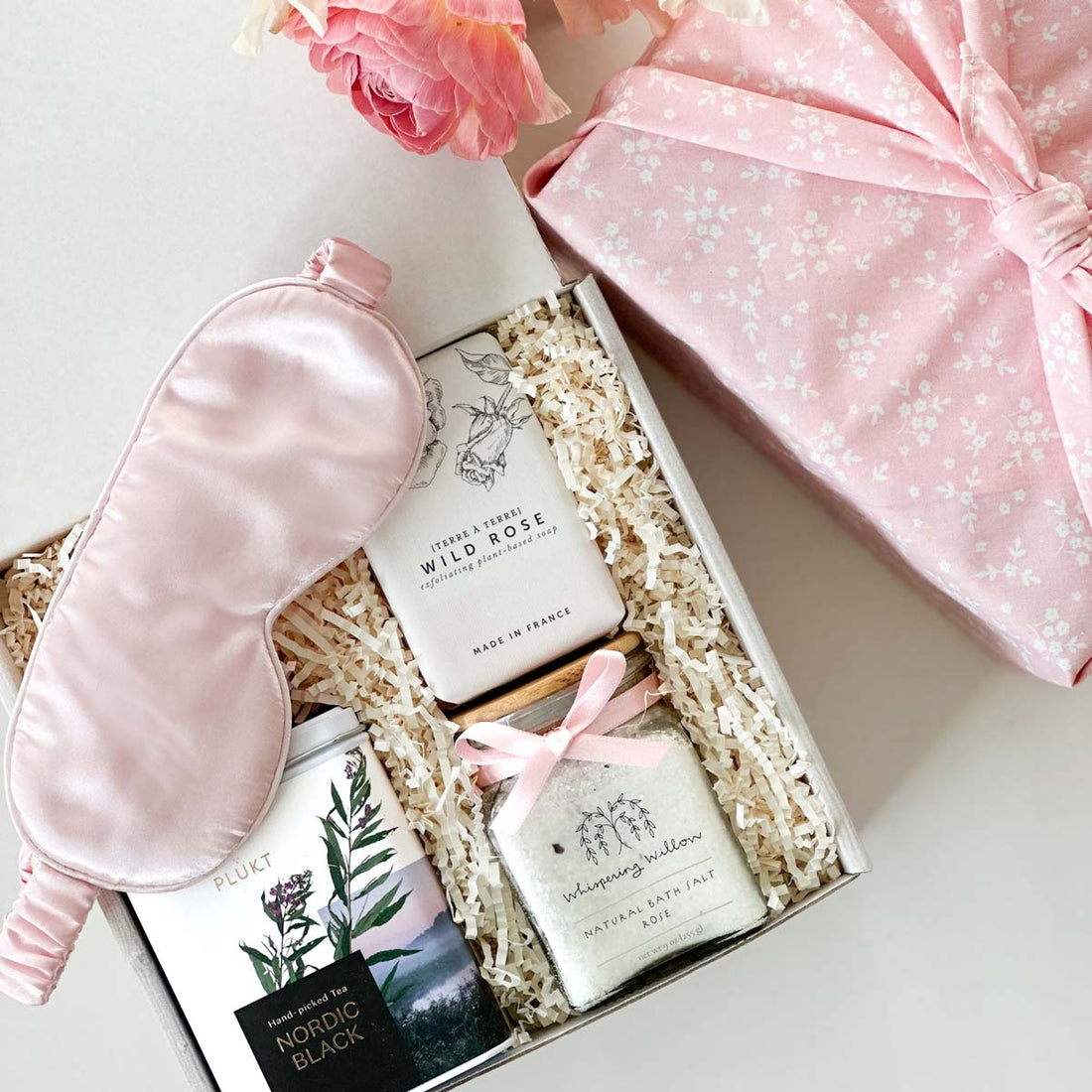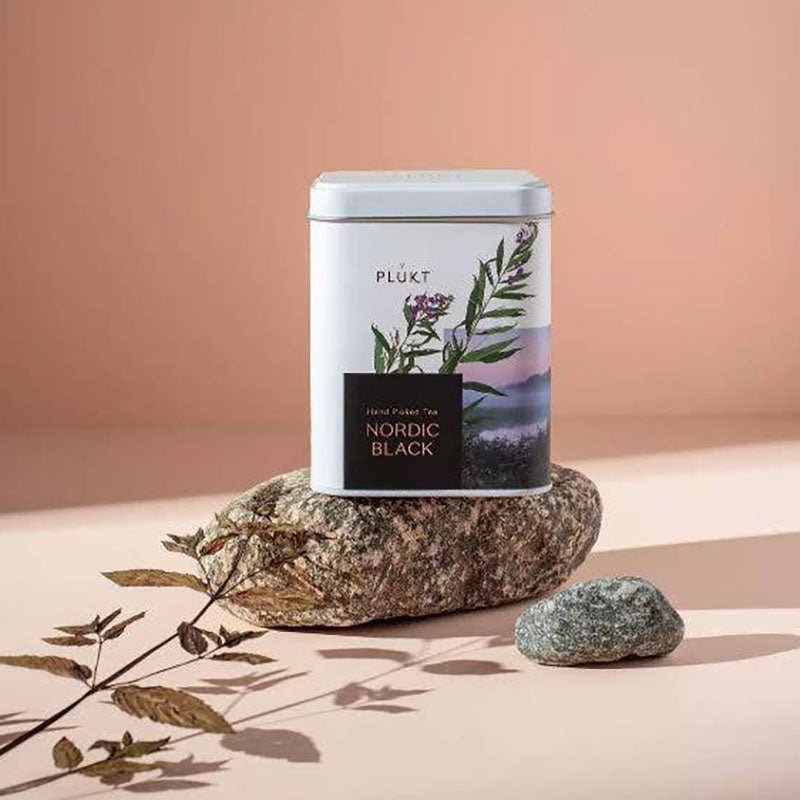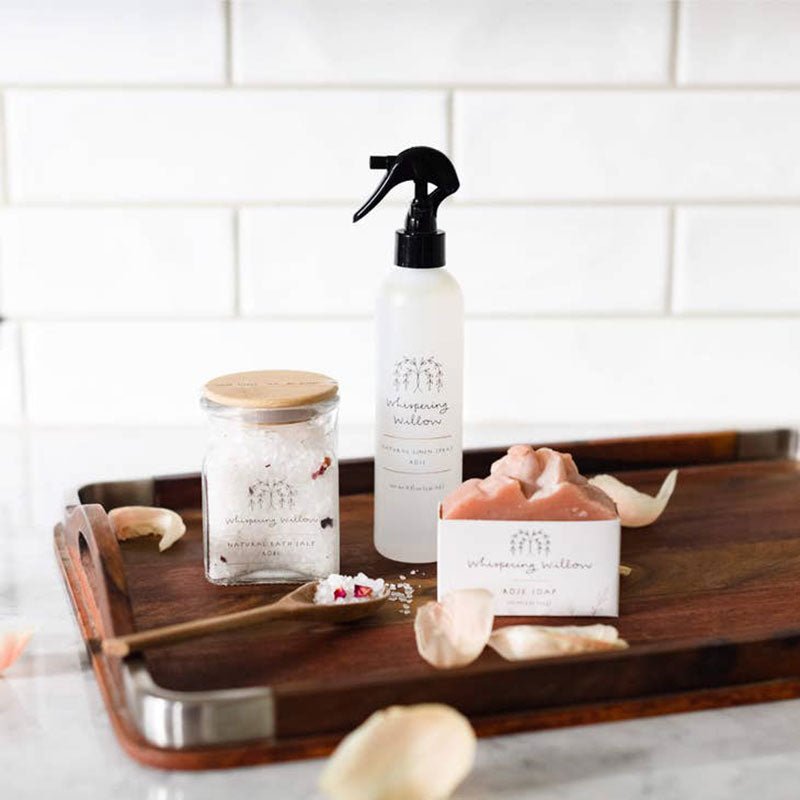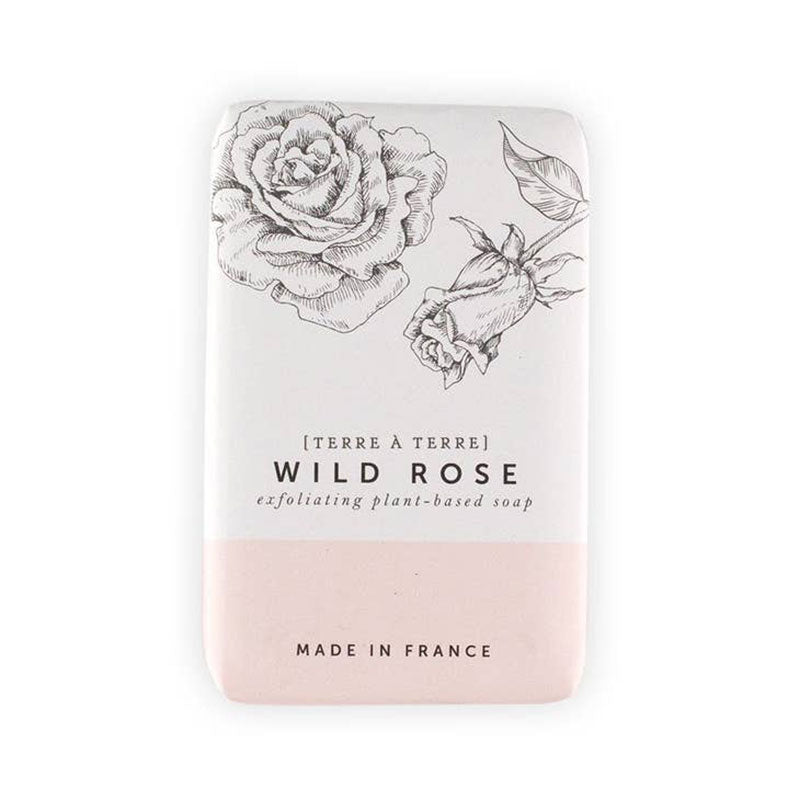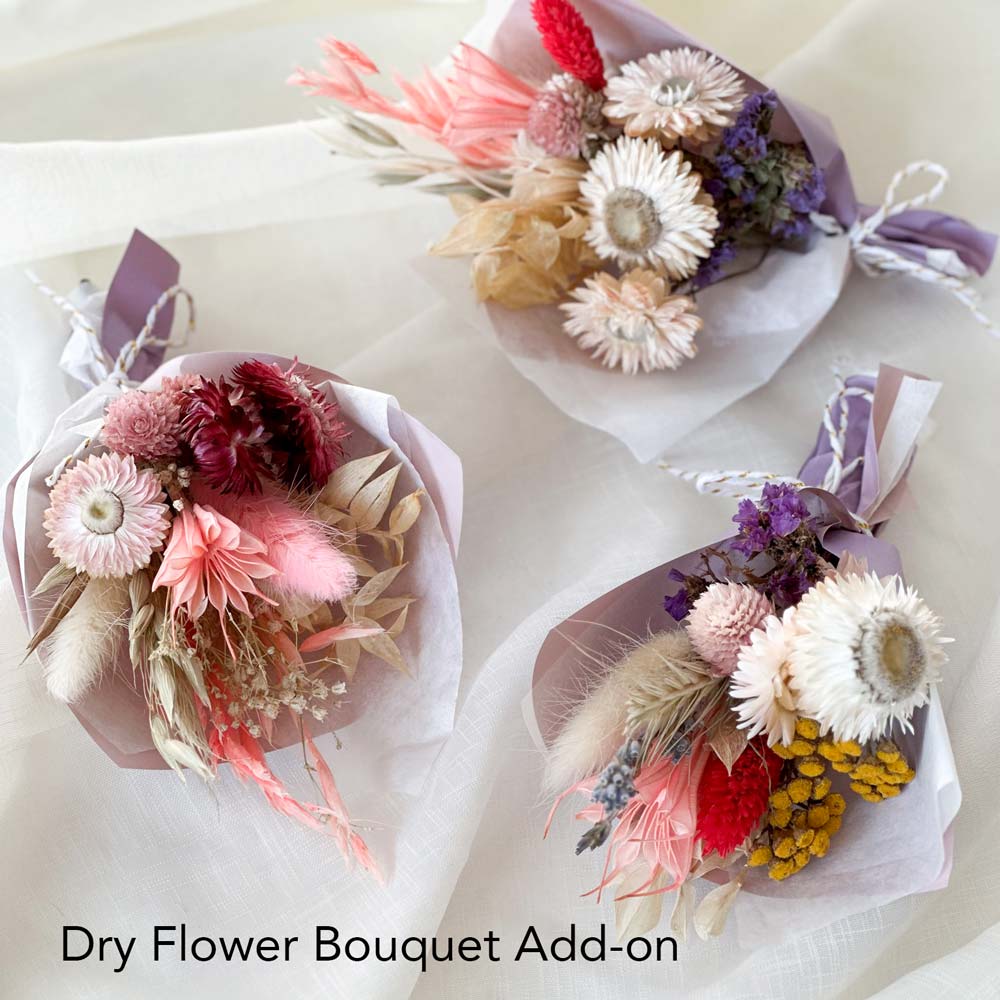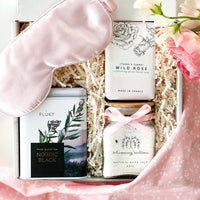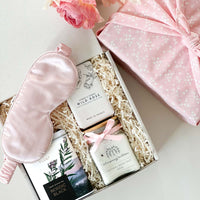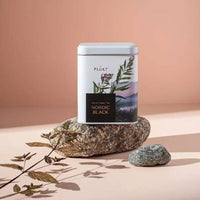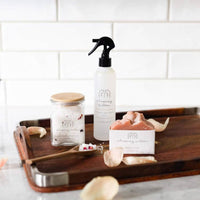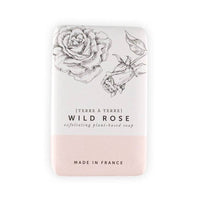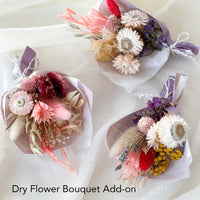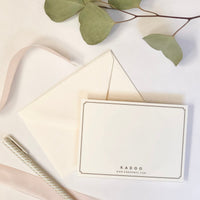 Curated Rose Day Gift Box
This special rose day spa gift box was curated with one goal in mind: to provide an ultimate pampering moment.This luxurious set comes with everything she needs to relax and unwind, including exfoliating rose bath salt, nourishing wild rose soap, organic Nordic black tea and a silk eye mask. Wrapped in KADOO reusable Furoshiki 100% printed floral cotton. Beautifully adorned with dry flower bouquet as an option, for lasting impression.
Featuring:
Nordic black herbal tea by Plükt.
An exfoliating wild rose soap by Terre 

à Terre. 

Natural rose bath salt by Whispering Willow. 

A relaxing satin sleep mask for extra 'me' time.

An eco-friendly 100% floral cotton Furoshiki fabric wrap.
Your custom message in complimentary KADOO ivory notecard or add-on a greeting notecard.
Optional dry flowers bouquet in collaboration with Smitten Blooms. Packaged securely inside a Kraft box. 


Nordic Black Tea by Plükt.
A healthy alternative to traditional black tea made from Northern Fireweed herb. Herbal tea Certified.
Ingredients: organic Fireweed (Chamaenerion angustifolium) leaves fermented in 50°C, handmade.
Characteristics: bitter sweet taste, energy-boosting, metabolism-improving, aromatic
Colors: dark gold and clear consistency.

Terre à Terre Wild Rose Exfoliating Soap.
Triple-milled using centuries-old artisanal methods to produce a long-lasting bar with a luxuriously rich lather to leave your skin cleansed and delicately scented. Cruelty-Free and Vegan. Formulated without Parabens, BHT, SLS, Phthalates, Gluten, Soy, GMO.

Rose Natural Bath Salts by Whispering Willow
A gentle aroma from this Natural Bath Salts adds a layer of relaxation. Your body soaks in the minerals and nutrients from the ancient salts and a softness begins to seep into your muscles and joints. These are the perfect gift for anyone committed to self-care. Ingredients: dead sea salt, Epsom salt, coarse sea salt, organic rose petals, rose geranium essential oil.

Relaxing Satin Sleep Mask by Prep Obsessed.
A lightweight sleep mask that blocks the light without putting pressure on the eyes. Features comfortable elastic band around the back for the best fit while you snooze.
Plükt has created a sustainable, eco-friendly premium tea range. A female-lead mother and daughter company. By gaining experience in Asian market Māra (daughter) discovers an opportunity window in premium specialty tea niche. Although tea market is often characterized as traditional, concentrated and sophisticated unique business model is developed to provide premium specialty tea in Northern Europe.

Terre à Terre by Ton Savon, LLC has been creating branded and Private Label natural and organic bath, body and beauty products for 25 years. Based in Manhattan Beach, California, this women-owned company have cultivated several soap brands, each unique in style and exact formulation; all products they make are formulated without Parabens, BHT, SLS, Phthalates, Gluten, Soy, or GMOs. They also offer products that are certified Organic.

Whispering Willow is a WBENC-Certified Women's Business Enterprise and is certified cruelty-free through Leaping Bunny. All products are handcrafted in North Carolina with the exception of their soap dishes which are made on the West Coast & their tea towels which are printed in the Midwest.