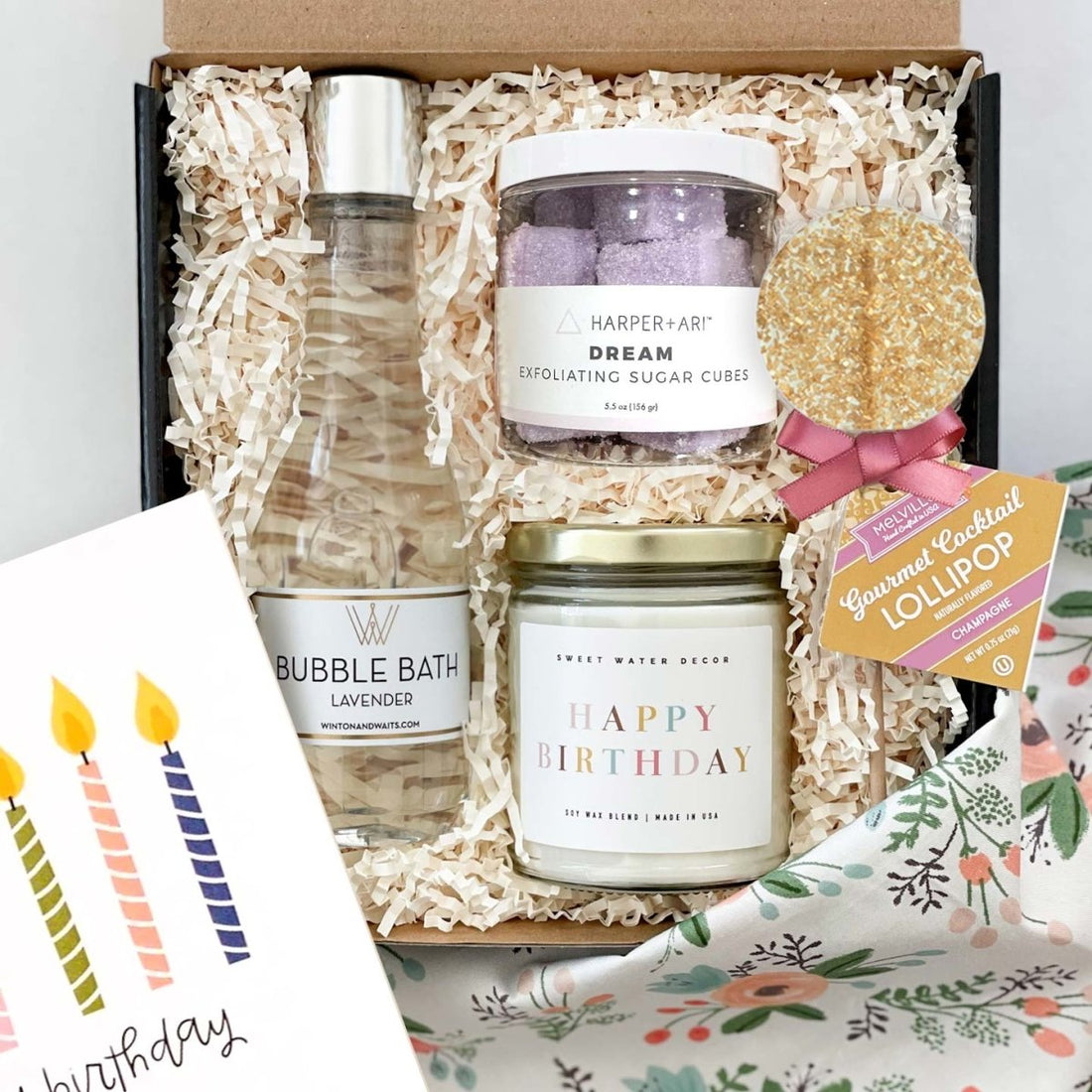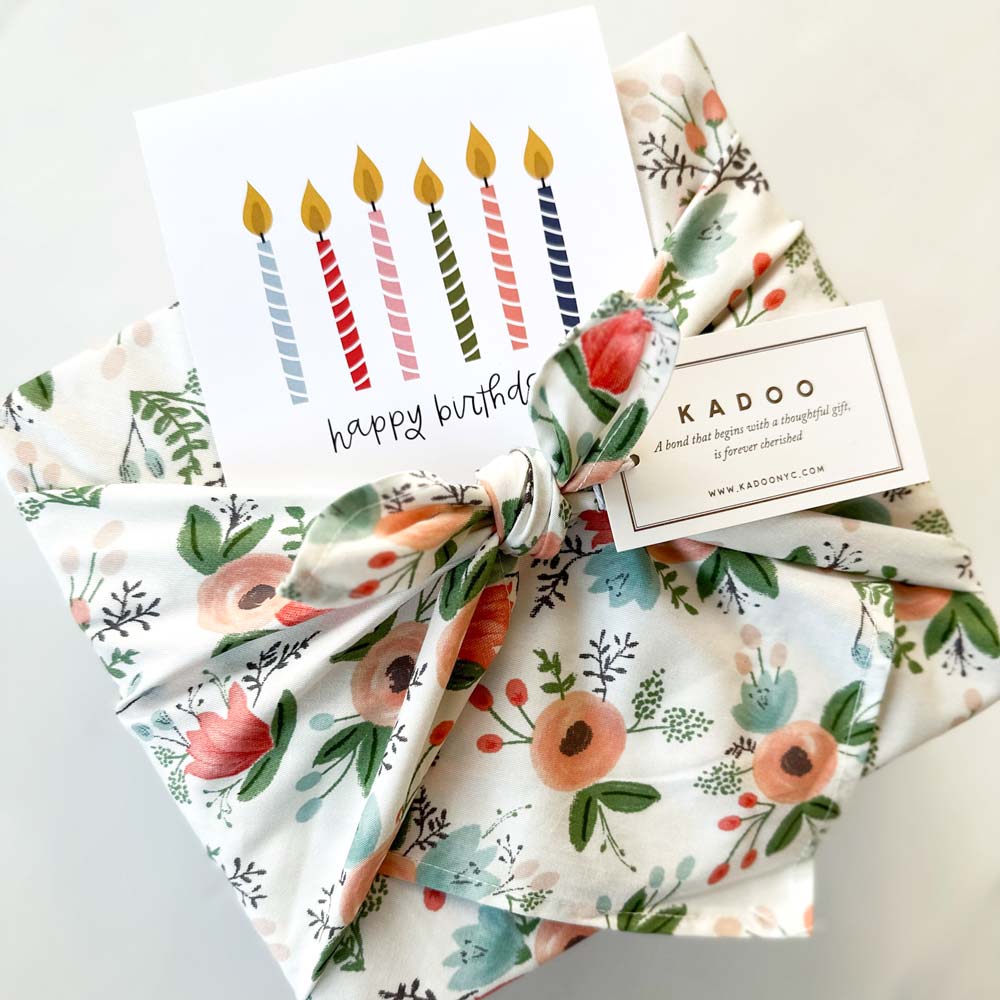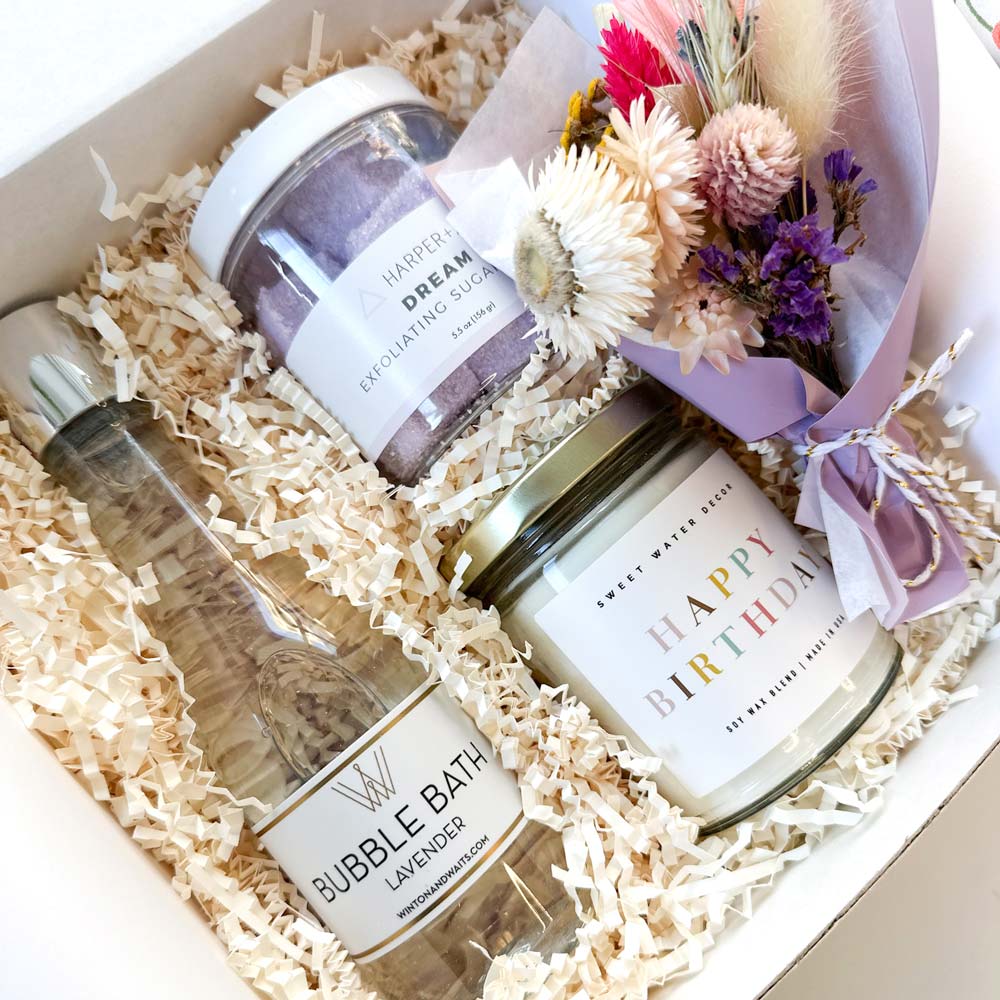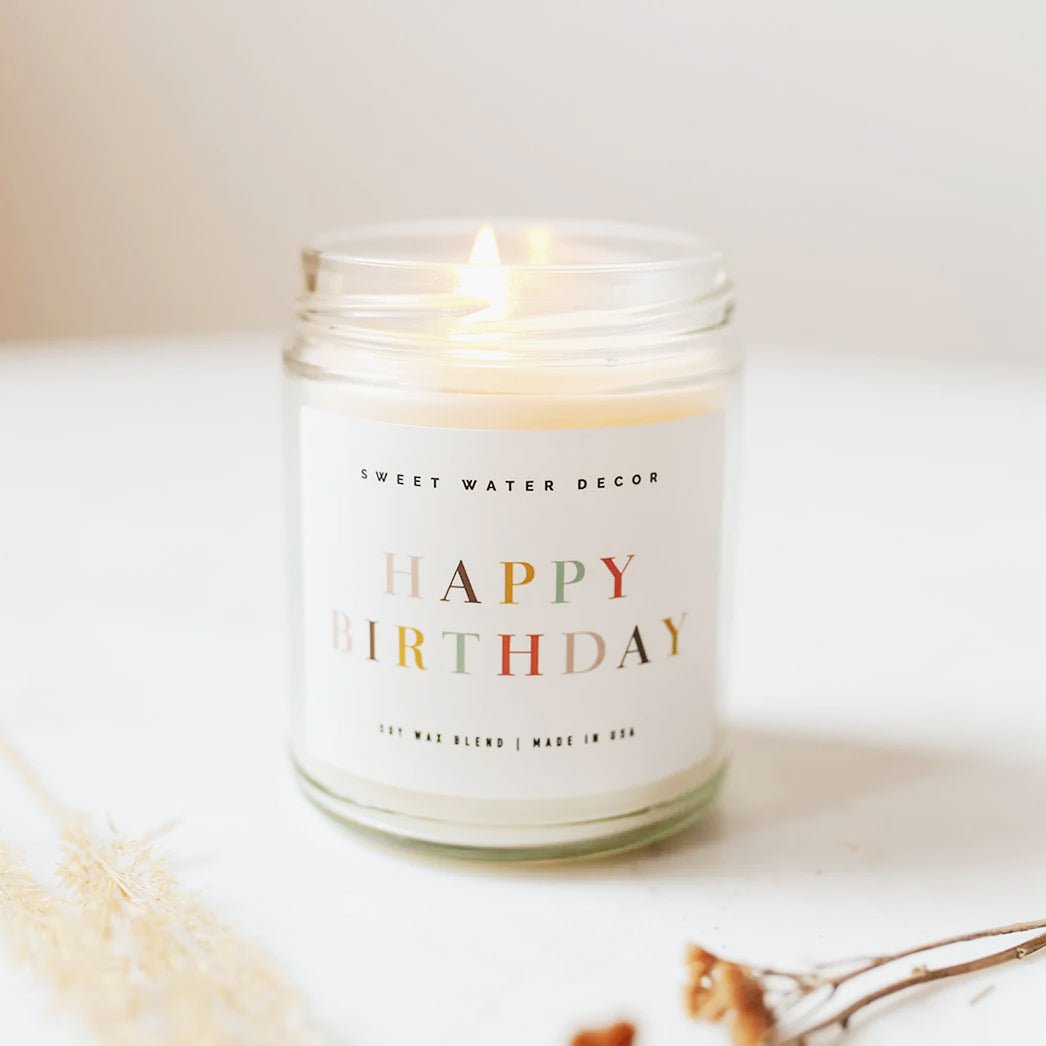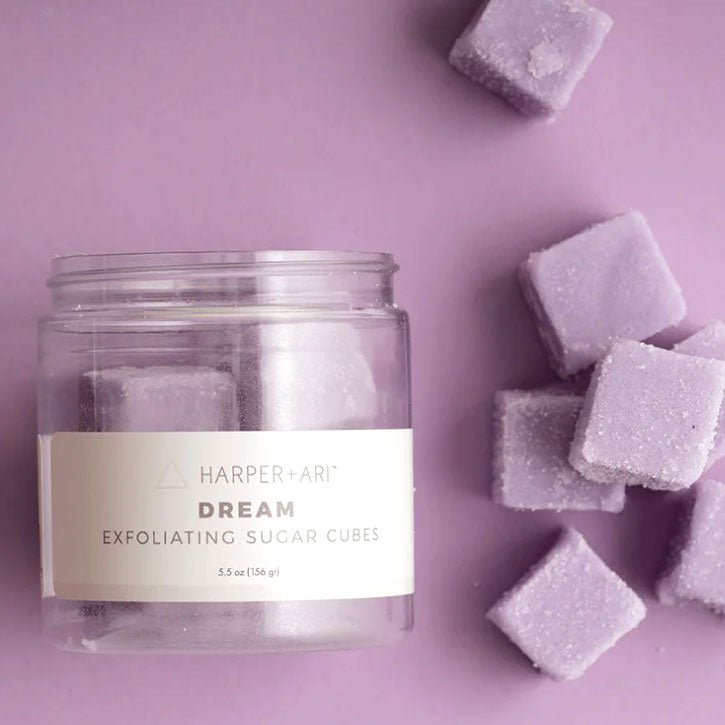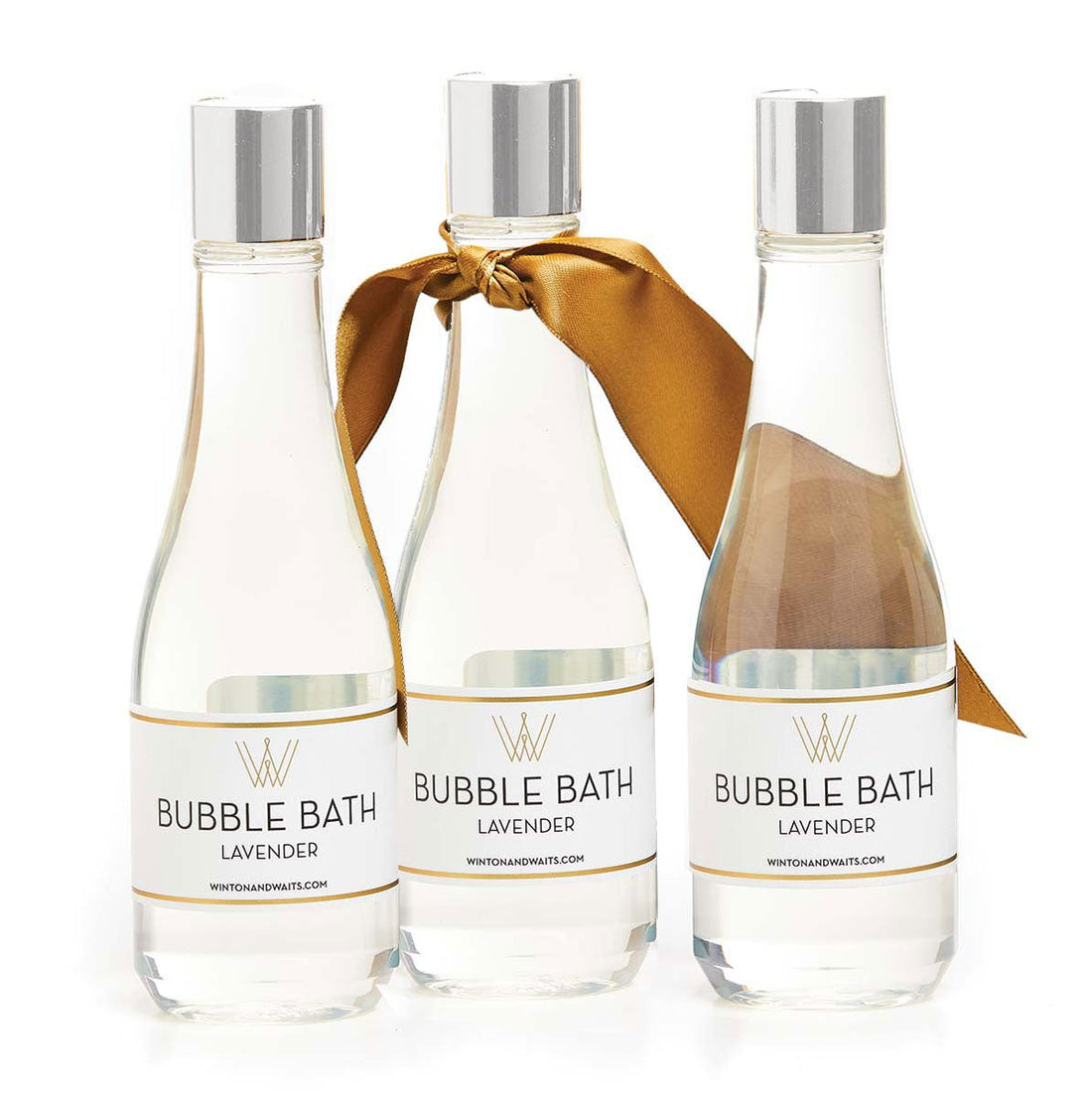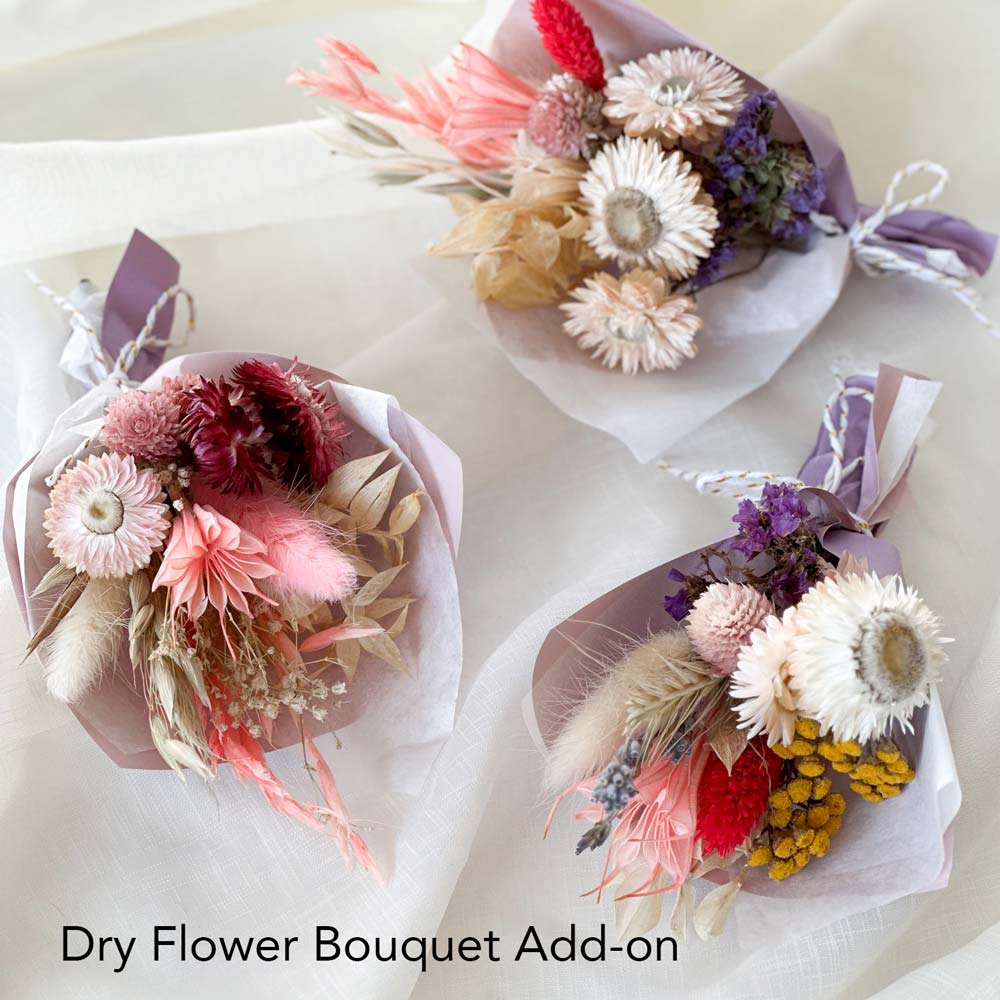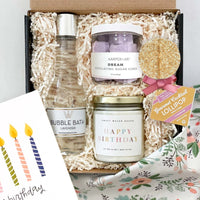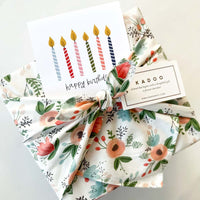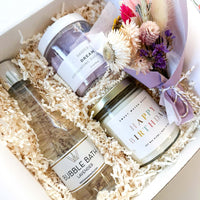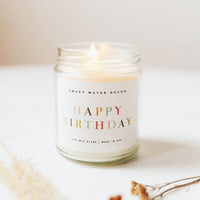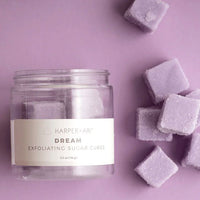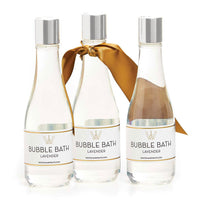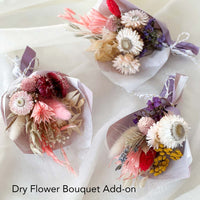 Birthday Celebration Curated Gift Box
Congratulate and celebrate birthday with a hand-picked selection of thoughtful gifts of relaxation. Pamper those you care about with our 'refresh and rejuvenate' birthday gift box combine with delectable sweets. Perfect treats for the special day. 
Featuring:
Lavender Bubble Bath by Winton + Waits.
Dream Exfoliating Sugar Cubes by Harper + Ari. 

Happy Birthday Soy Candle by Sweet Water Decor.

Champagne Gourmet Lollipop by Melville Candy.

Cheers! Happy Birthday Greeting Card by Graphic Factory.

Reusable Furoshiki printed floral in 100% cotton for a sustainable way to wrap present.
Optional dry flowers bouquet in collaboration with Smitten Blooms. Packaged securely inside a Kraft box. 
Happy Birthday Soy Candle by Sweet Water Decor.
Scent: Vanilla Buttercream.
Scent notes: Vanilla | Sugar | Buttercream
40+ hours burn time. 9oz Clear Candle Jar with Gold Lid. Made in USA.

Lavender Bubble Bath by Winton + Waits.
A luxurious bubble blend well-suited to moisturize, hydrate and nourish skin while relaxing the senses.

Dream Sugar Cubes by Harper + Ari
These exfoliating sugar cubes are sized perfectly for individual use. One cube will exfoliate and nourish the entire body. Champagne toast scent. To use take a single cube with you in the shower or bath and gently massage over wet skin. Try also to break the cube up in your hands first with a little water! Concentrate on any rough patches. Paraben, sulfate & cruelty free. One jar, 5.3oz.

Champagne Gourmet Lollipop by Melville Candy
Enjoy a joyous & delicious treat for all year around with this Champagne gourmet lollipop (non-alcoholic).

Birthday Candles Greeting Card by Pippi Post.
Harper + Ari is part of EM Brands, an Indianapolis based skincare + gift company specializing in sustainable luxury products.

Melville Candy is a family owned, third generation confectionery company located in Randolph, Massachusetts. Using a family recipe perfected by Grandpa Melville over 75 years ago, they produce gourmet hard candy lollipops and chocolate treats. Opened in 1978 by father and son duo, Gary and Joe Melville, we proudly continue the Melville family tradition of creating custom confections to delight the masses. Each product we produce is hand-made, packed and inspected in the USA to ensure they are of the highest quality.

Sweet Water Decor is a motivational + inspirational brand founded by Melissa Horvath in 2014. From their humble beginnings of Melissa hand making every coffee mug in her basement to now serving hundreds of thousands of customers and having their products in over 7,000 stores around the nation, as well as worldwide, their goal continues to be to motivate and inspire their customers.