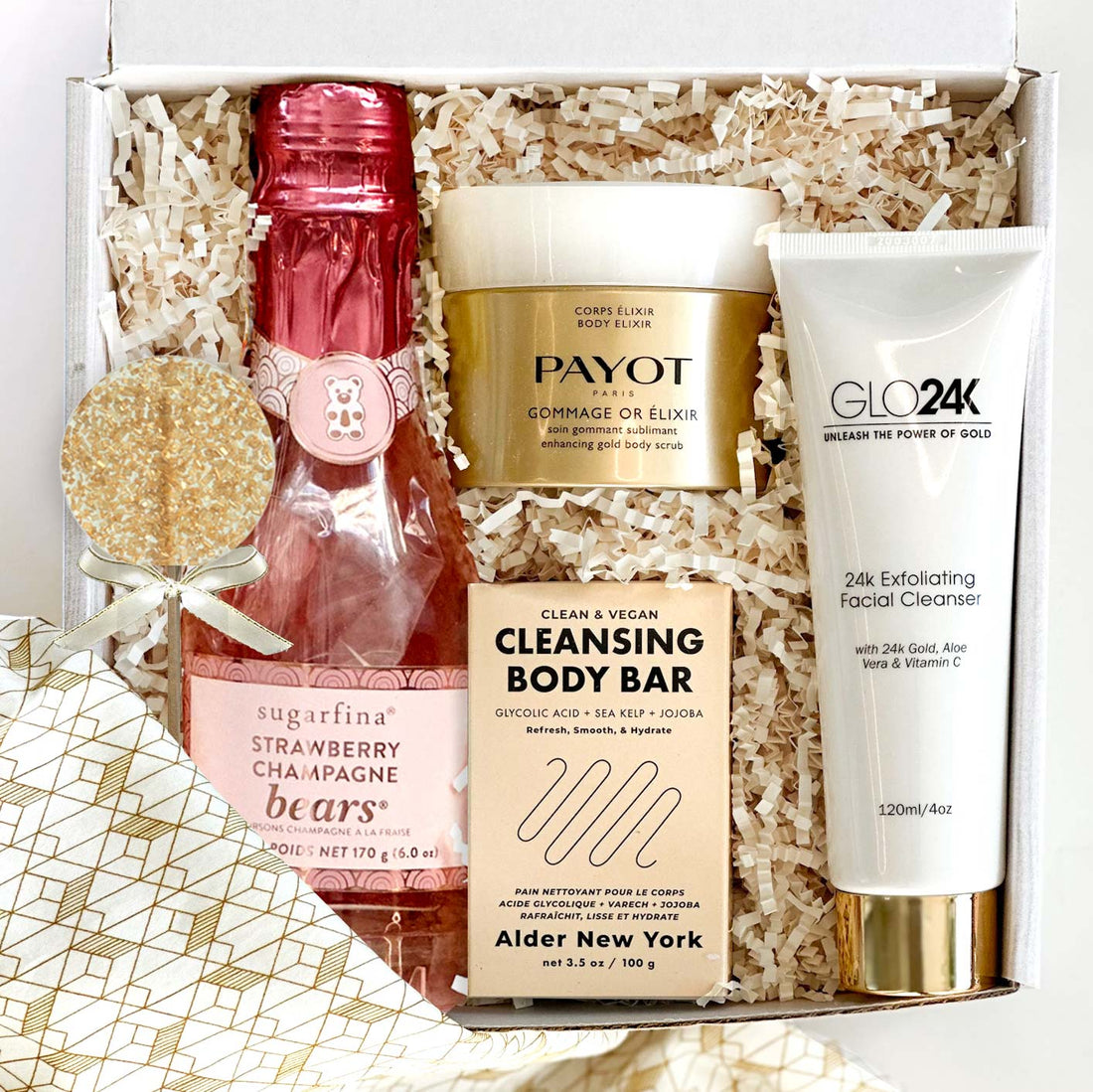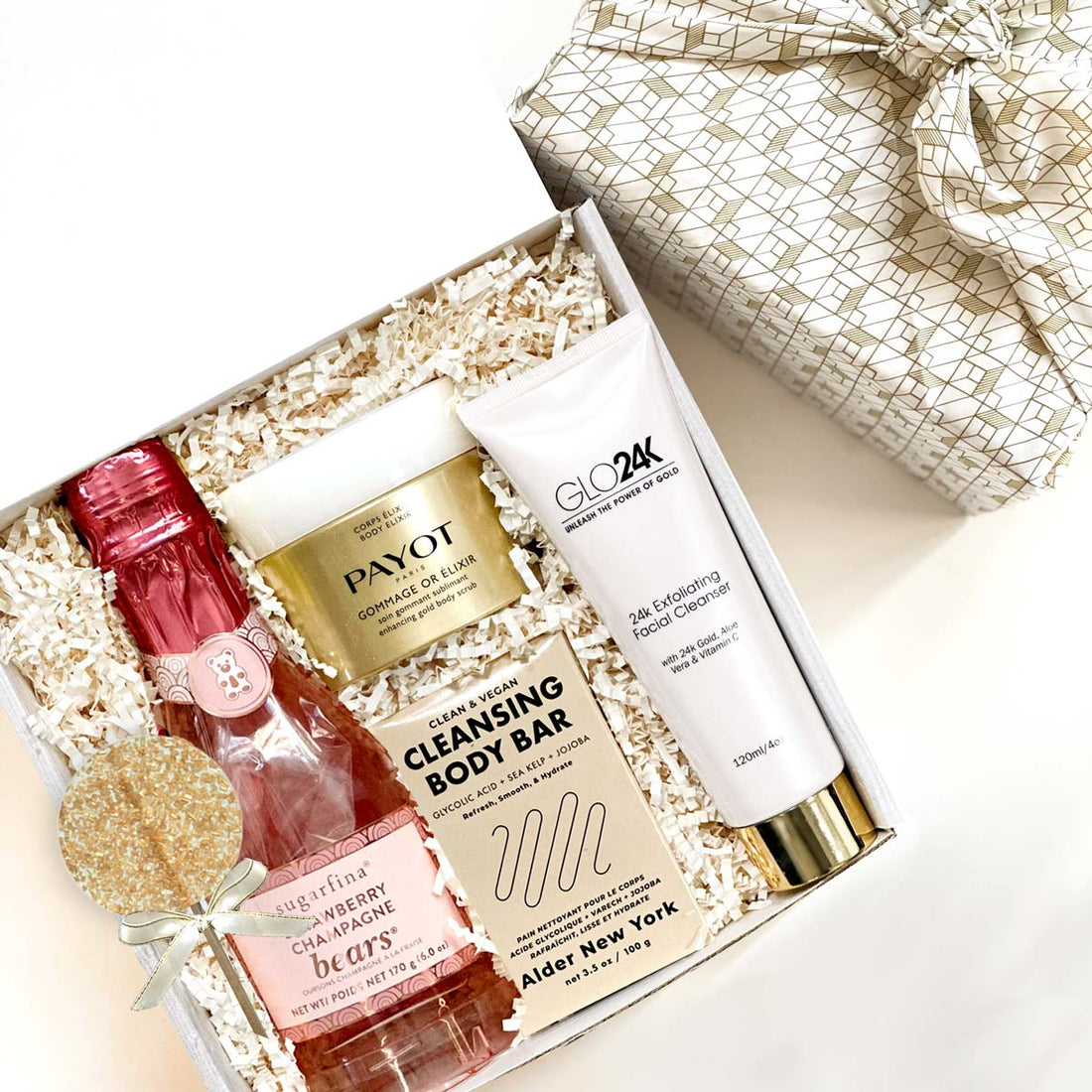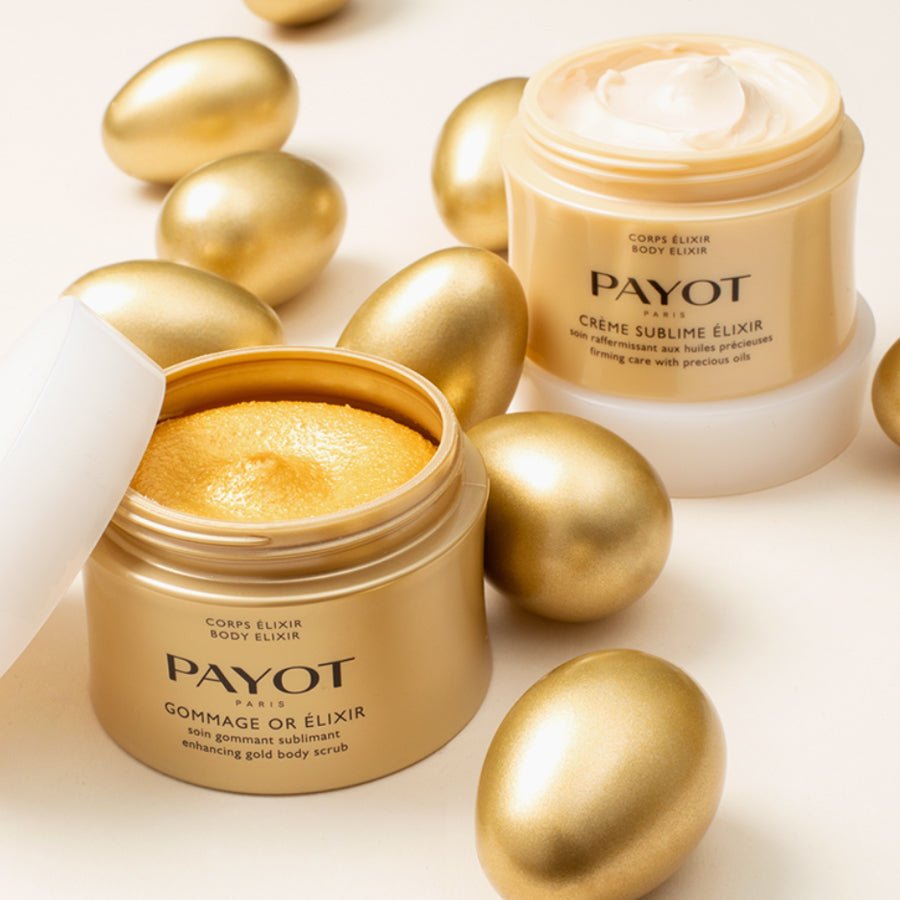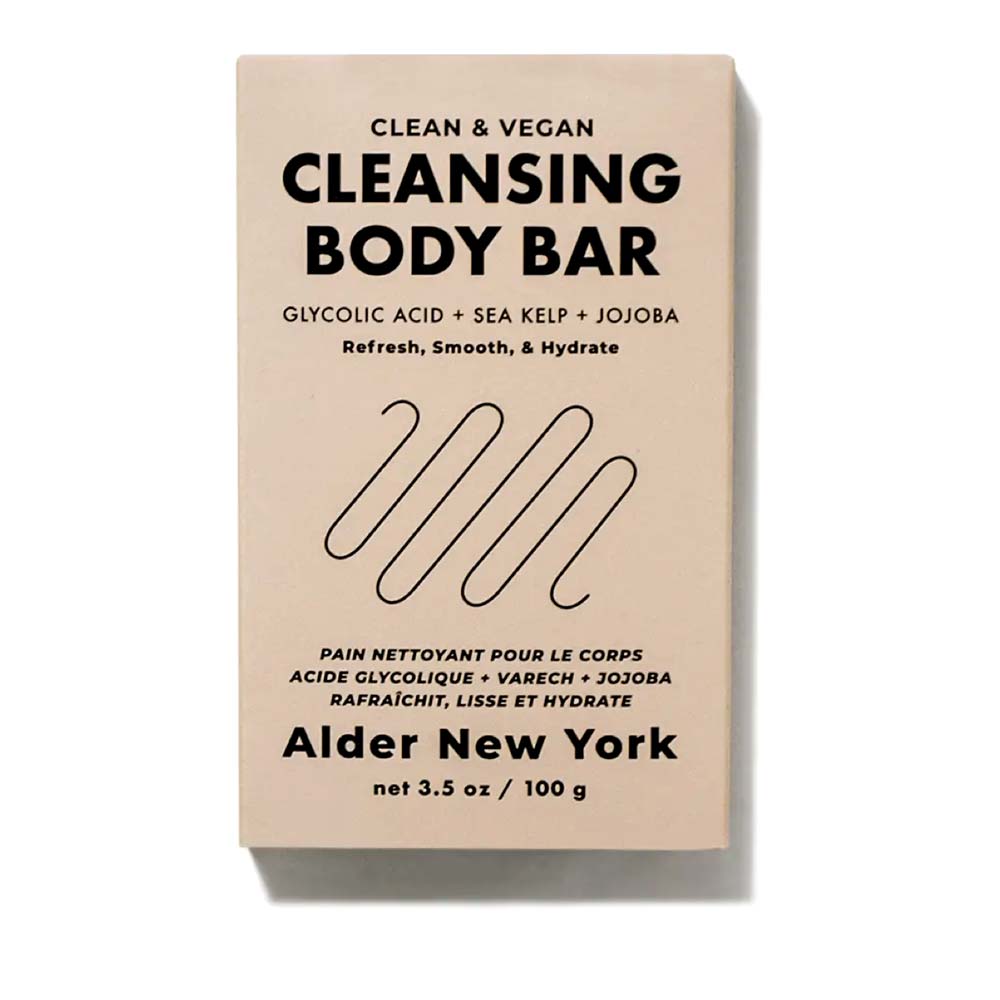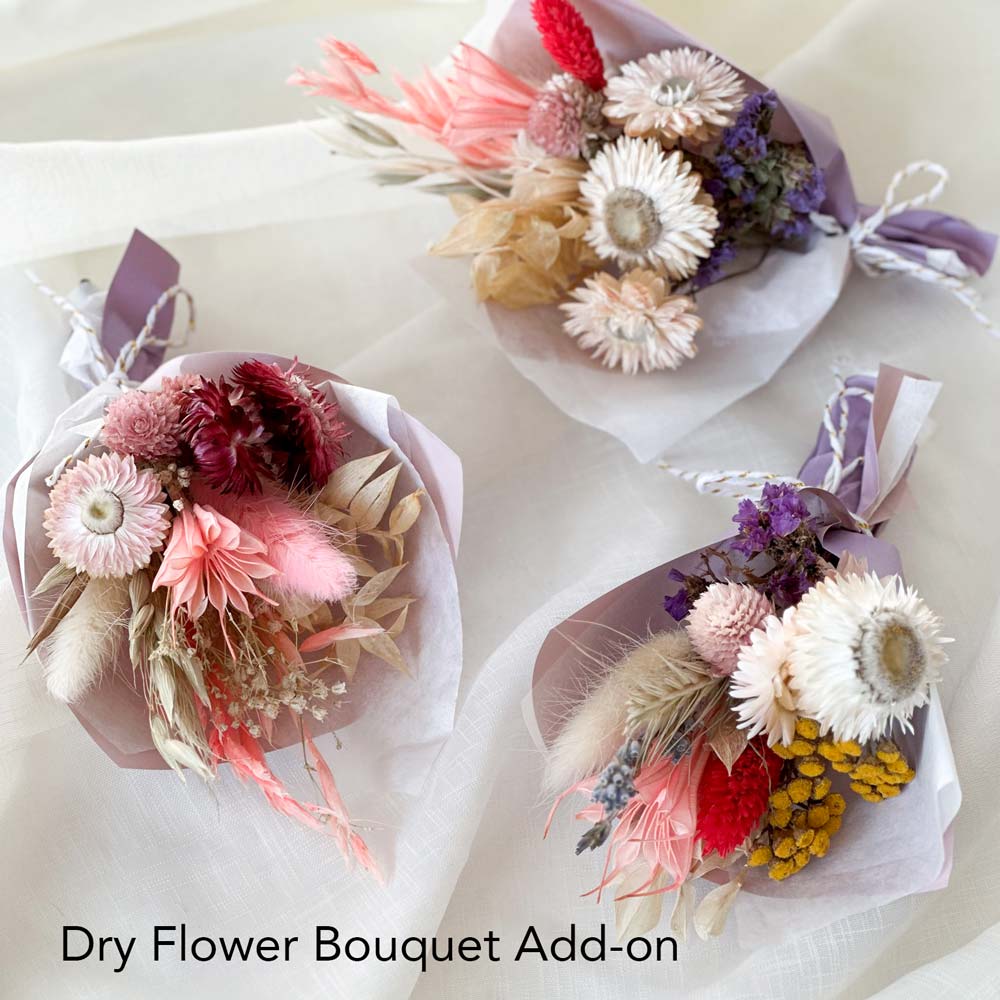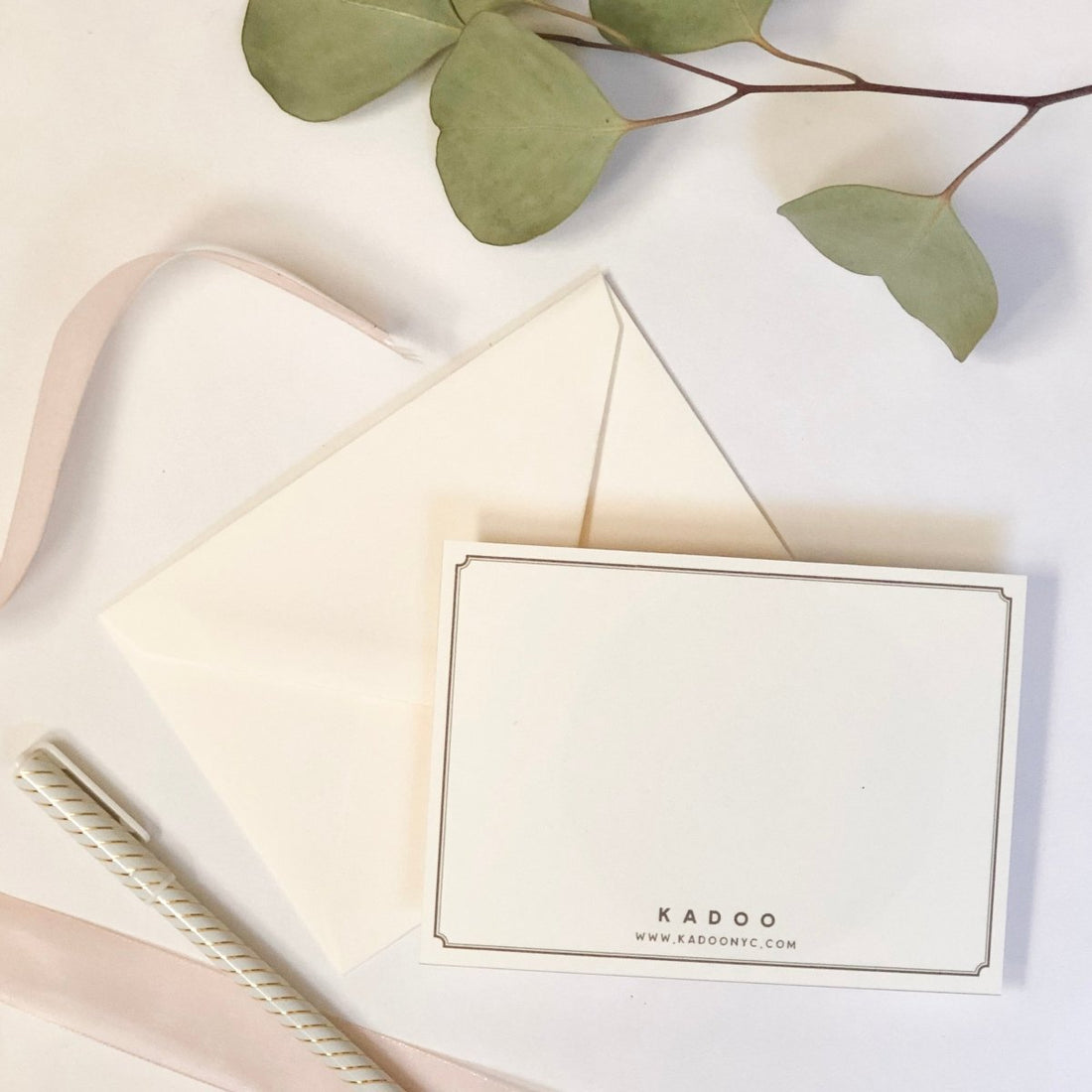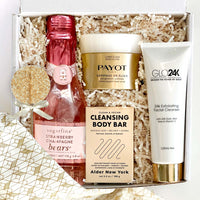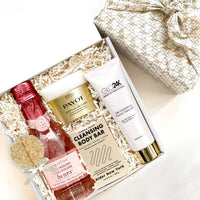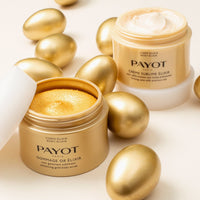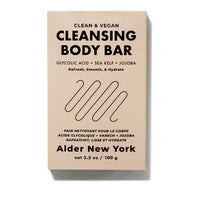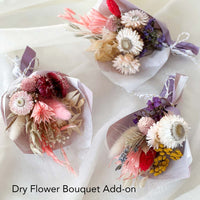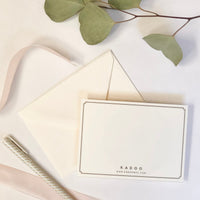 Glowing Gold Luxurious Spa Gift Box
Treat the special woman if your life with this luxurious gold skincare and spa essentials. A great gift for her, valentine, birthday, anniversary and perfect for her special occasion. 
Featuring:
Enhancing gold elixir body scrub by Payot.

24K gold exfoliating and foaming facial cleanser by Glo24K.

Strawberry Champagne Bears© Celebration i

nfused with Dom Pérignon Vintage Champagne 

by Sugarfina.
Artisanal champagne bubble cocktail lollipop by Melville Candy. 

Refreshing and hydrating vegan body bar by Alder New York.

Chic art deco pattern reusable Furoshiki cotton wrap

 for a sustainable way to wrap present.

Your custom message in complimentary KADOO ivory notecard. 
A choice to add a beautiful dry flower bouquet for a lasting impression. 


Payot Enhancing Gold Elixir Body Scrub
An ultra-sensorial scrub for a divine beauty experience. Rich in golden sugar granules and jojoba oil, this nourishing scrub with a smooth texture gently exfoliates and enhances the skin. Its heady scent with notes of myrrh and Amyris, and its melt-in golden texture will pamper you with a unique beauty experience. One jar, 200 ml.

GLO24K Gold Exfoliating and Foaming Facial Cleanser
This 24k Exfoliating & Foaming Facial Cleanser is a luxurious daily cleanser and make up remover all in one. Enriched with 24k Gold, Witch Hazel, and Aloe Vera - all known for their beautifying and anti-aging properties, this 24k Exfoliating Cleanser foams upon contact with the skin, leaving it hydrated, nourished, and refreshed.

Alder New York Cleansing Body Bar
This fragrance-free soap uses 1% glycolic acid and nourishing sea kelp to leave skin feeling refreshed, smooth, and hydrated.
Features & Specifications:
• Palm-oil free, coconut-derived cleansing system creates an ultra-rich, creamy lather
• Designed with sea kelp, known for its anti-inflammatory and moisturizing benefits
• Low dose glycolic acid and jojoba seeds gently remove dead skin cells and improve skin texture and radiance
• Vegan Action Certified, EWG Verified, & Fragrance Free

Pop, fizz, clink! Toast to Sugarfina's best-selling Champagne Bears® infused with Dom Pérignon Vintage Champagne. These are sweets that are worth celebrating!

Champagne Bubbles Cocktail Lollipop by Melville Candy
This artisanal cocktail lollipop come in hard candy lollipops flavored with champagne and embedded with gold sugar crystals. Each lollipop is hand-poured, slight variations will occur. One piece, 1 oz.
Payot is a cosmetic brand with an international reputation, born in 1920 of the extraordinary vision of one woman: Nadia Payot. Ahead of her time, she became one of the first female doctors. Involved in the women's rights movement, Nadia Payot early on demonstrated her commitment to using her medical, scientific and herbal expertise in the skincare products she developed

GLO24K was founded by 2 skincare specialists with many years of experience in the global beauty industry, within the category of super-luxury, very high-end skincare. The 2 founders realized that exotic skincare treatments such as 24k gold facials generate amazing anti-aging results. Gold facials was the buzz word in LA, Miami, and NY and they want to offer this high-end skincare accessible to everyone.

Alder New York is a queer and woman-owned independent skincare brand based in New York that makes clean, vegan products designed to work for all skin types, no matter your age, gender, or ethnicity. Because skincare shouldn't be complicated and you shouldn't need an esthetician's license to have great skin.

Sugarfina was founded by Rosie O'Neill and Josh Resnick, the artisan candy company based in El Segundo, California. From a 2012 start, the duo has traveled the world looking for unusual and tasty sweets for adult connoisseurs.

Melville Candy is a family owned, third generation confectionery company located in Randolph, Massachusetts. Using a family recipe perfected by Grandpa Melville over 75 years ago, they produce gourmet hard candy lollipops and chocolate treats. Each product we produce is hand-made, packed and inspected in the USA to ensure they are of the highest quality.