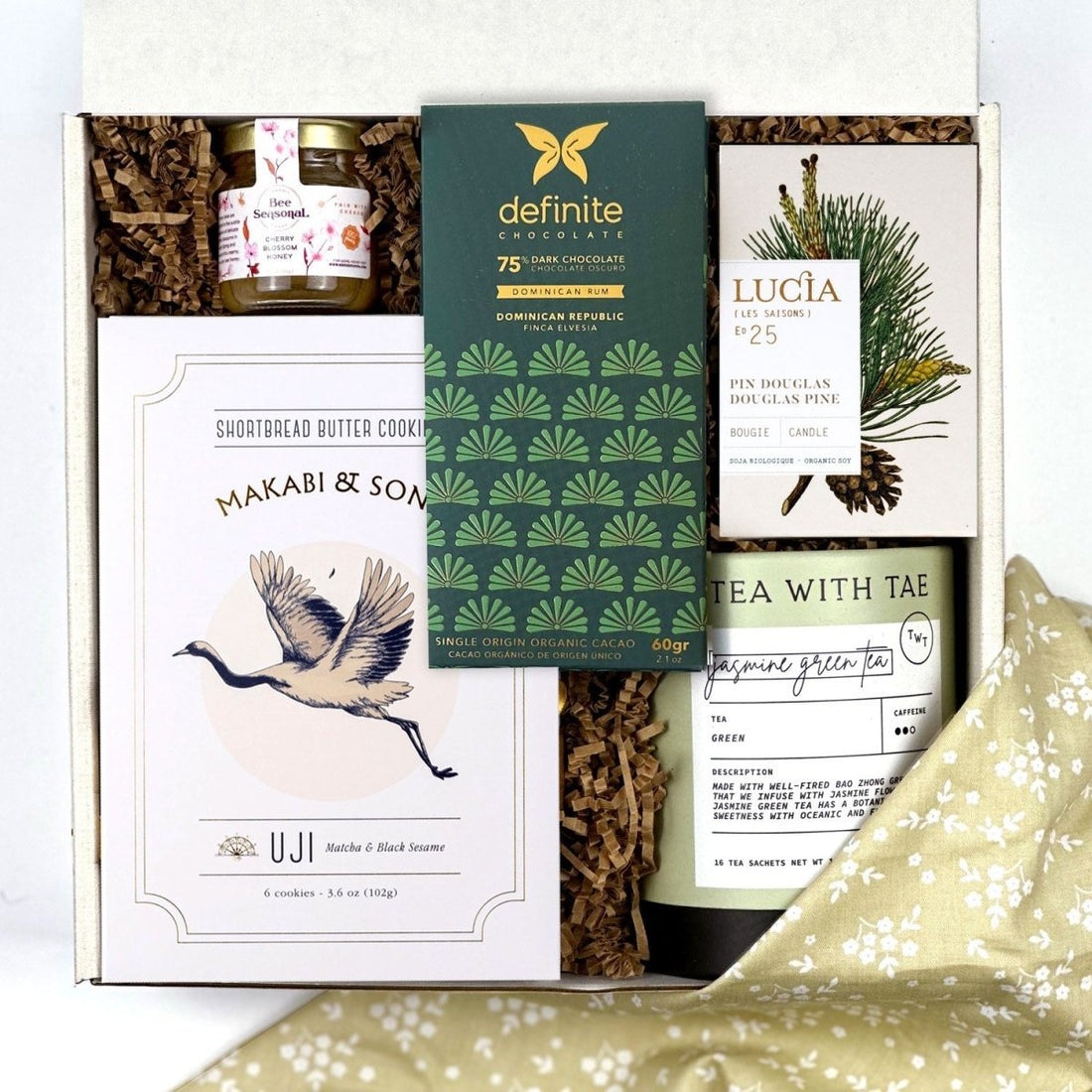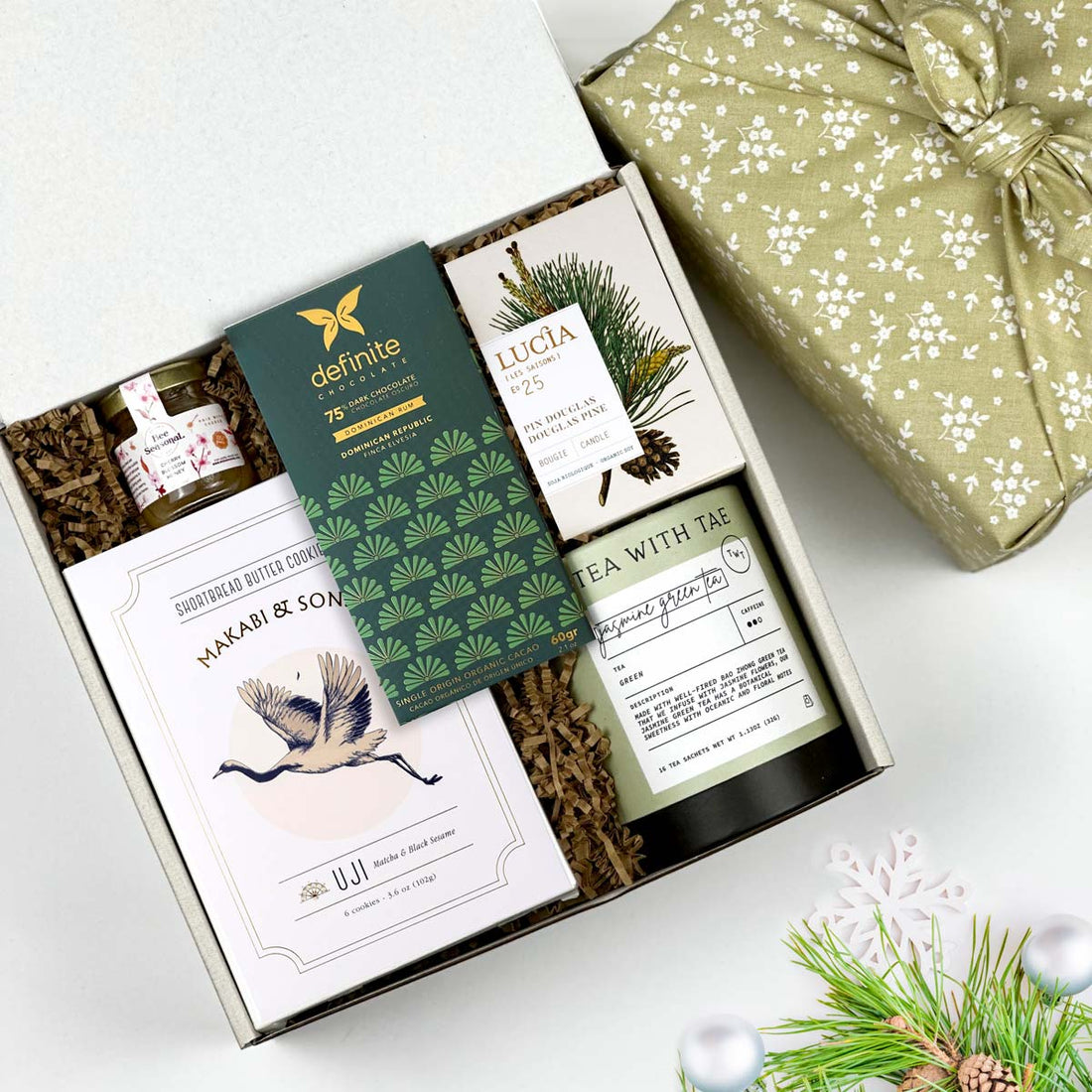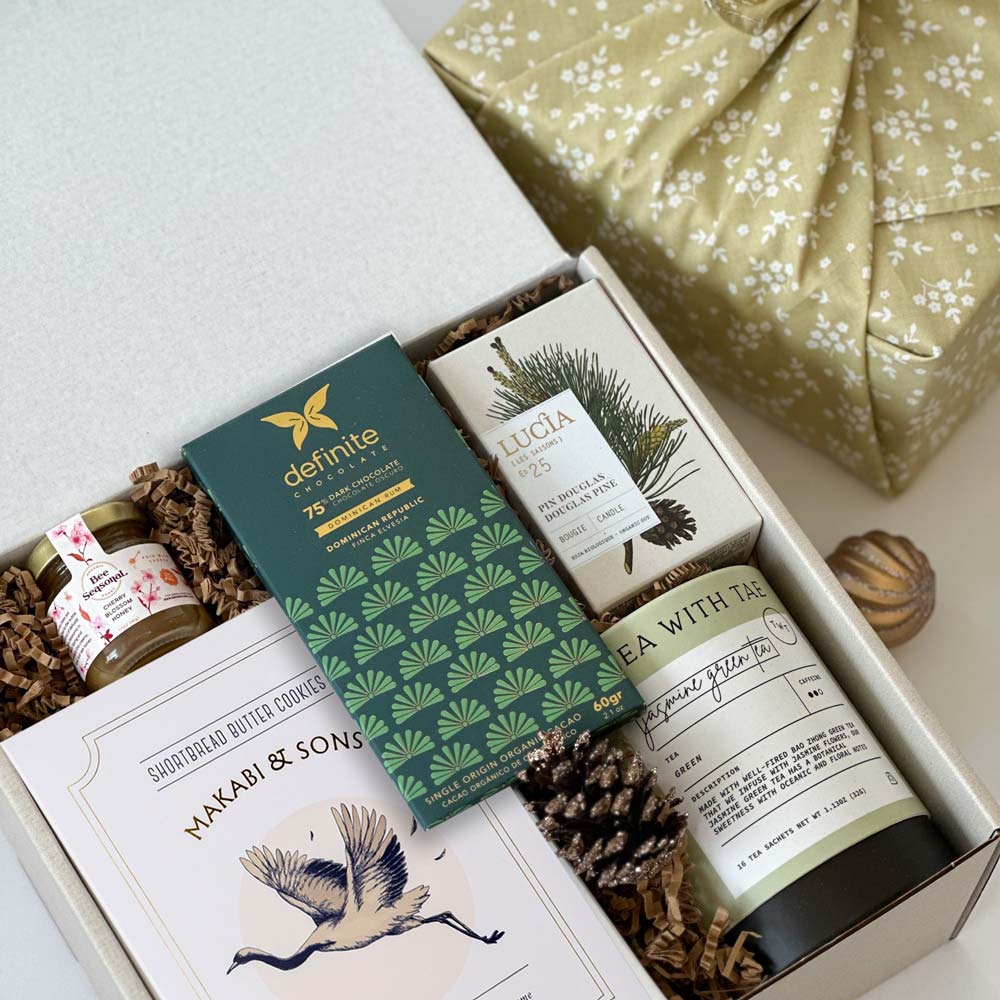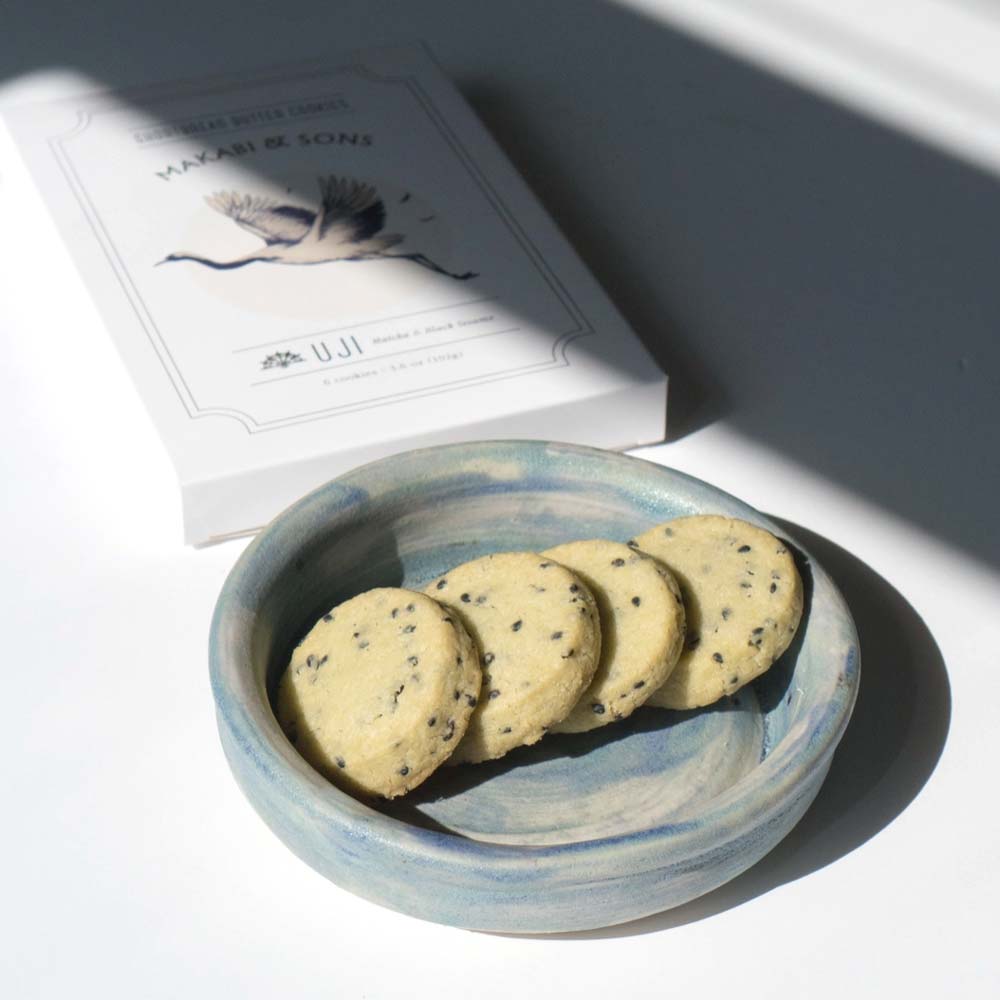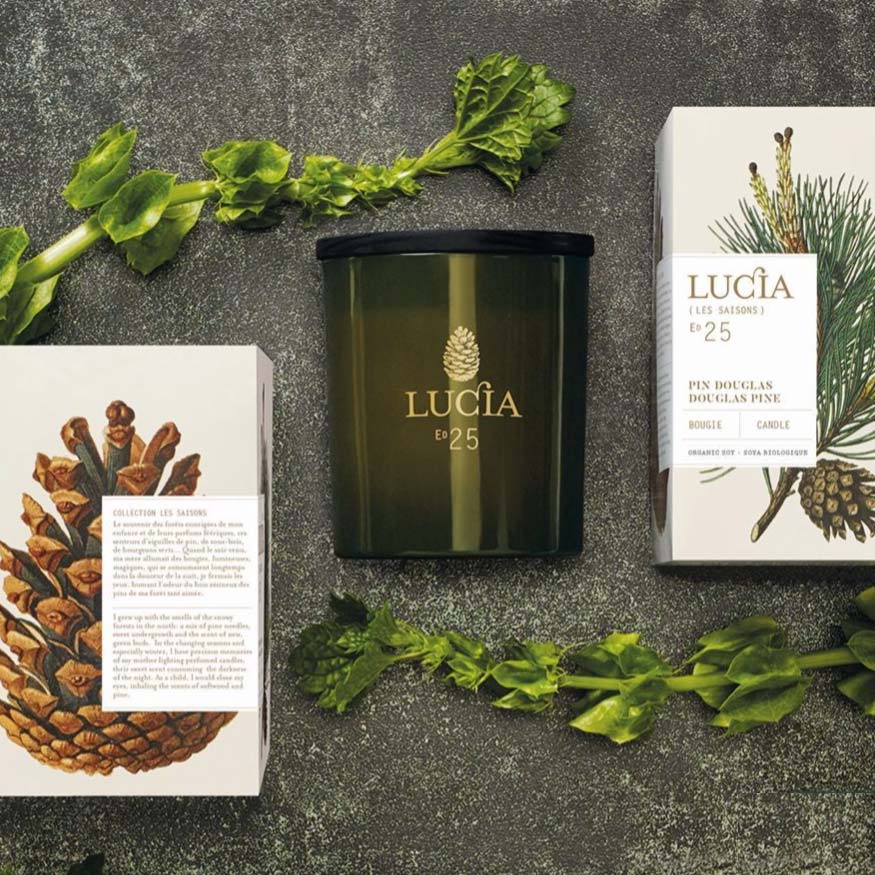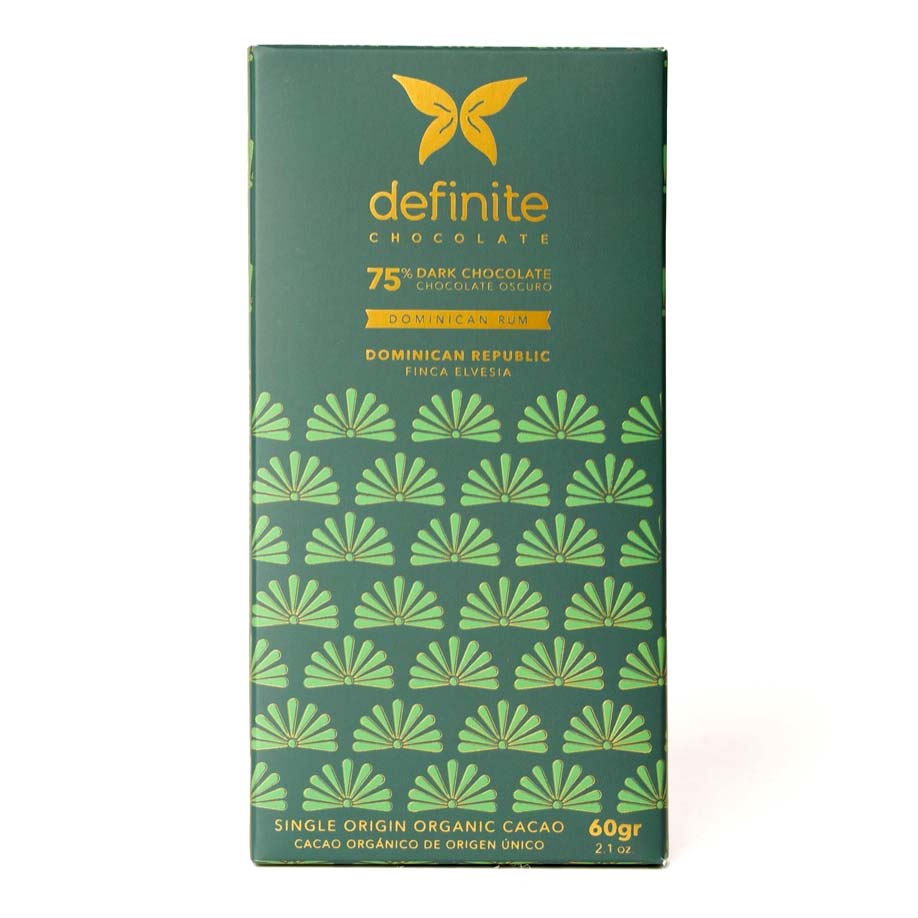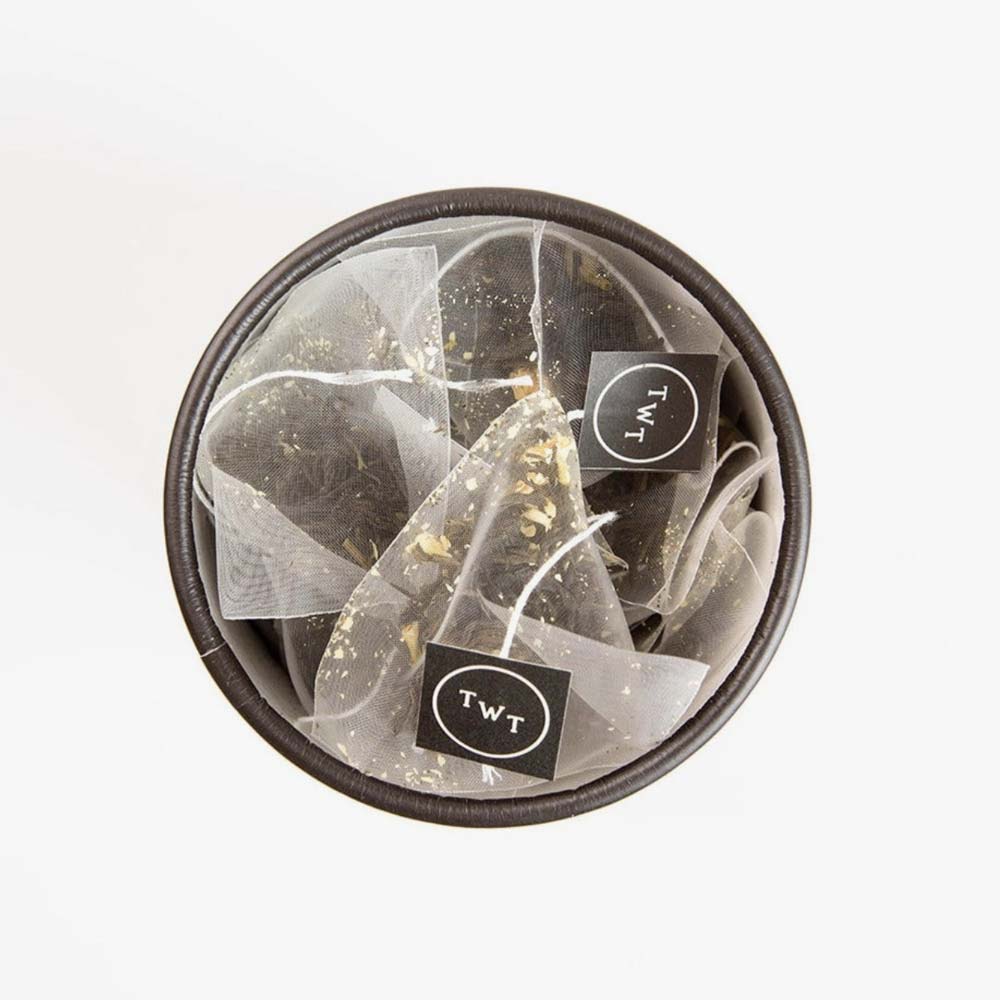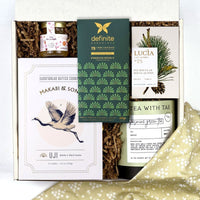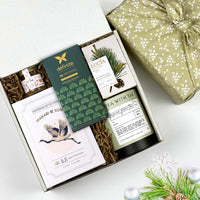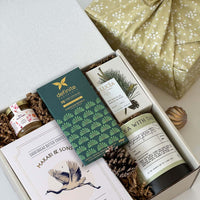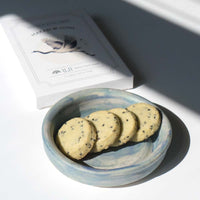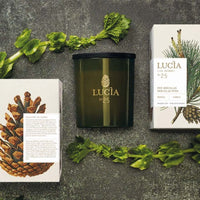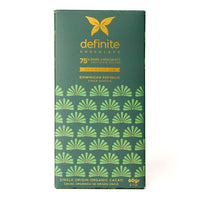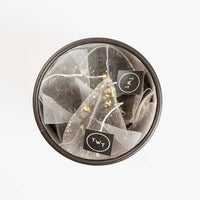 Option 1 : Tea and Cookie Delight **OUT OF STOCK**
*AVAILABLE TO SHIP ONLY TO US ADDRESS*
Indulge in the ultimate winter treat with specially curated Tea and Cookie Delight Holiday Gift Box. This luxurious and comforting gift set is designed to provide you with a relaxing and indulgent experience, perfect for those cozy winter nights.
Inside, you'll find a calming Douglas Pine scented candle from Lucia, setting the perfect ambiance for your evening of relaxation. Sip on our soothing Jasmine Green Tea or indulge in our Matcha Green Tea Cookies, made with only the finest ingredients. We've also included a decadent 75% Dark Chocolate infused with rum from Definite Chocolate, adding a touch of luxury to your indulgent evening.
And to top it off, we've added an organic honey with a delicate Cherry Blossom flavor, perfect for sweetening your tea or enjoying on its own. Treat yourself or someone special to this luxurious gift set, filled with everything you need to indulge in the ultimate winter treat.

Featuring:
A calming Douglas Pine scented candle from Lucia Candle.
Soothing Jasmine Green Tea to unwind and relax after a long day.
Rich and decadent 75% Dark Chocolate infused with rum from Definite Chocolate.

O

rganic

h

oney with a delicate Cherry Blossom flavor by Bee Seasonal.

E

xquisite Matcha Green Tea Shortbread Cookies by Makabi & Sons to satisfy

anyone's

 cravings.

A Furoshiki wrap made from 100% cotton, designed for multiple uses.
Matcha Toasted Black Sesame Cookies (Uji) by Makabi and Sons. Shortbread butter cookies with rich matcha green tea and toasted black sesame seeds. Contains: Milk and Wheat.
Unbleached wheat flour, butter (cream, natural flavor), cane sugar, black sesame seeds, vanilla extract, matcha powder, sea salt.

Jasmine Green Tea by Tea with Tae.
Made with well-fired bao zhong green tea, infuse with jasmine flowers, our jasmine green tea has a botanical sweetness with oceanic and floral notes. The relaxing and sedating properties of the jasmine flower's aroma will be sure to calm your mind, but you'll still get that energy boost from the caffeine and l-theanine from the green tea leaves without the jitters and the crash.
All-natural and does not use any artificial ingredients. 16 eco-friendly (bio-degradable & plastic-free) tea pyramid sachets.

75% Dark Chocolate infused with Dominican Rum by Definite Chocolate.
This special bar is lovingly produced with 75% cacao from Finca Elvesia in the Dominican Republic, infused with Dominican Ron Barcelo Rum. Cacao nibs are soaked in this premium rum for 30 days before forming into bars. Tasting notes include: Dried Fruits and Molasses. Naturally vegan. Their bars have won international awards from the Academy of Chocolate.

Douglas Pine "Les Saisons" scented candle by Lucia
Pine scented soy candle in green glass jar with wood lid. A mix of pine needles, sweet undergrowth and the scent of new, green buds. In the changing seasons and especially winter, precious memories of lighting holiday scent perfumed candles, inhaling the scents of softwood and pine, their sweet scent consuming the darkness of the night. One votive candle, burn time 20 hours.


Makabi & Sons scour the globe to curate cookies imbued with flavors that honor local traditions and uphold universal appeal. Global and natural ingredients deliver everlasting and unforgettable tastes that transcend tastebuds, taking you on a journey to destinations both near and far. Delivered in hand-illustrated designer boxes, these treats are perfect for gift-giving to others or even oneself.

Tea with Tae is all about: bringing people together one cup at a time. We are focused on bringing an elevated tea-drinking experience with not only the freshest and most delicious tea leaves and herbs, but also with beautiful presentations and eco-friendly packaging. As a certified woman-owned small business (WOSB), we are encouraged to amplify the voices of the underprivileged, which means working with both big and small tea farms from around the world. Tea with Tae is also focused on sustainability, and that's why we recently revamped our entire packaging presentation to be made from recyclable paper materials. Also, our premium pyramid tea sachets are biodegradable and plastic-free. Choosing Tea with Tae means prioritizing high-quality flavors while preserving our planet.

Definite Chocolate is a micro batch bean to bar chocolate maker from Dominican Republic founded by Jens Kamin, who moved from Germany to the Dominican Republic to make his dream come true and become a chocolate maker. By sourcing directly from local cacao producers, they use only high-quality single origin cacao, which they roast, winnow, grind, temper and mold into fine chocolate bars with the utmost care. Definite Chocolate uses only locally sourced ingredients to support the local industry and to give a touch of Caribbean feeling to every bar. All their bars are made naturally without any additives. They are the first Dominican chocolate producer who won an international award, and that only one year after starting their business in 2017.

Lucia is a home and bath collection of soy candles, soaps, room sprays and reed diffusers designed in Montreal by husband and wife team Lucie Bernier and Andre Pace. Each of the collection's imaginative bouquet blend fragrances is exclusively created in Grasse, France. As part of the pair's strong commitment toward quality sourcing and eco-responsibility, all Lucia products are made from pure organic grade essential oils, all natural vegetable and botanical hydrating oils, recycled paper and vegetable-based inks.