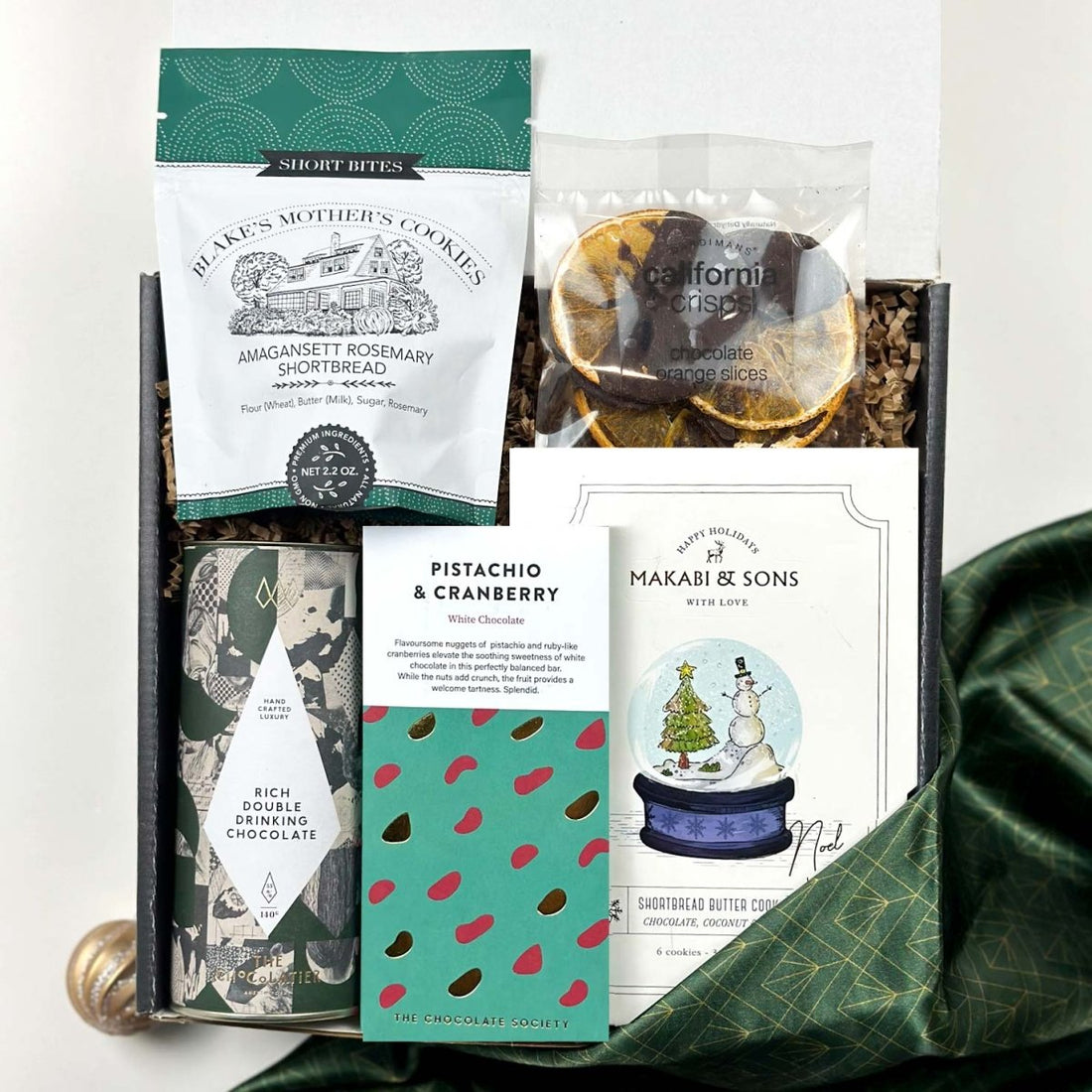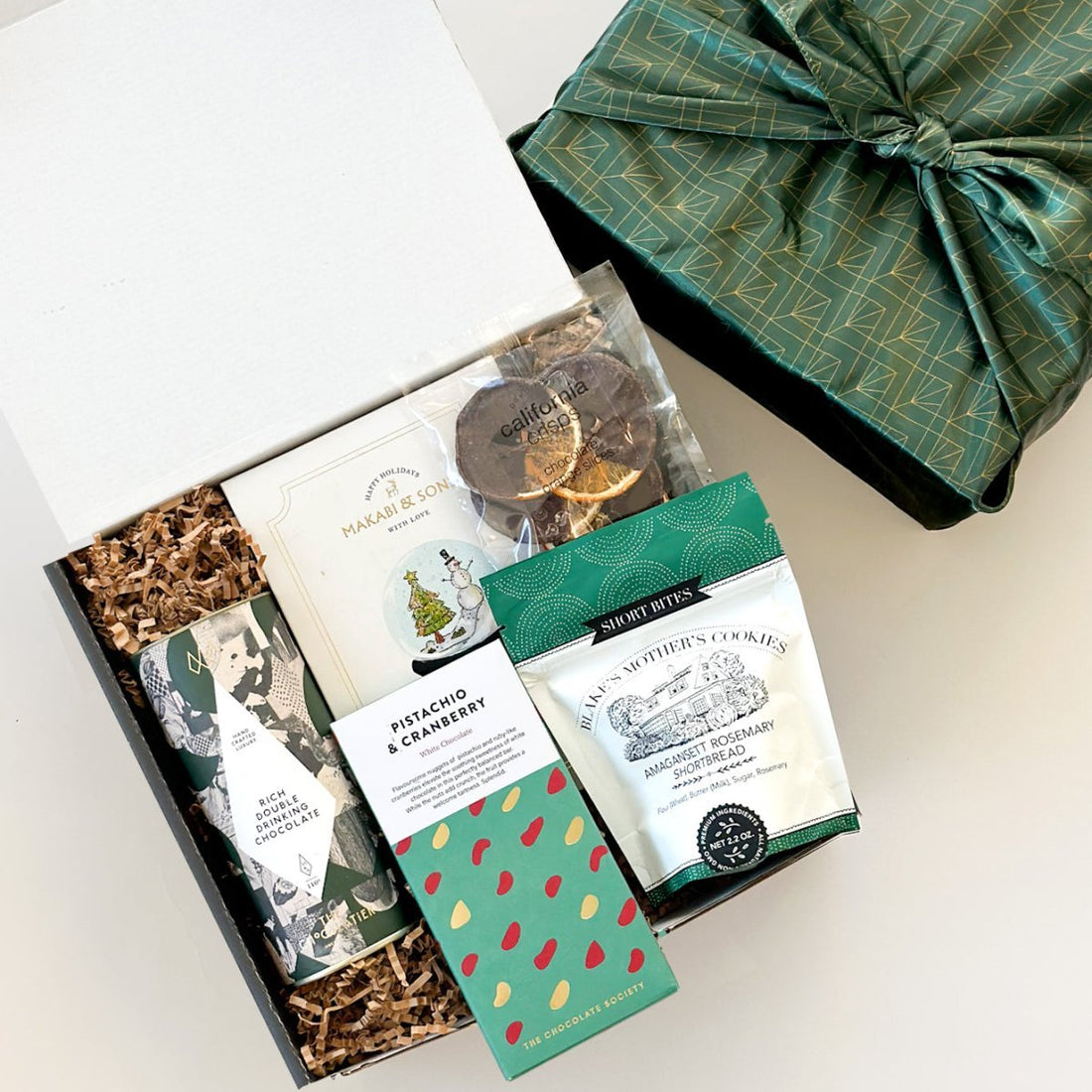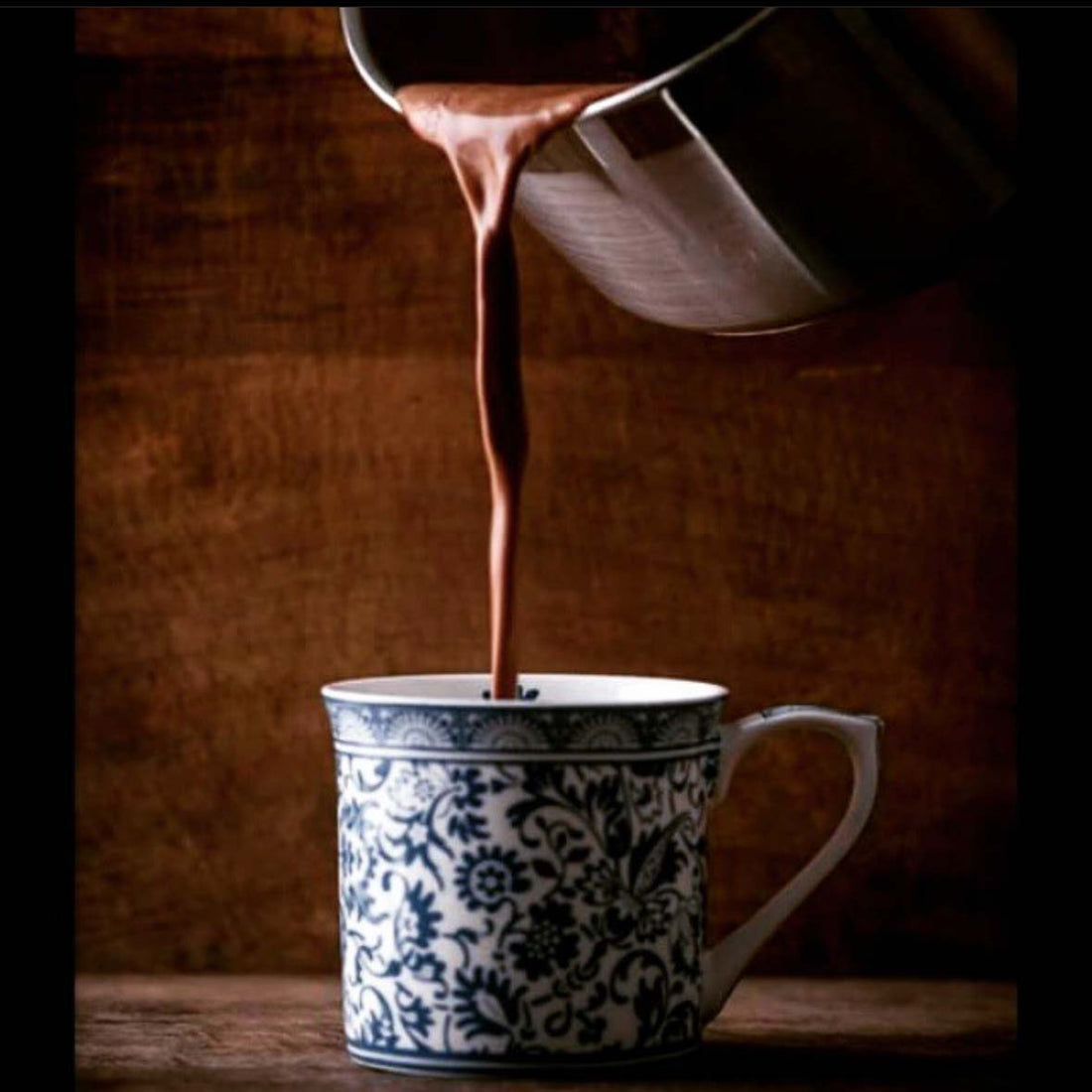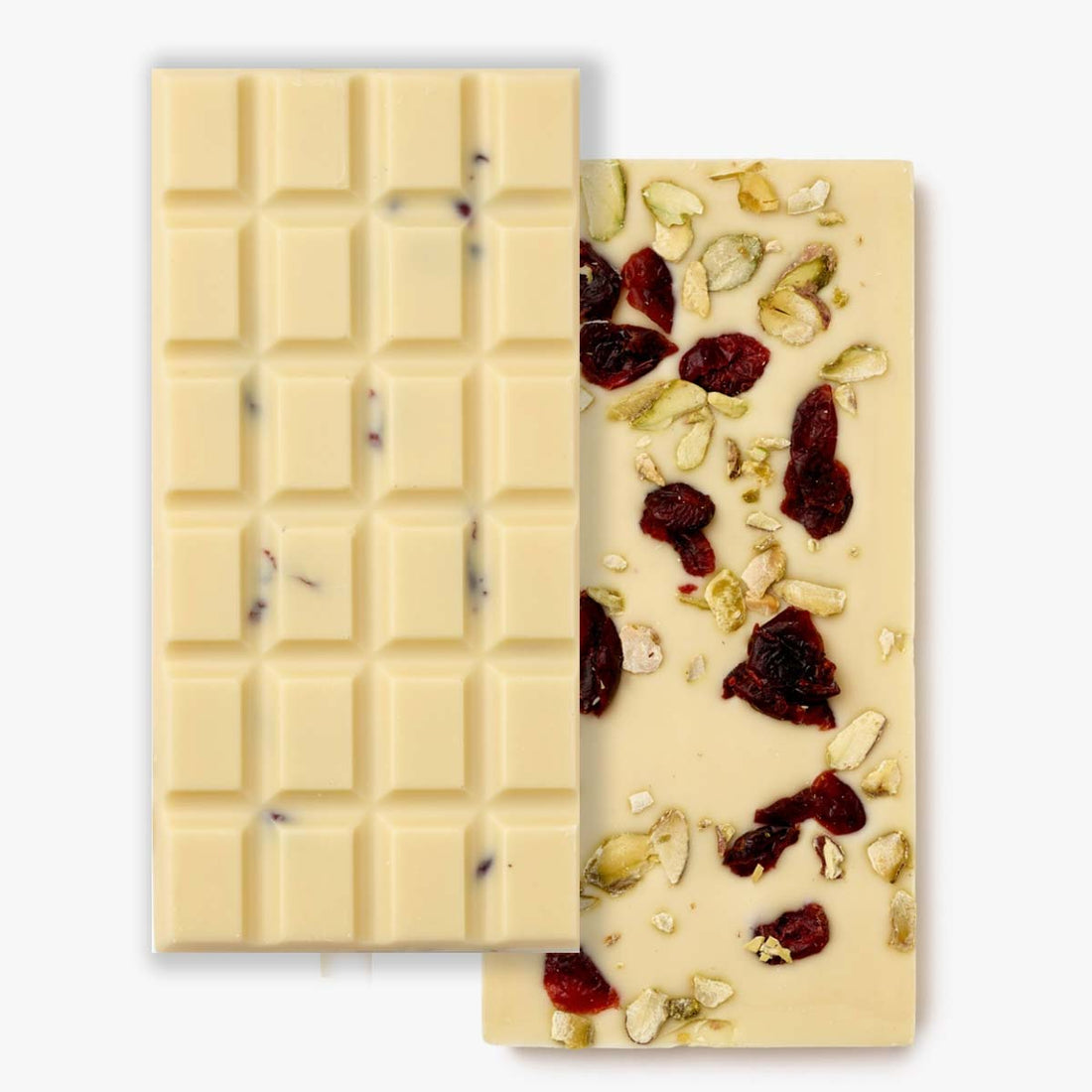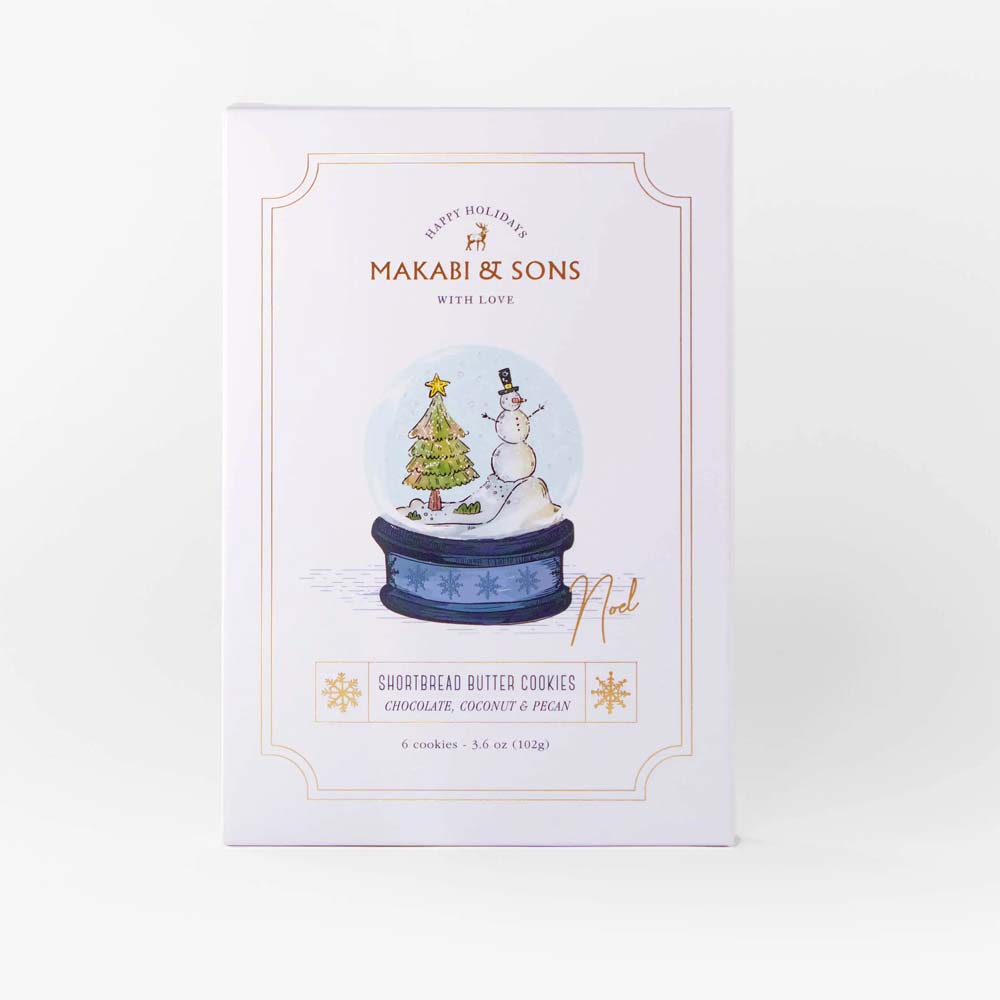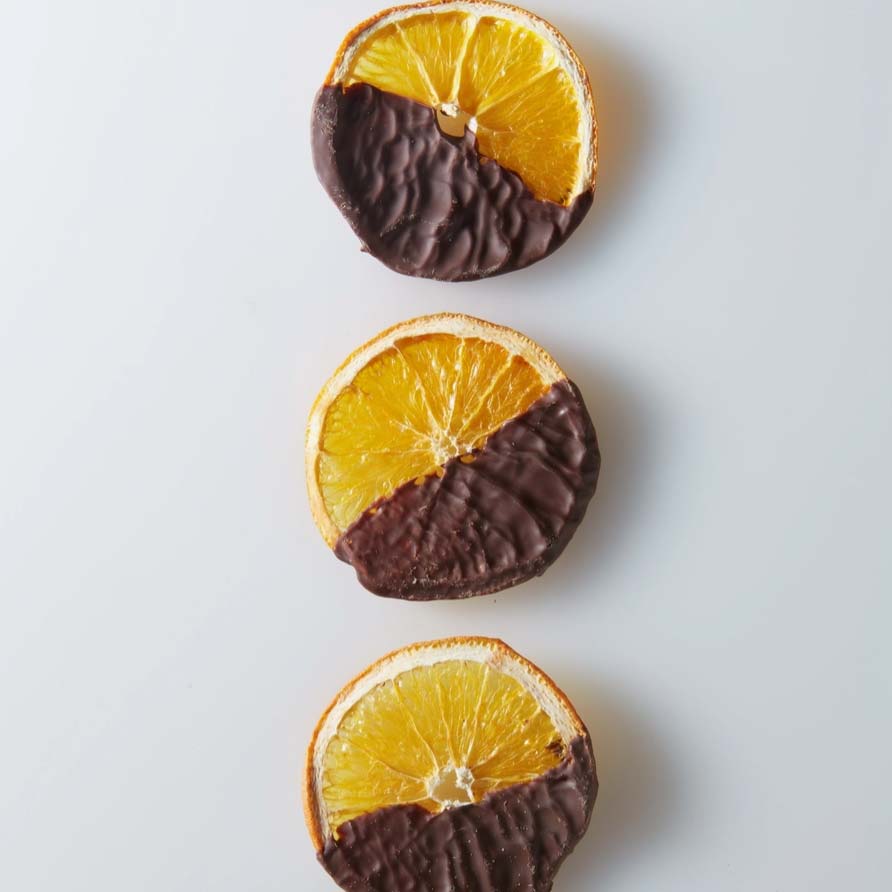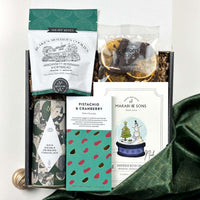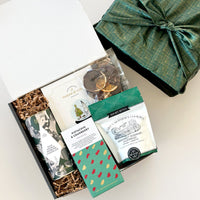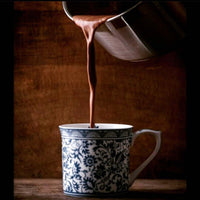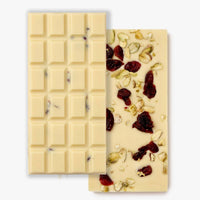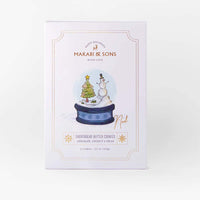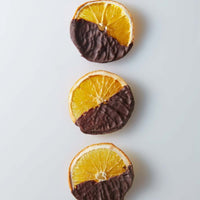 Option 6 : Sweater Weather Hot Cacao
Indulge in the ultimate holiday treat with this Sweater Weather Hot Cacao Curated Holiday Gift Box! This luxurious gift set is curated with the finest selection of rich double drinking chocolate, pistachio & cranberry white chocolate bar, buttery shortbread cookies and crispy dark chocolate orange slices. Perfect for snuggling up by the fire on a cold winter's night or gifting to your loved ones, this Sweater Weather holiday gift box is sure to bring warmth and joy to any occasion.

Not only does this gift box come with delectable treats, but it also includes a reusable furoshiki fabric wrap, making it an eco-friendly and sustainable choice. The beautiful wrap adds an extra touch of elegance and sophistication to this already stunning gift. This curated holiday gift is perfect for corporate holiday gifts, family gatherings, or any festive occasion. 
 Featuring:
Rich Double Drinking Hot Chocolate from The Chocolatier.

Pistachio & Cranberry flavored White Chocolate Bar from The Chocolate Society.
Amagansett Rosemary Shortbread from Blake's Mother's Cookies.
Chocolate, Coconut and Pecan Shortbread Butter Cookies by Makabi & Sons.
Crispy Dark Chocolate Slice from Dardimans California Crisps.
A Furoshiki wrap made from 100% cotton, designed for multiple uses.
Rich double chocolate drink by The Chocolatier, is made from the finest single origin chocolate and powdered chocolate for a smooth, creamy and totally indulgent hot chocolate.

Pistachio & Cranberry Chocolate Bar by The Chocolate Society. Flavorsome nuggets of pistachio and ruby-like cranberries elevate the soothing sweetness of white chocolate in this perfectly balanced bar. While the nuts add crunch, the fruit provides a welcome tartness.

Noel - Holiday Chocolate Coconut Pecan Cookies by Makabi and Sons.
Shortbread butter cookies with rich cocoa, creamy coconut and toasted pecans. Holiday cheer fills the air as ivory flakes cascade down the chimney's crown. 'Tis the season of roasted aromas - a balanced blend of sweet coconut and savory pecans. Warm cocoa soothes winter's embrace with tunes of jolly medleys and joyous moments.

Amagansett Rosemary Shortbread Cookies by Blake's Mother's Cookies. Savor the flavor of fragrant rosemary. Bite into the light delectable morsels- a heavenly crunch of buttery shortbread and finely ground sugar.
Premium ingredients: all natural, non-gmo, vegetarian, Made in the USA with no preservatives.

Crispy Dark Chocolate Orange Slices by Dardimans California Crisp.
A staple of our beautiful California, our California oranges are a golden standard for citrus lovers.
Besides adding our signature crunch, we took one step more and dipped these slices in the finest Belgian chocolate. Nut-free, no added nitrites, and low sugar.


The Chocolatier was founded by Aneesh Popat. Voted as one of the 1000 most influential Londoners, Popat is an award winning chocolatier and an ambassador of fine chocolate. Their mission is to "change the world one chocolate at a time". Every chocolate expertly made and savored, makes a positive difference by contributing to the education and materials for children in India. The Chocolatier also focuses on carefully sourcing ethical cacao from plantations to support the conservation of nature and wildlife.

The Chocolate Society was established in 1991. Small batch chocolates made in rural Somerse, UK by a talented team of artisan chocolatiers. For every kilogram of chocolate we sell, we donate £0.20 to social causes in the cocoa growing regions of Colombia.

Blake's Mother's Cookies: As a women-owned company, Loraine, a chef by trade, found her inspiration in a Rosemary Shortbread at a summer party. After some experimenting, she arrived at her family-approved recipe. Her cookies gained their name and popularity at her youngest son's summer job after Blake regularly shared his mother's cookies.

Makabi & Sons scour the globe to curate cookies imbued with flavors that honor local traditions and uphold universal appeal. Global and natural ingredients deliver everlasting and unforgettable tastes that transcend tastebuds, taking you on a journey to destinations both near and far. Delivered in hand-illustrated designer boxes, these treats are perfect for gift-giving to others or even oneself.

Dardimans California began crisping around their own kitchen table, using unmatched quality and flavor of California citrus readily available in their founder's backyard. Female Founder Ani Babayan and her father dehydrated their first batch of fruit at home, recreating their family's Armenian recipes and using oranges from a tree in their backyard. One year later, Ani left law school to work full time on Dardimans, and since then has grown the brand into an international leader in the industry.