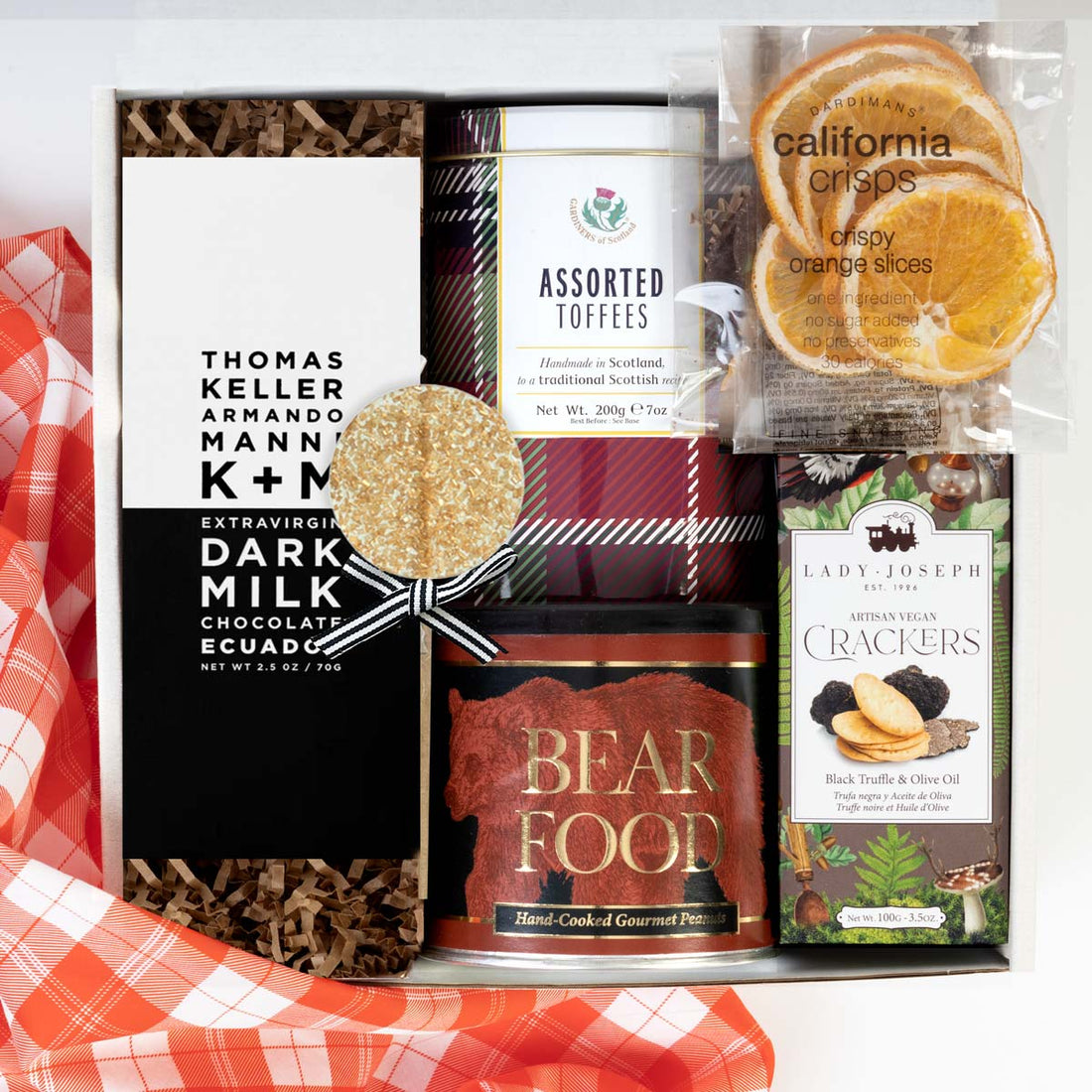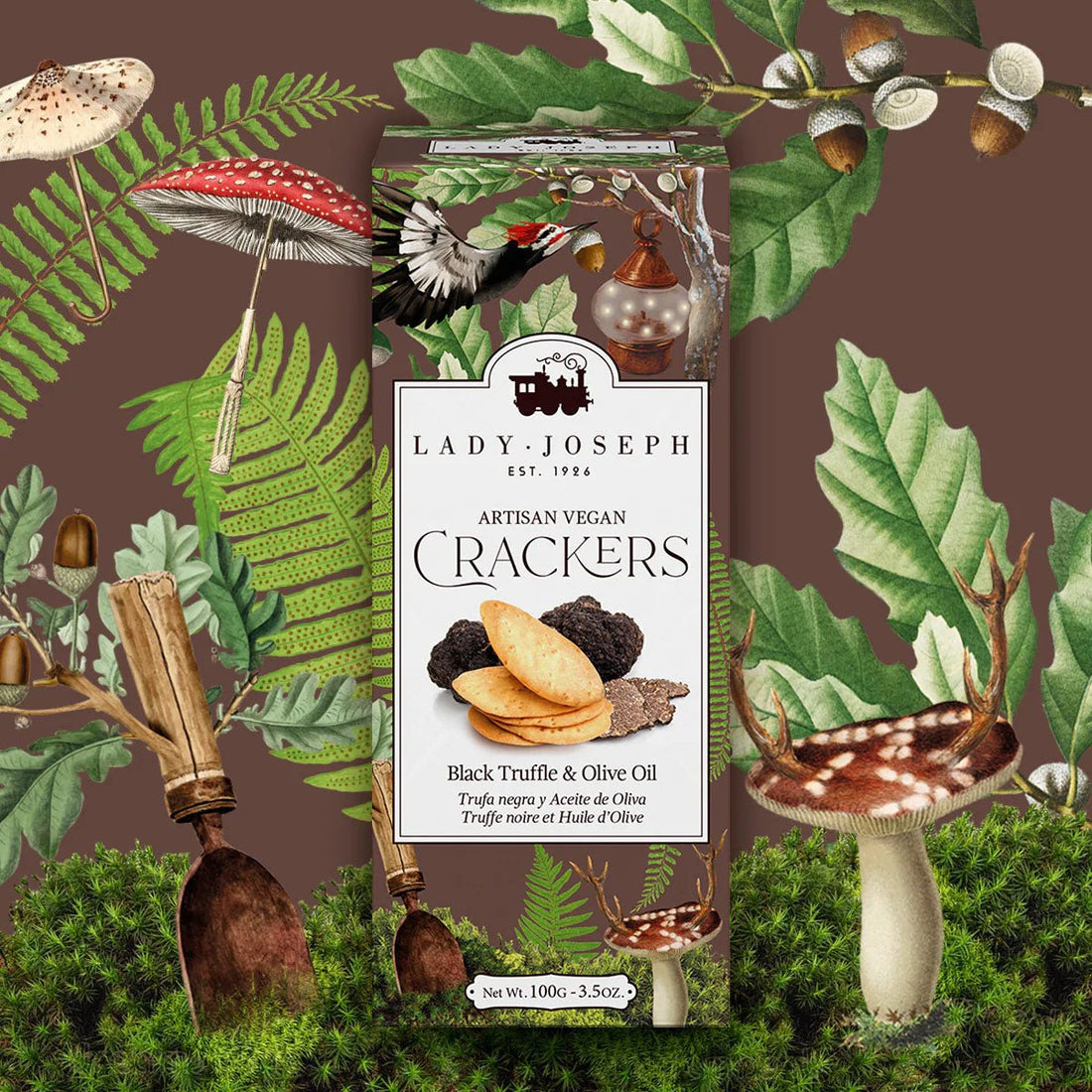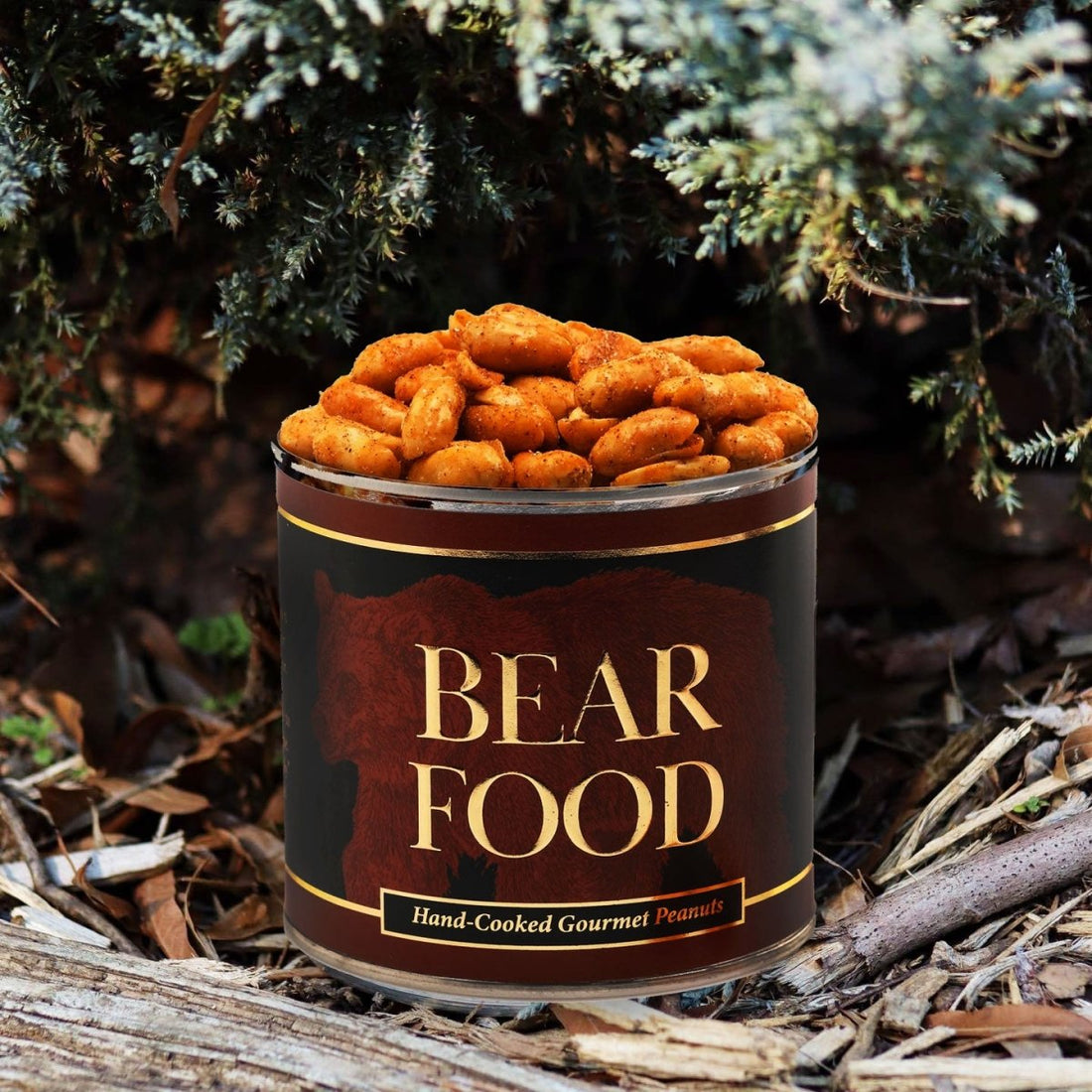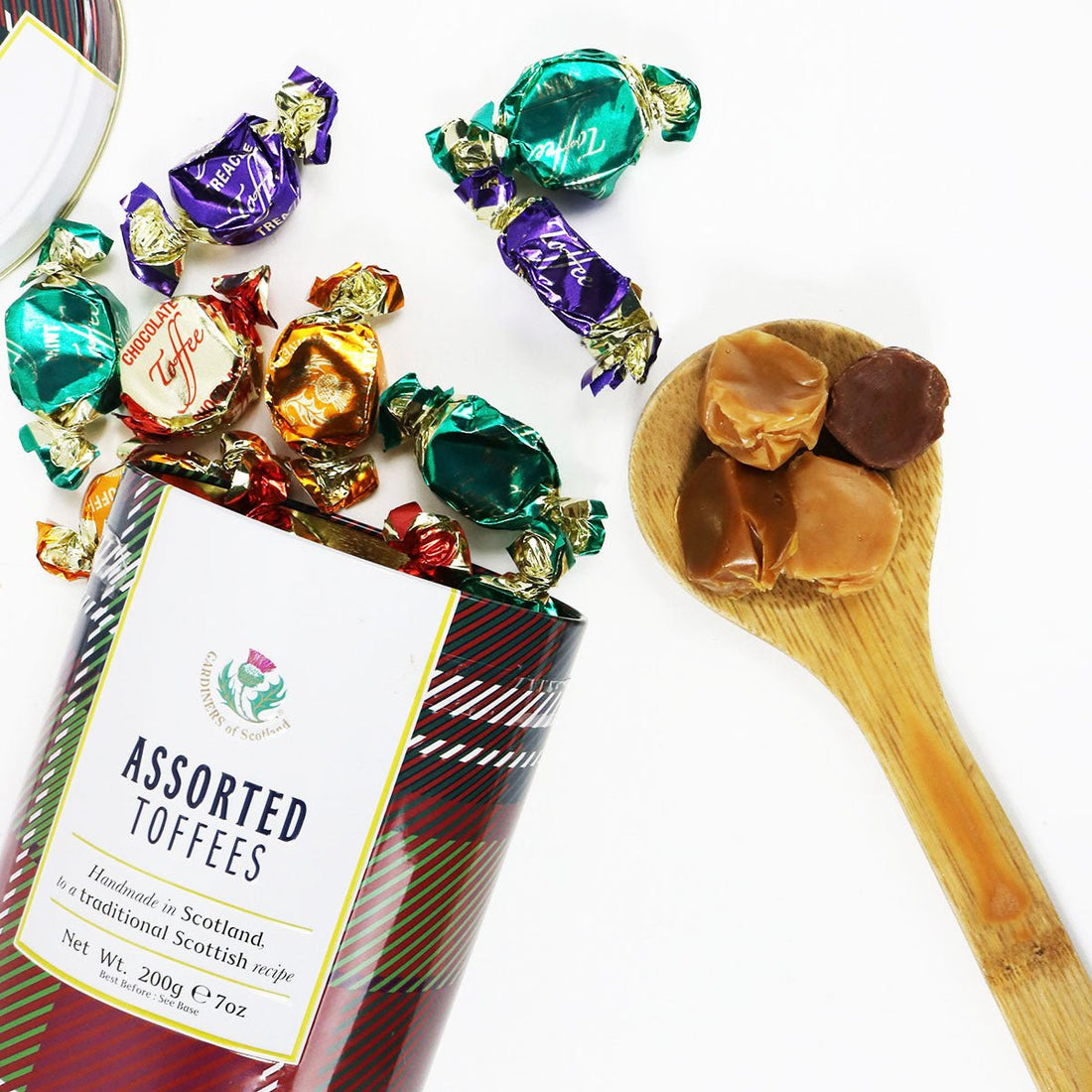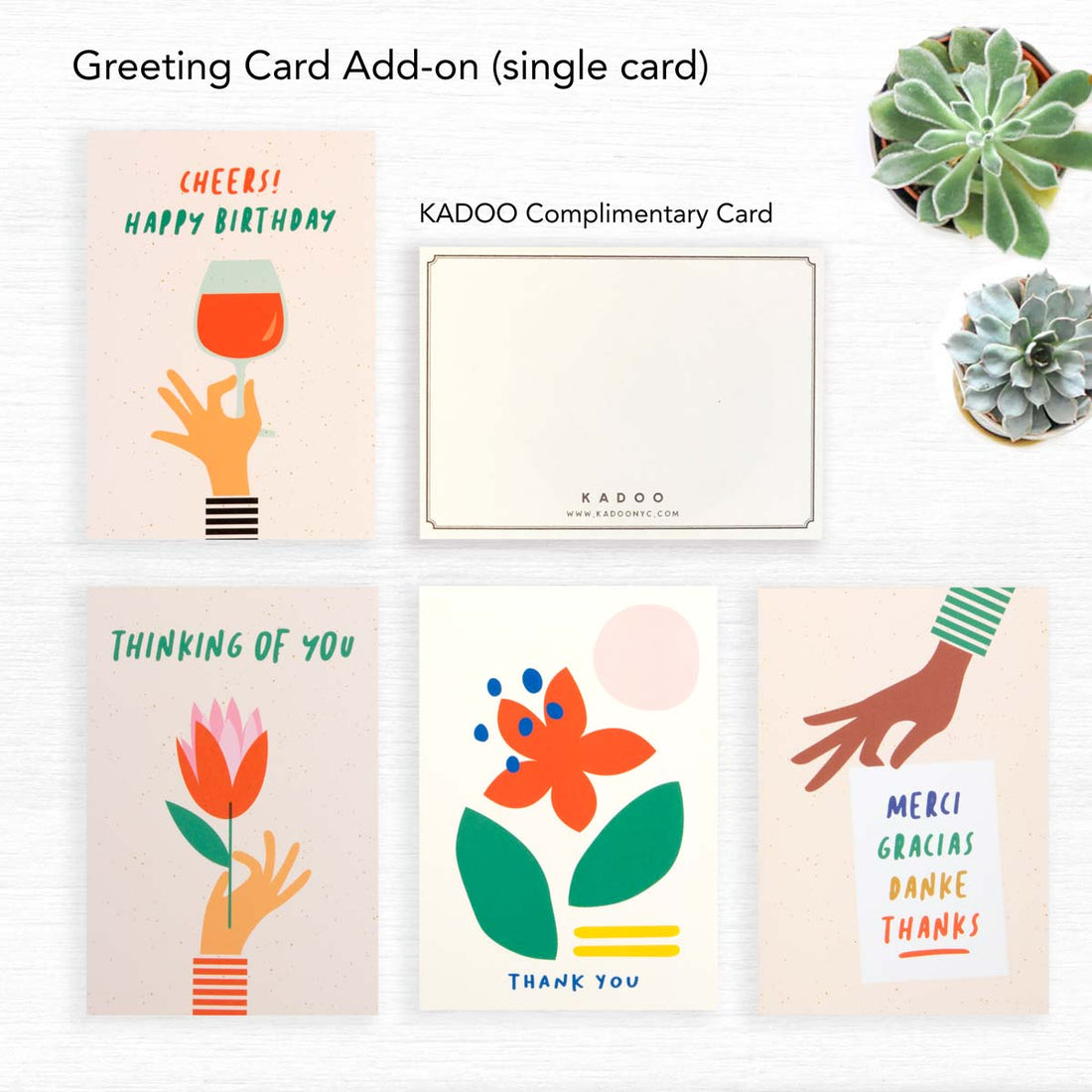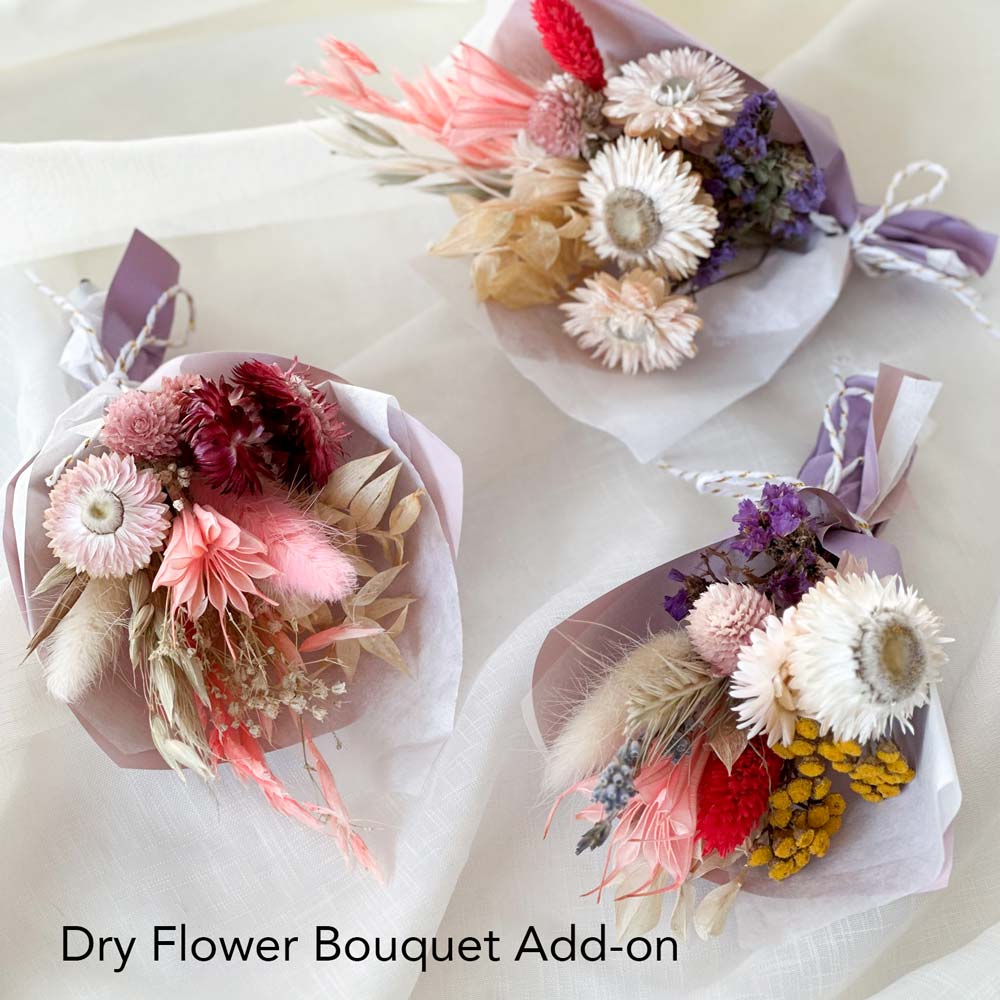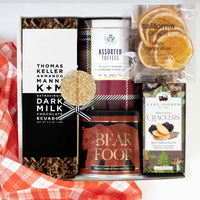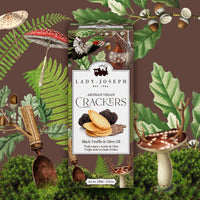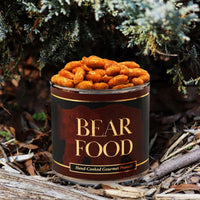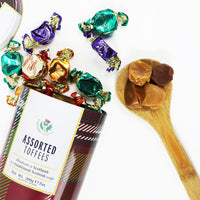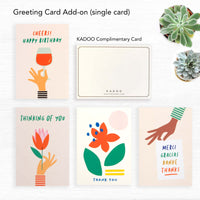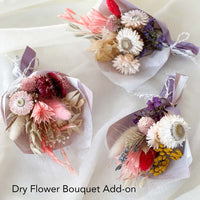 Gourmet Snack Curated Gift Box
Delight and impress any gourmet foodie enthusiasts with these sweet and salty treats. Indulge in flavor homemade toffees, along with artisanal black truffle crackers and cajun spice peanuts. This box makes an snacksational gift for any snack devotee, father's day, corporate get togethers, deal closings, celebration, birthday and more.
Featuring:
Assorted Toffees Tartan Tin by Gardiners of Scotland Handmade Confectionery.

Dark Milk Chocolate by Thomas Keller Armando Manni K + M

Cajun Spice Gourmet Peanuts by Bear Food.

Chocolate Orange Slices by Dardimans California.

Delicious 

Artisan 

Vegan 

Crackers 

with Black 

Truffle 

and 

Olive Oil by Lady Joseph.


Artisanal Champagne Bubble Cocktail Lollipop by Melville Candy.

Printed Tartan Furoshiki 100% cotton wrap.
Your custom message in complimentary KADOO ivory notecard or add-on a greeting notecard.
A choice to add beautifully dry flower bouquet for a lasting impression.
Chocolate by Thomas Keller + Armando Manni ships its famous chocolate bars nationwide on Goldbelly! Balanced and nuanced flavors exhibit notes of mango and molasses. The K+M Extravirgin Dark Milk Ecuador progresses smoothly from one flavor to another.

"Ecuador is home to the fantastic nacional cocoa varietal, where its full expression is only realized in one specific, geographical region. Our Ecuadorian cocoa has the desirable, distinctive flavor profiles without the typical accompanying acidity, astringency and bitterness." — K+M

Gardiners of Scotland Handmade Confectionery Assorted Toffees Tartan Tin
A selection of assorted toffees : Butter, Treacle, Chocolate, Mint & Liquorice in a beautiful tartan gifting tin. Handmade in the heart of Scotland to a secret family recipe.

Bear Food Cajun Spice Gourmet Peanuts
An irresistible twist to the signature jumbo peanut will send your taste buds to Cajun heaven! With a blend of spicy and sweet flavors, these Cajun spiced peanuts bring a bold kick of flavor to your home! Not too spicy, but enough heat to pair perfectly with a cold drink!

Dardimans California Crispy Dark Chocolate Orange Slices
Dardimans' orange crisps that started it all!
A staple of the beautiful California oranges and a golden standard for citrus lovers. The heart of a fruit's vitamin content is in the rind, that's why we leave it on. These snack packets are the perfect single-serve packages to snack on and travel with and add to lunches.

Lady Joseph Artisan Vegan Crackers with Black Truffle and Olive Oil
Natural, artisan, vegan, extra fine and crunchy, infused with olive oil and black truffle. The black truffle (Tuber Melanosporum Vitt) has an intense flavor and an exquisite aroma. The harvest takes place in the town of Sarrión (Teruel) where the largest oak plantation in the world is located. Made without additives or colorings and without palm oil, non GMO.

Champagne Bubbles Cocktail Lollipop by Melville Candy
This artisanal cocktail lollipop come in hard candy lollipops flavored with champagne and embedded with gold sugar crystals. Each lollipop is hand-poured, slight variations will occur. One piece, 1 oz.
In 2017, Michelin-starred American chef Thomas Keller has partnered with Italy's most famous olive oil producer, Armando Manni, to create a chocolate bar unlike any other. Hand-crafted in Napa Valley, California, each bar of K+M chocolate is infused with heart-healthy MANNI organic extra-virgin oil instead of cocoa butter, which not only creates its signature texture, but also boosts its antioxidant levels (without tasting like olive oil!).

Gardiners of Scotland is a long established family run manufacturer which specializes in a range of traditional Scottish confectionery from Butter Tablet, Macaroon bars and Toffee to a wide range of flavored fudge packaged in high quality gifting tins and cartons.

The story of Bear Food peanuts is as much about Mac Brydon as it is about his best friend and older brother, Miller. Miller has Down's Syndrome. Brydon said this is the typical story for many people with special needs across the country, the majority of which are unemployed. He wanted to change that, so he created Bear Food — a hand-cooked gourmet peanut company that gives people with disabilities a chance to learn job skills and responsibilities. Bear Food's jumbo gourmet peanuts are cooked by a supplier using a time-honored Virginia recipe that's been handed down by generations.

Dardimans California began crisping around their own kitchen table, using unmatched quality and flavor of California citrus readily available in their founder's backyard. Female Founder Ani Babayan and her father dehydrated their first batch of fruit at home, recreating their family's Armenian recipes and using oranges from a tree in their backyard. One year later, Ani left law school to work full time on Dardimans, and since then has grown the brand into an international leader in the industry.

Lady Joseph is a nod to Josephine Bernaud who began to make delicious artisan biscuits and crackers in 1926 in her adoptive town of Haro in La Rioja region, Spain. Her delicious baked products reminded her of his childhood in Bordeaux. Lady Joseph, as her friends called her, inaugurated her Tea Room which became a meeting place to talk and catch up.

Melville Candy is a family owned, third generation confectionery company located in Randolph, Massachusetts. Using a family recipe perfected by Grandpa Melville over 75 years ago, they produce gourmet hard candy lollipops and chocolate treats. Each product we produce is hand-made, packed and inspected in the USA to ensure they are of the highest quality.