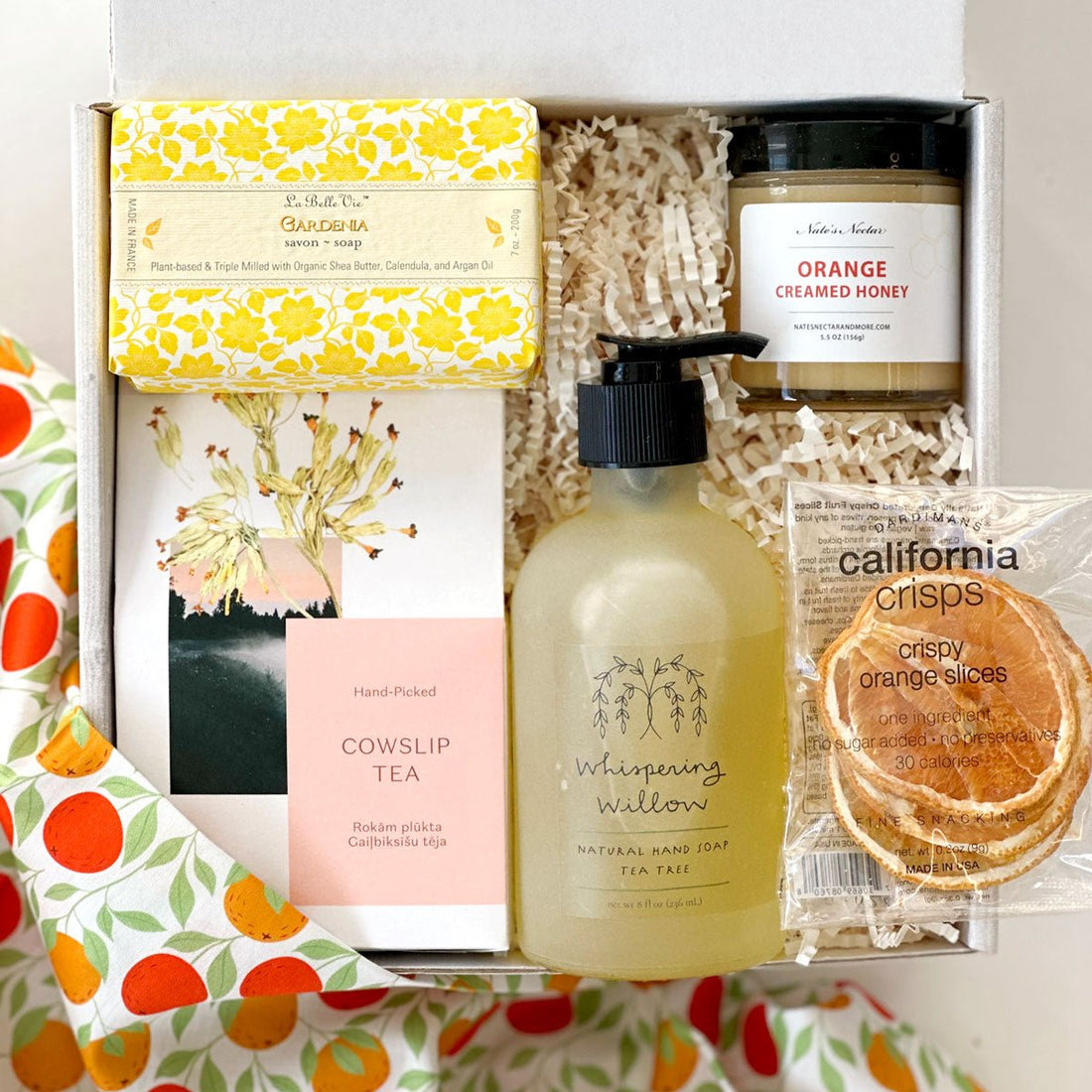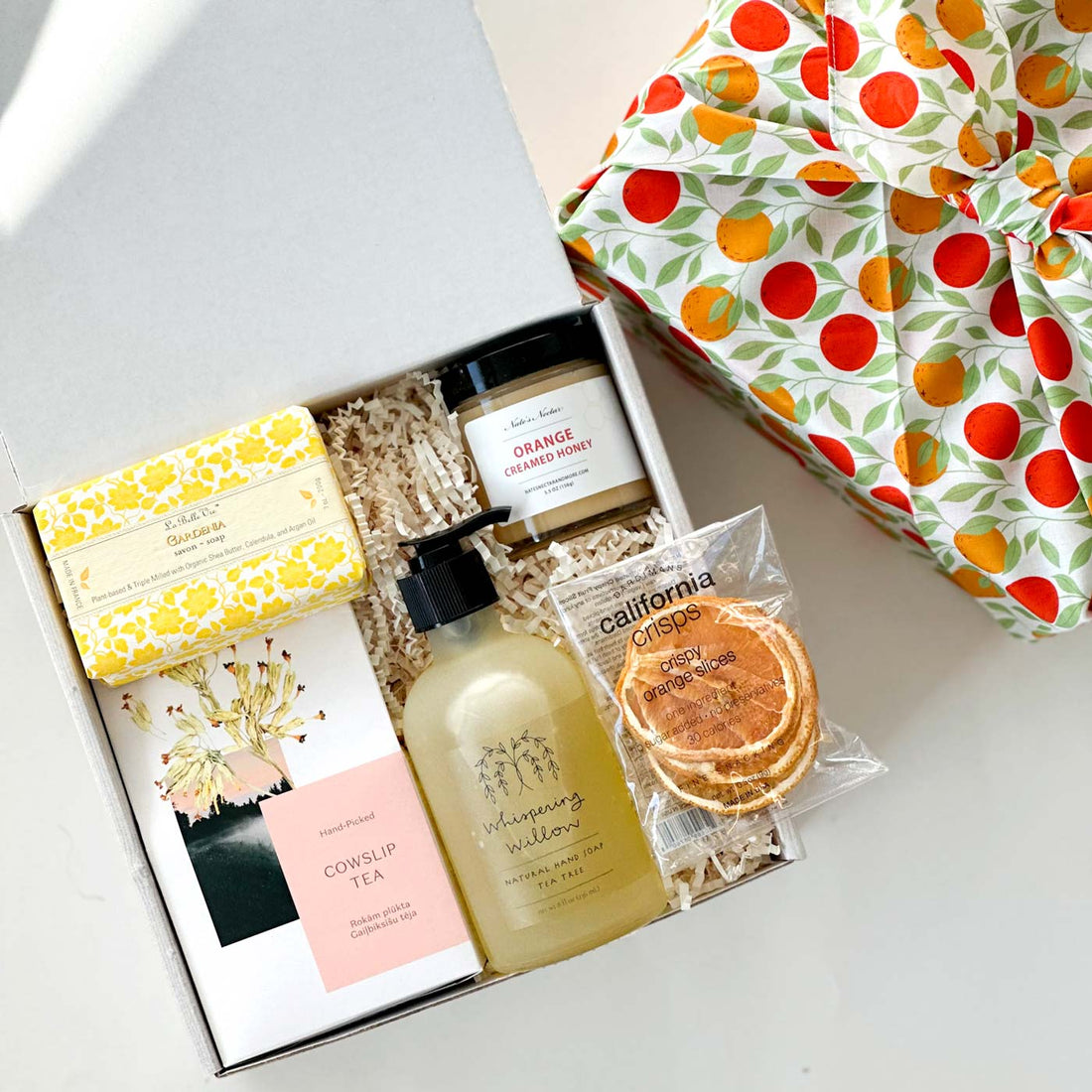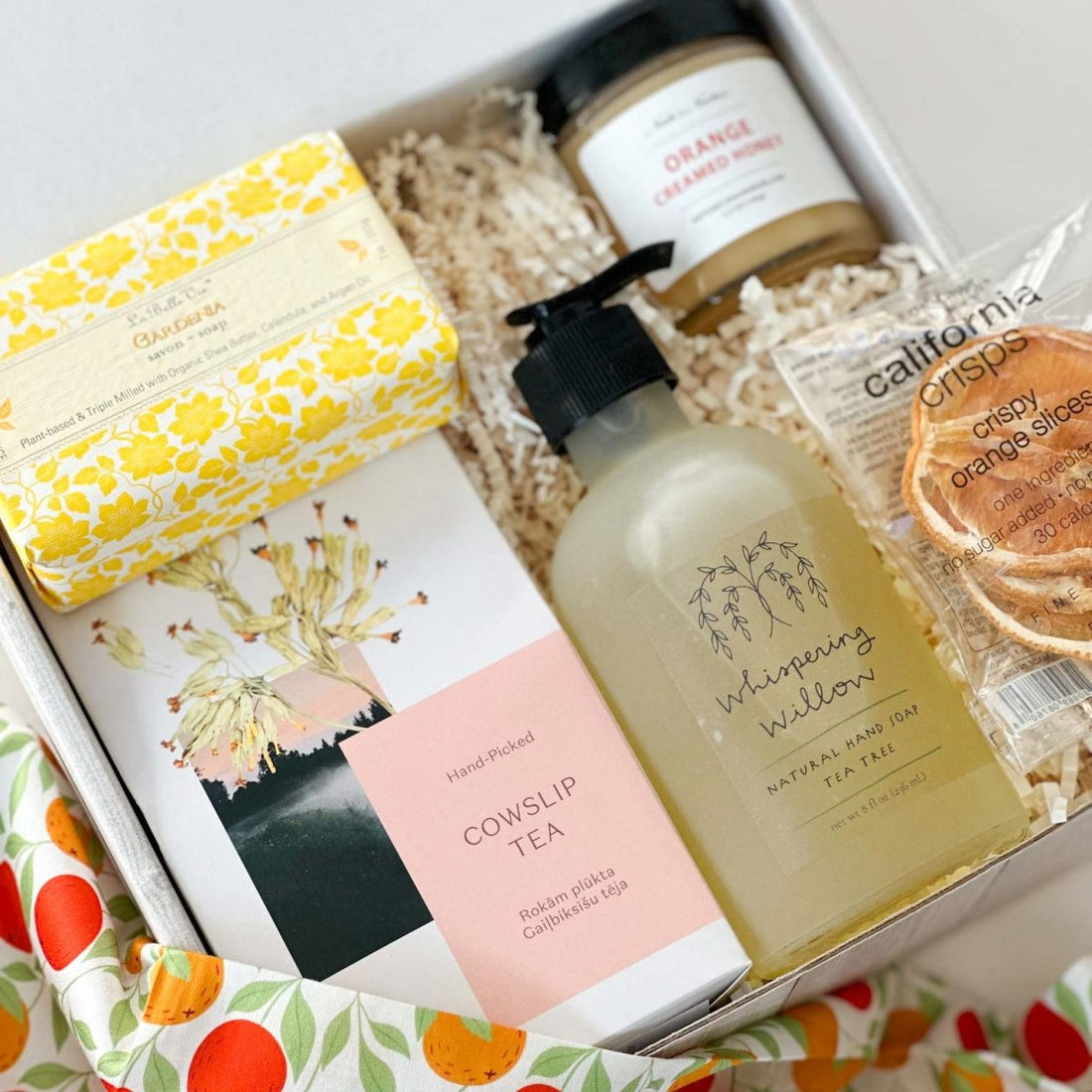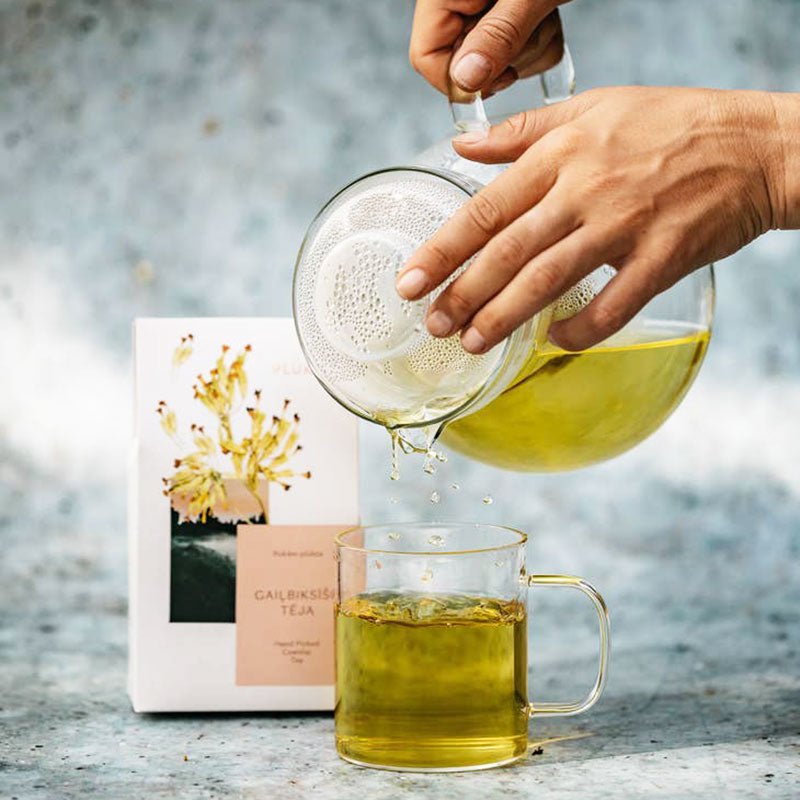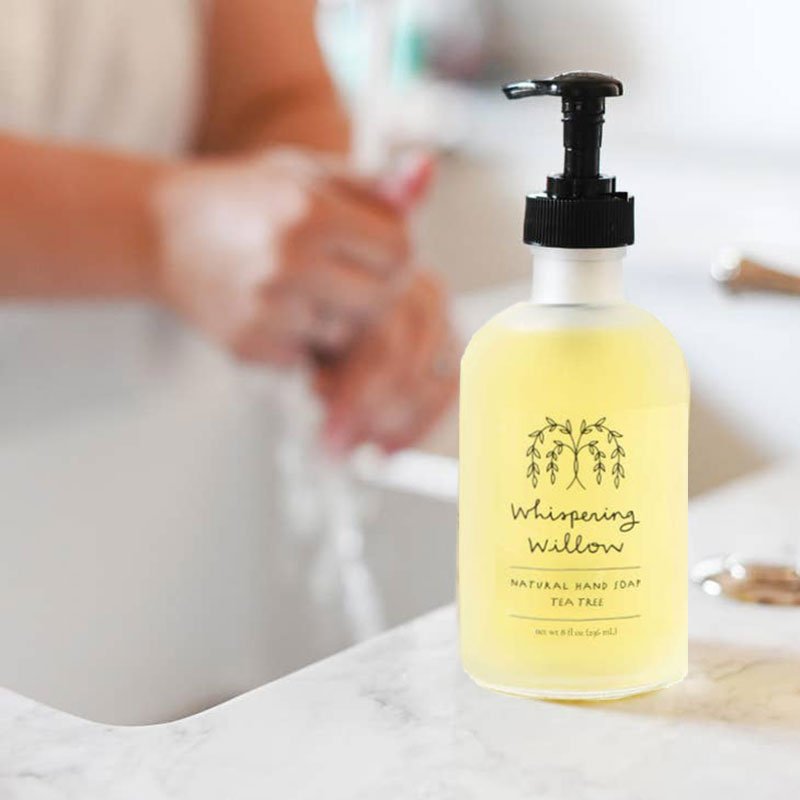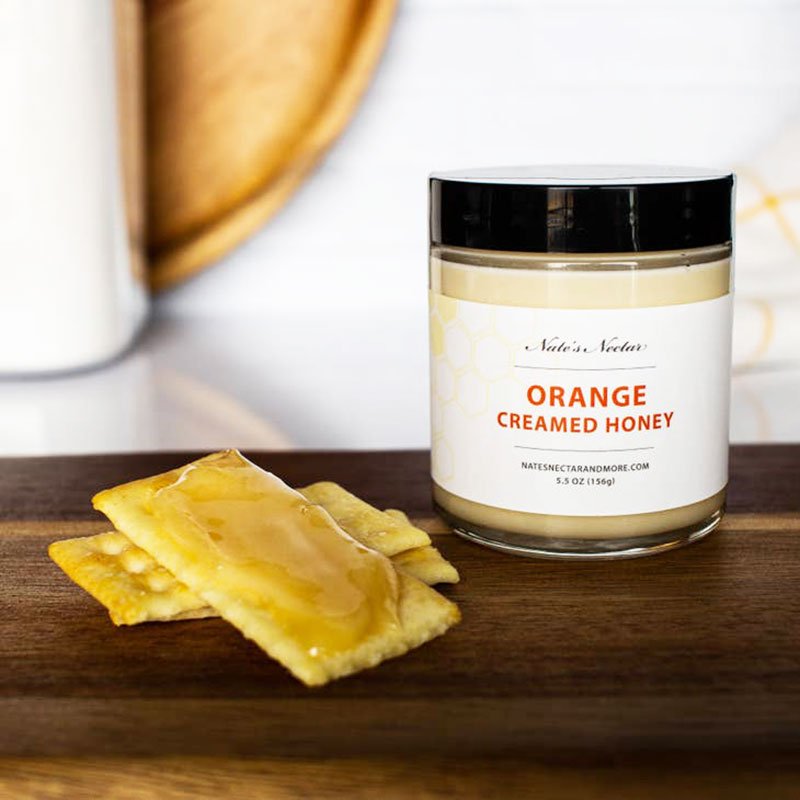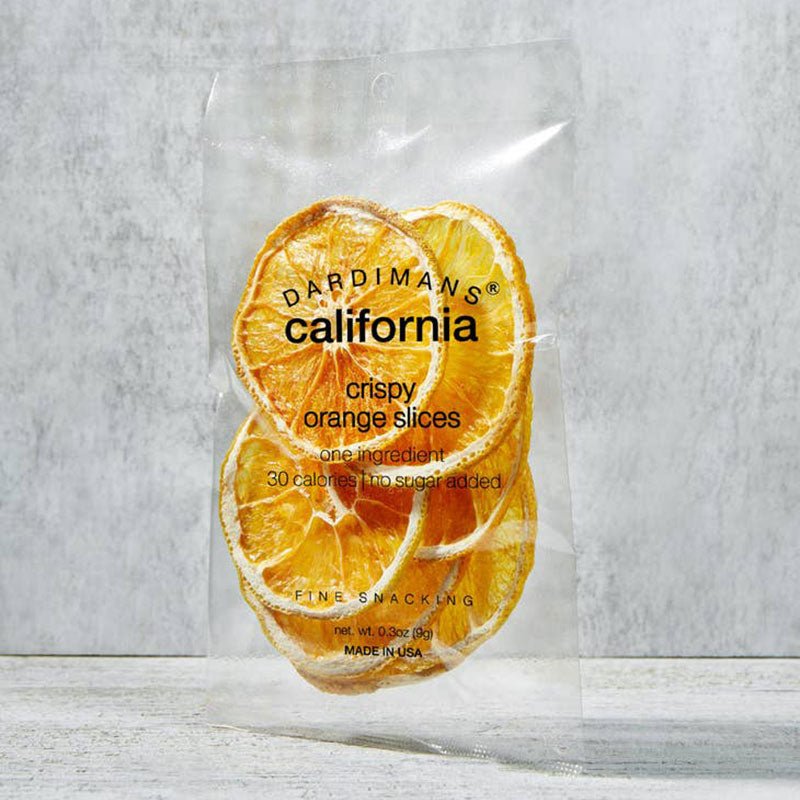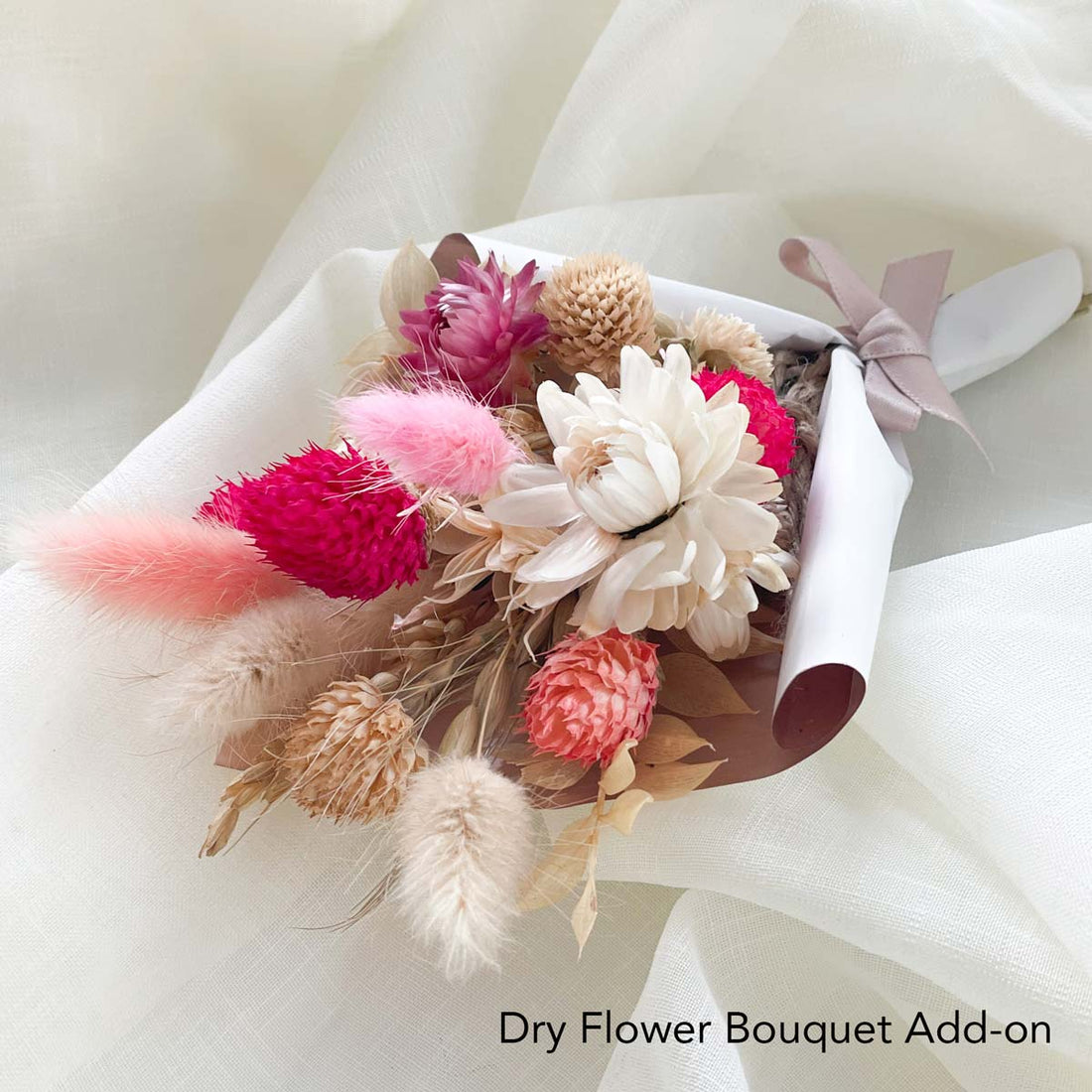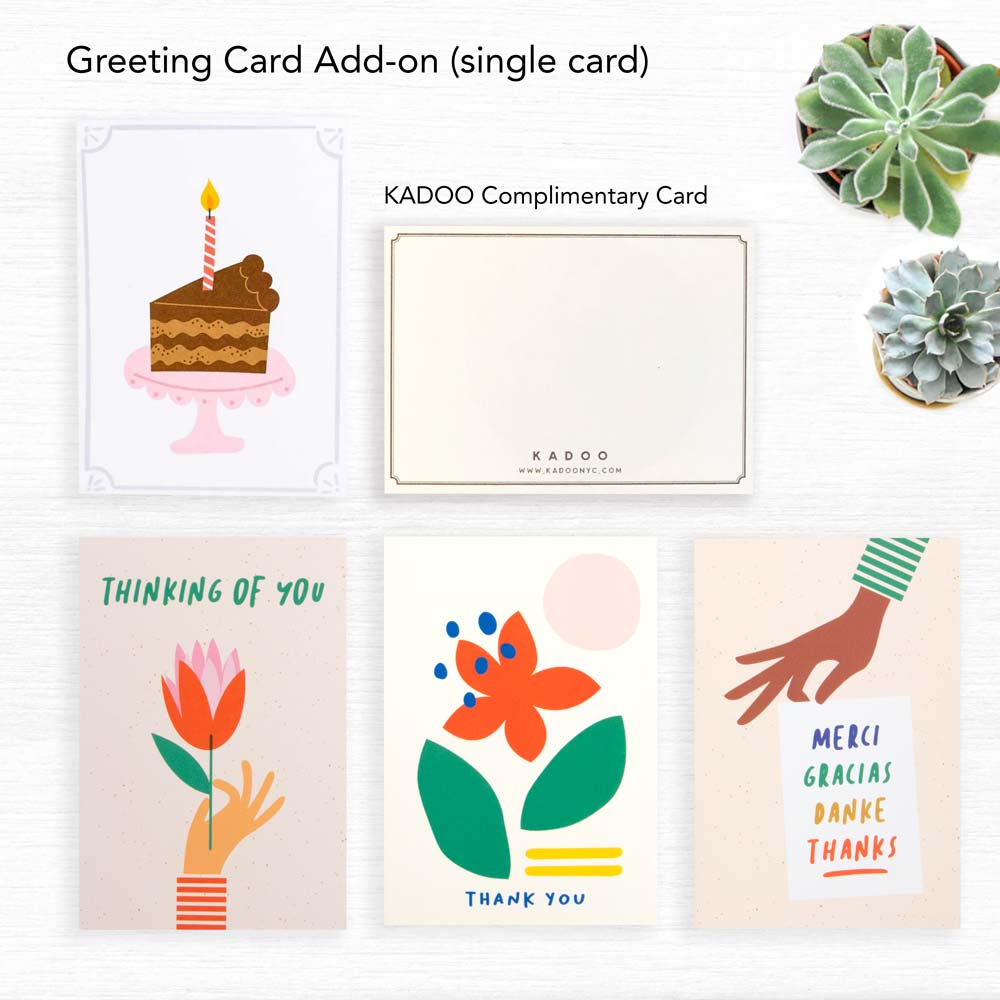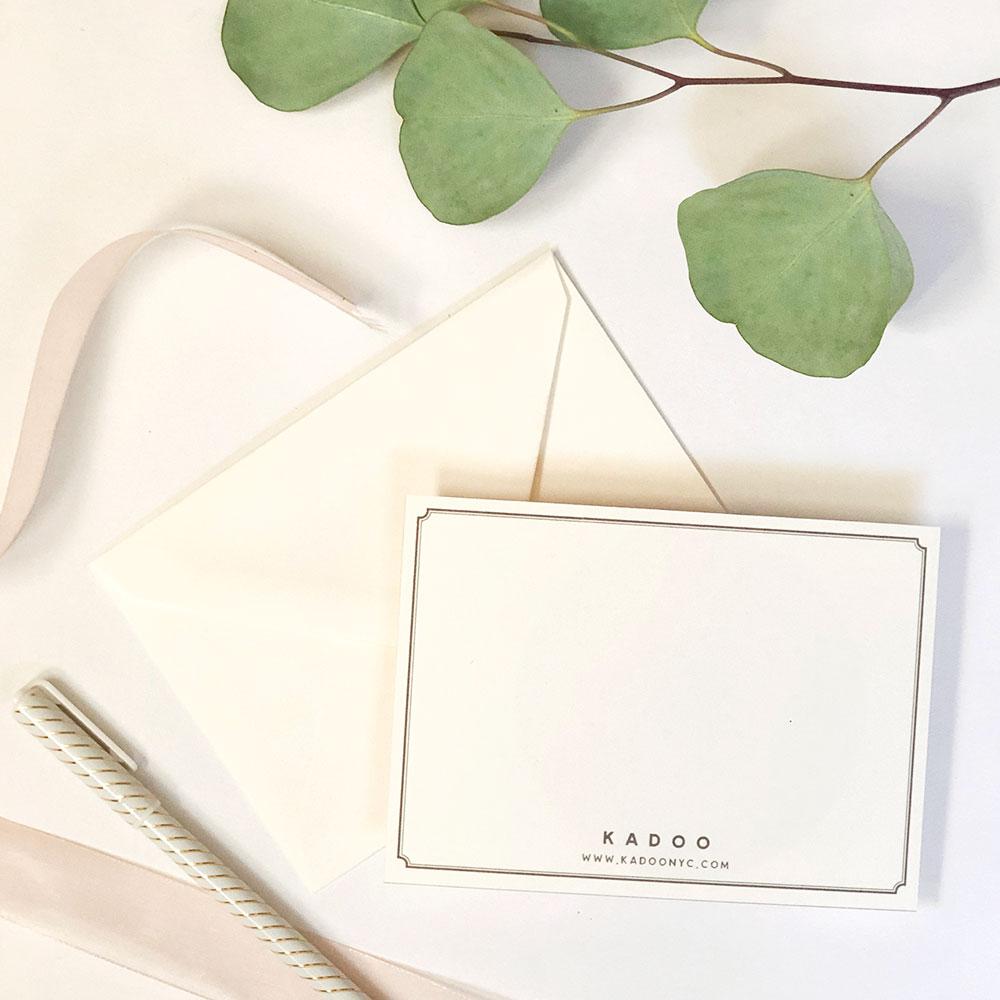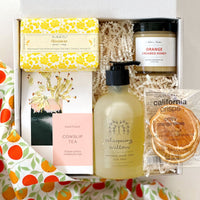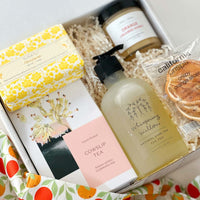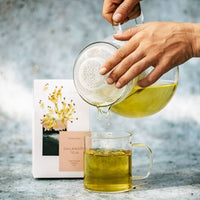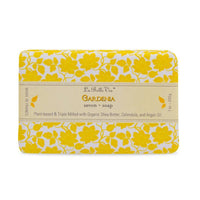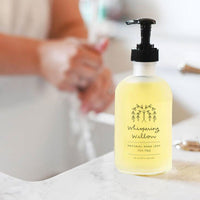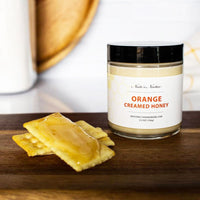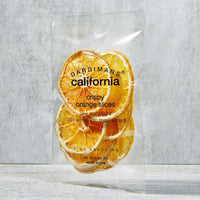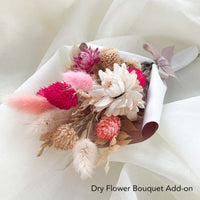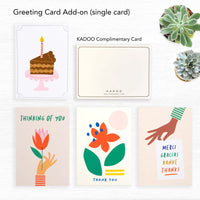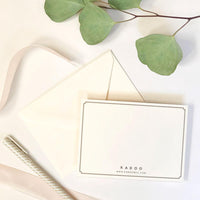 Orange Blossom Curated Gift Box
Touched by the scent of orange, the Orange Blossom gift is refreshing, relaxing and flavorful. Perfect for an afternoon tea and to create moments of inner peace and calmness, it is the best gift idea for mother's day, birthday or any special occasion. 
Featuring:
Hand-picked cowslip Nordic herbal tea by 

Plükt.

A nourishing Gardenia hand soap by La Belle Vie. 

A natural Tea-Tree hand soap by Whispering Willow.
Candied Orange 70% Dark Chocolate Bar by The Chocolatier.
Orange creamed honey by Nate's Nectar.
Crispy orange slices by California Crisps.
An eco-friendly 100% printed orange cotton Furoshiki fabric wrap.
Your custom message in complimentary KADOO ivory notecard or add-on a greeting notecard.
Optional dry flowers bouquet in collaboration with Smitten Blooms. Packaged securely inside a Kraft box. 


Plükt Hand-picked Cowslip Nordic Herbal Tea
The perfect tea to wake up to, Cowslip (contains loose flowers of Primula veris) has the flavour that fits everyone. Best enjoyed first thing in the morning, although sometimes the best things should be kept until the end of the day. A piece of truly beautiful and wild Nordic summer is captured in each and every herb. Just like a small gift to oneself - to cherish the moment, celebrate life and Nature.

La Belle Vie Gardenia Hand Soap Bar
Triple-milled using centuries-old artisanal methods to produce a long-lasting bar with a luxuriously rich lather to leave your skin cleansed and delicately scented.
Cruelty-Free and Vegan. Formulated without Parabens, BHT, SLS, Phthalates, Gluten, Soy, GMOs, or Colorants.

The Chocolatier Candied Orange 70% Dark Chocolate Bar
Dominican Republic chocolate rich in fruity and floral notes with candied batons of bittersweet orange peel. One bar, 50 gr.

Whispering WIllow Tea Tree Hand Soap
This natural hand soap has a unique blend of organic oils including coconut, olive, and jojoba. This recipe creates a rich lather that moisturizes and nourishes your hands while you wash. Tea tree is a crisp, clean, herbaceous aroma that provides clarity and eases the mind. Ingredients: water, organic olive oil, sodium borate, organic coconut oil, potassium hydroxide, organic jojoba oil, organic essential oil.

Nate's Nectar Orange Creamed Honey
This natural raw honey has been mixed to create a spread at room temperature. It is great on pastries, fruits, crackers, or by itself! To ensure the quality of our product, all creamed honey is created in small batches. Creamed Honey has a two-year shelf life and there are no added preservatives.

Dardimans California Crispy Dark Chocolate Orange Slices
Dardimans' orange crisps that started it all!
A staple of the beautiful California oranges and a golden standard for citrus lovers. The heart of a fruit's vitamin content is in the rind, that's why we leave it on. These snack packets are the perfect single-serve packages to snack on and travel with and add to lunches.

Plükt has created a sustainable, eco-friendly premium tea range. A female-lead mother and daughter company. By gaining experience in Asian market Māra (daughter) discovers an opportunity window in premium specialty tea niche. Although tea market is often characterized as traditional, concentrated and sophisticated unique business model is developed to provide premium specialty tea in Northern Europe.

La Belle Vie by Ton Savon, LLC has been creating branded and Private Label natural and organic bath, body and beauty products for 25 years. Based in Manhattan Beach, California, this women-owned company have cultivated several soap brands, each unique in style and exact formulation; all products they make are formulated without Parabens, BHT, SLS, Phthalates, Gluten, Soy, or GMOs. They also offer products that are certified Organic.

The Chocolatier was founded by Aneesh Popat. Voted as one of the 1000 most influential Londoners, Popat is an award winning chocolatier and an ambassador of fine chocolate. Their mission is to "change the world one chocolate at a time". Every chocolate expertly made and savored, makes a positive difference by contributing to the education and materials for children in India. The Chocolatier also focuses on carefully sourcing ethical cacao from plantations to support the conservation of nature and wildlife.

Nate's Nectar is a family-owned business that began with Nate's interest in bees during his college years. Nate and his wife Erika, along with the rest of the family, are proud to offer natural raw honey, creamed honey, beeswax candles, and beeswax skin care products. Nate's Nectar Natural Raw Honey still contains all of the great properties that honey should retain! It is not heated or filtered, enabling it to contain pollen.

Whispering Willow is a WBENC-Certified Women's Business Enterprise and is certified cruelty-free through Leaping Bunny. All products are handcrafted in North Carolina with the exception of their soap dishes which are made on the West Coast & their tea towels which are printed in the Midwest.

Dardimans California began crisping around their own kitchen table, using unmatched quality and flavor of California citrus readily available in their founder's backyard. Female Founder Ani Babayan and her father dehydrated their first batch of fruit at home, recreating their family's Armenian recipes and using oranges from a tree in their backyard. One year later, Ani left law school to work full time on Dardimans, and since then has grown the brand into an international leader in the industry.