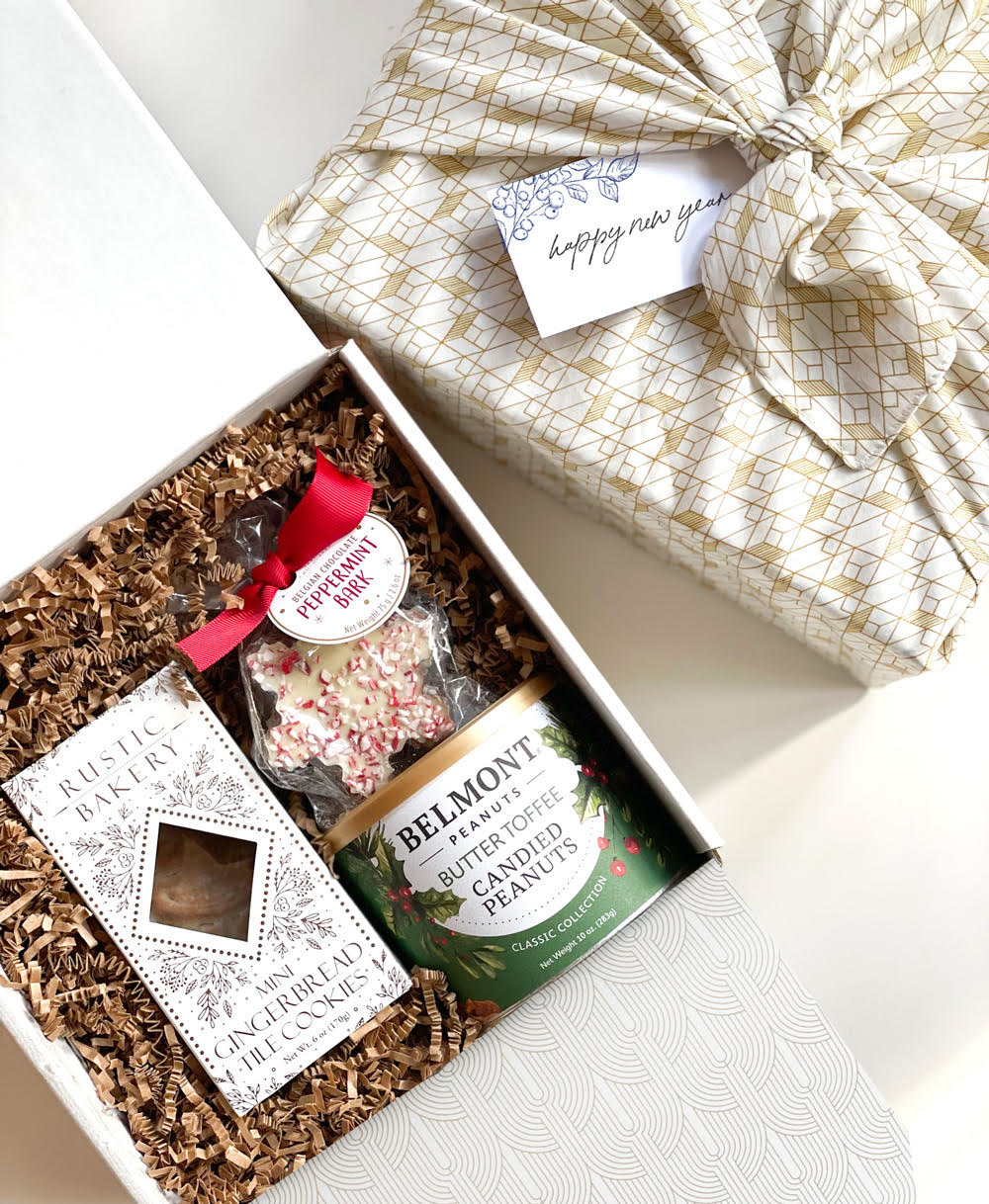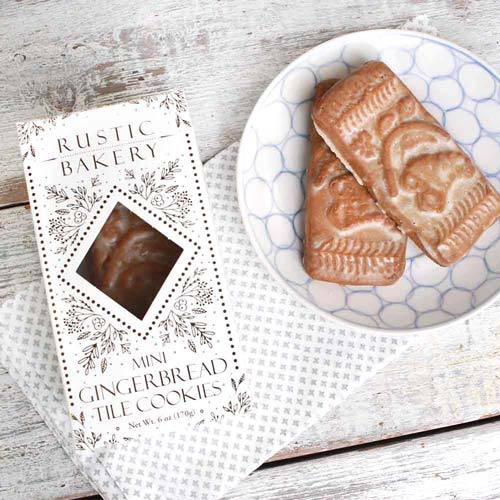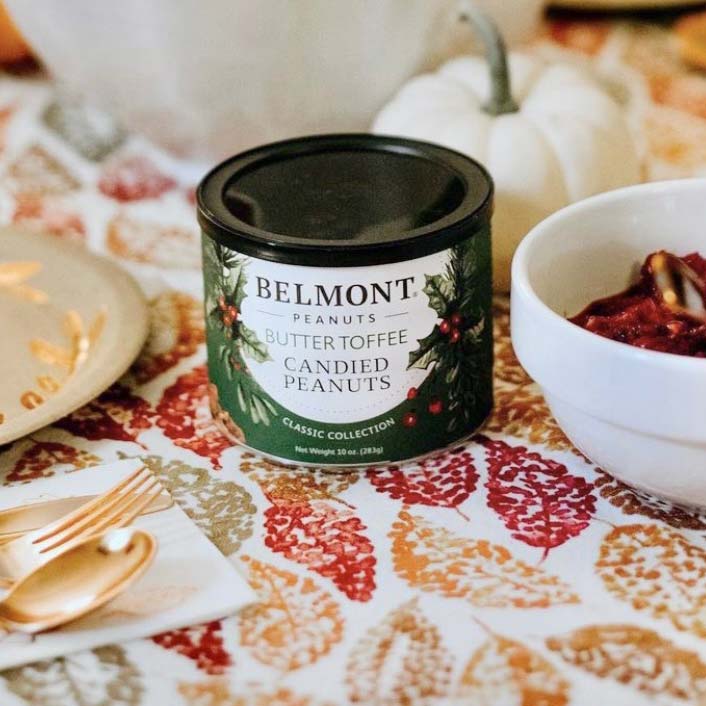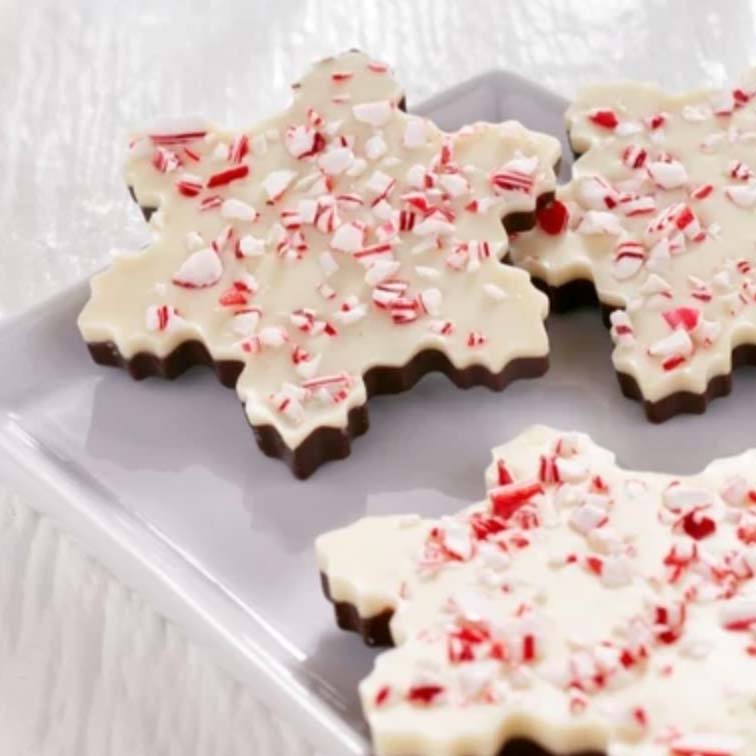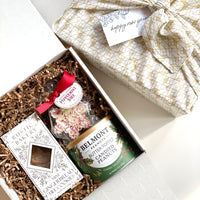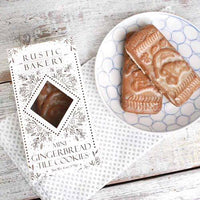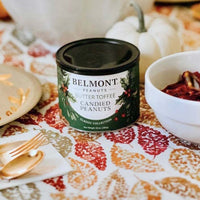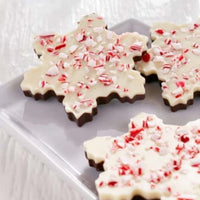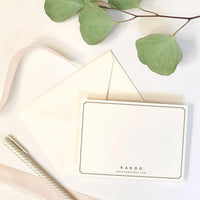 Option A - Afternoon Snack Gift Box
Satisfy your afternoon craving with a gift packed with deluxe snacks. These treats will surely give the sweetness they deserve at the start of the new year!

Rustic Bakery Mini Gingerbread Tile Cookies

Belmont Toffee Candied Peanuts 

Peppermint Bark Belgian Chocolate by Saxon Chocolates
Printed Furoshiki Cotton Wrap

Custom Message and Happy New Year Tag
Mini Gingerbread Tile Cookies by Rustic Bakery
Indulge in these sophisticated and delicious cookies. They are full of seasonal spices and are topped with a delicate vanilla glaze that highlights the intricate engraved surface. Contains egg, milk, wheat. One box, 6 oz.

Butter Toffee Candied Peanuts by Belmont Peanuts
Indulge in the rich, flavorful holiday favorite Butter Toffee peanuts to fulfill that sweet candy craving! Individual peanuts are tumbled with a sweet buttery candy coating, delivering a deliciously satisfying treat! One tin box, 20 oz.

Saxon Chocolates Snowflake Peppermint Bark
The cutest chocolate snowflakes with a mix of Belgian dark and white chocolate flavored with peppermint and decorated with crushed candy cane. One bag contains three snowflake barks, 2.6 oz.
Rustic Bakery Carol LeValley & Josh Harris started Rustic Bakery on a whim in 2005. The couple found their passion for baking in a simple sourdough flatbread cracker that Carol would whip up for friends. In January 2006, Rustic Bakery showed their wares at the annual Fancy Food Show in San Francisco, where industry buyers discovered the crackers and suddenly every cheese place in America wanted them.

Belmont Peanuts of Southampton, Inc. was launched in 1993 located in Southampton County, Virginia also known as the "Heart of Peanut Country". The Marks Family, owners and operators of Belmont Peanuts of Southampton, have been in agribusiness for many generations. Their philosophy and commitment at Belmont, is to promote and provide the freshest, most delicious, hand cooked Virginia gourmet peanut and peanut products on the market.

Saxon Chocolates
Started in 1994 by Johan De Greef by making chocolates in his home kitchen. In 1995, their first chocolate dipped spoon was the product that started it all! Saxon Chocolates achieves gold status in 2012, on its 3rd party HACCP audit, a certification held in every year since.