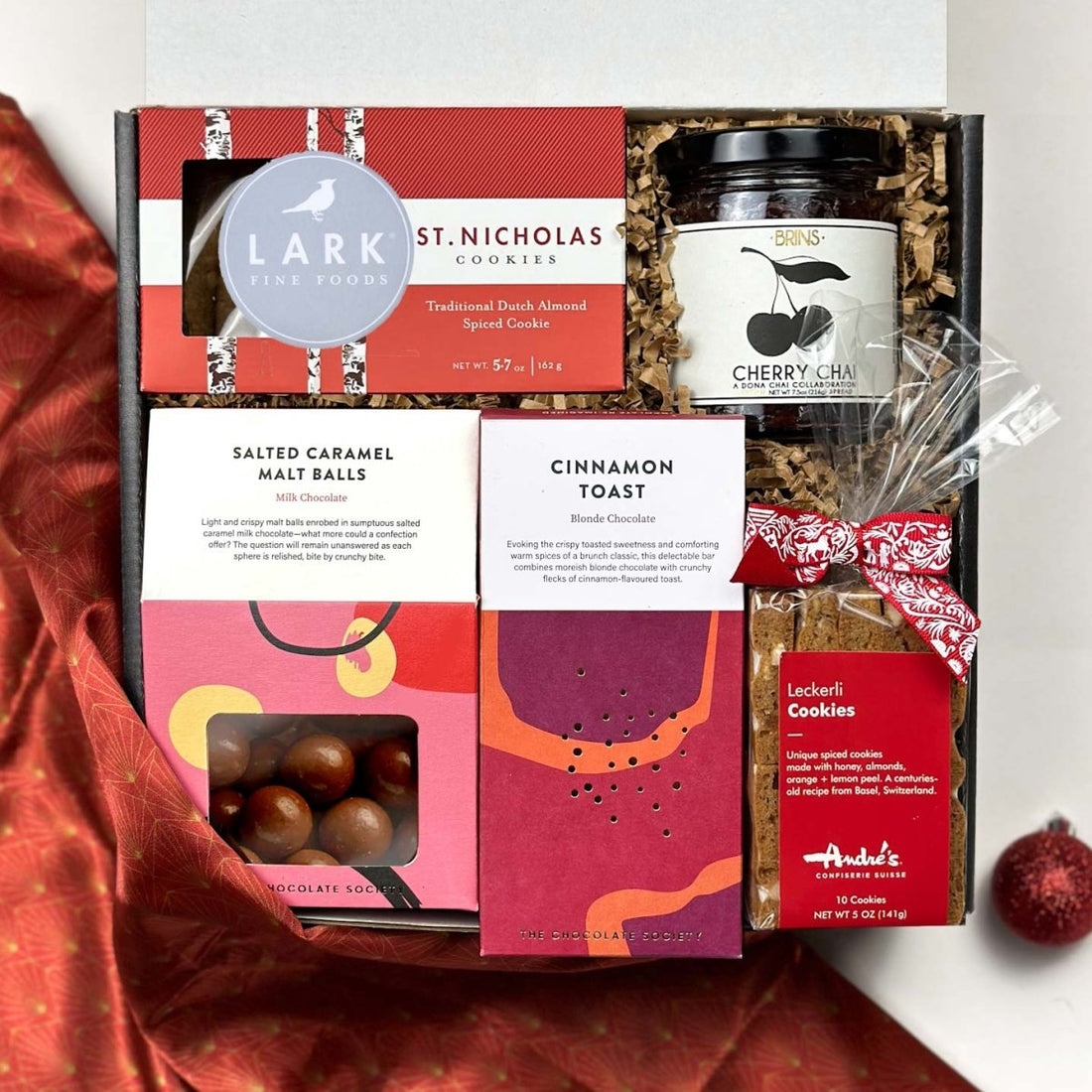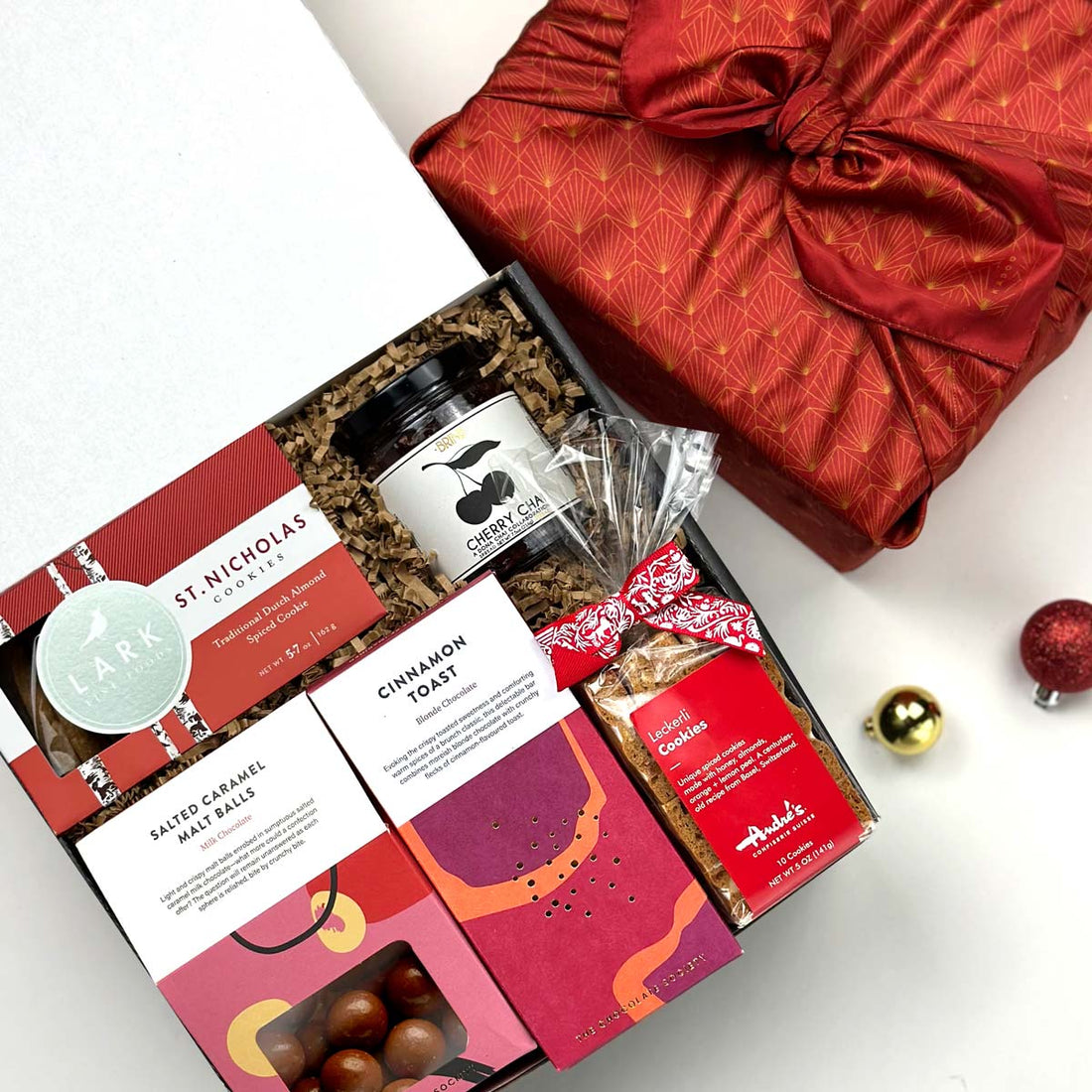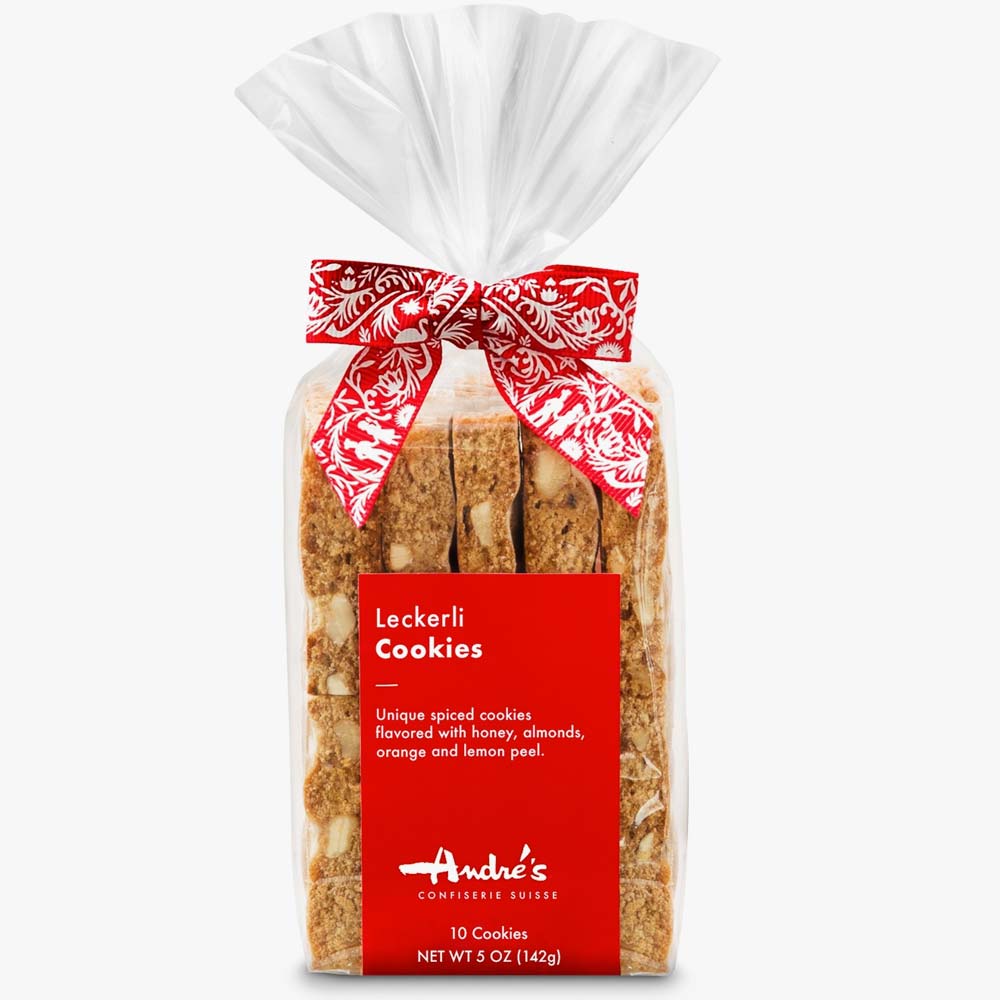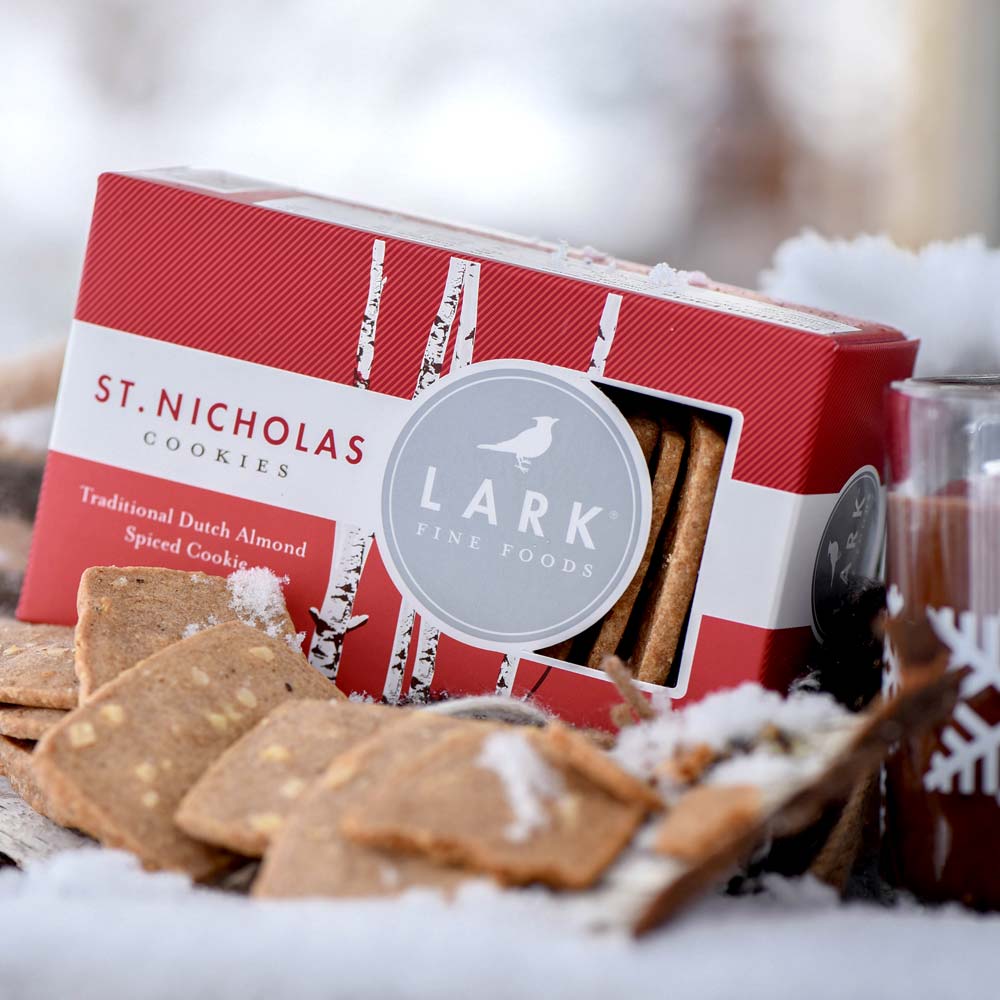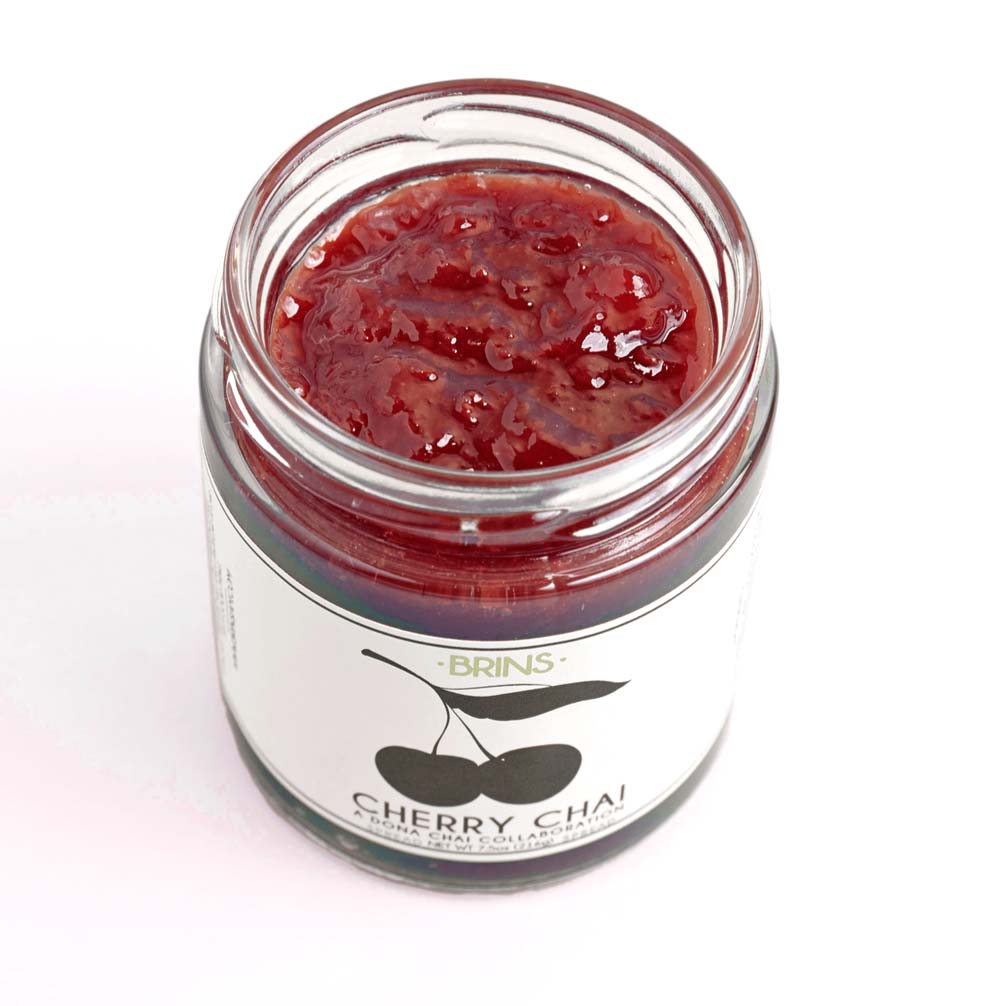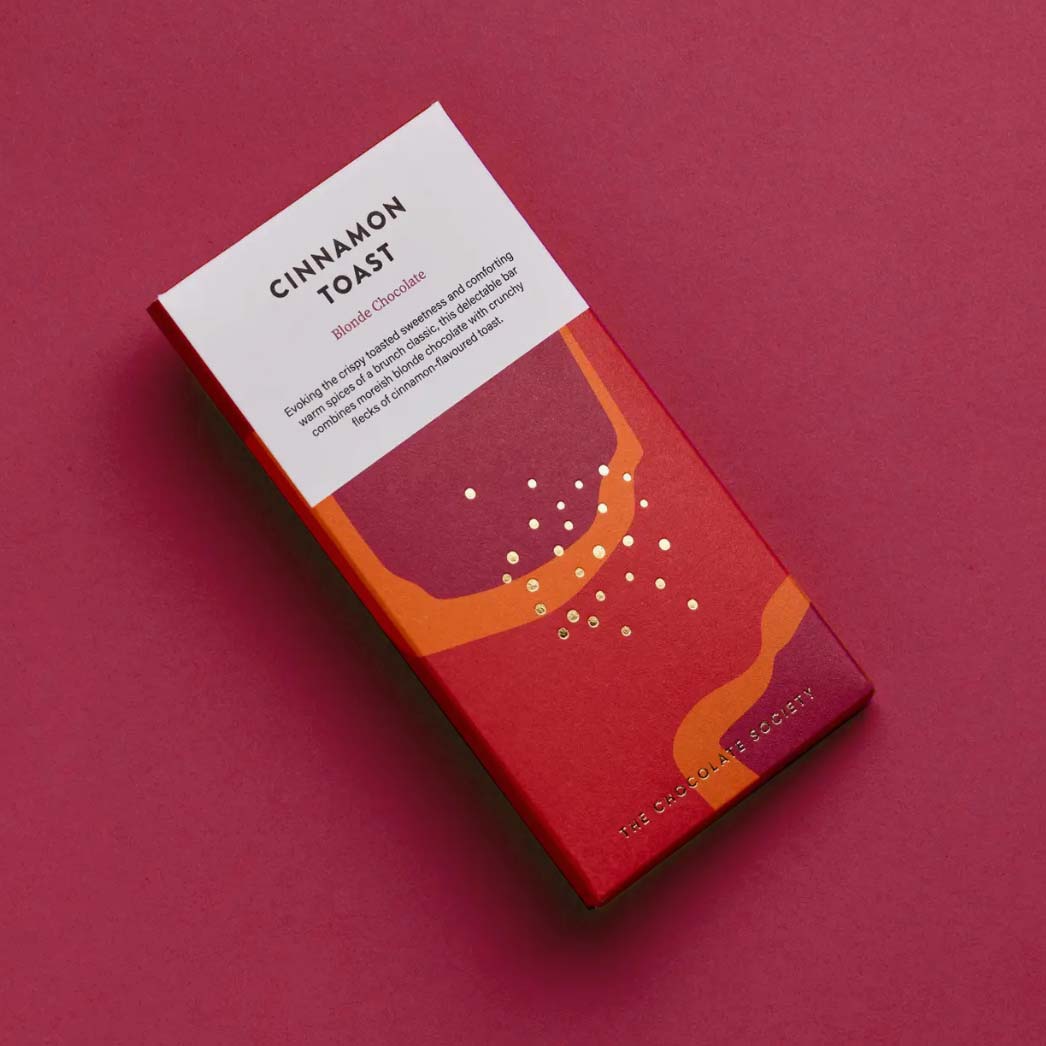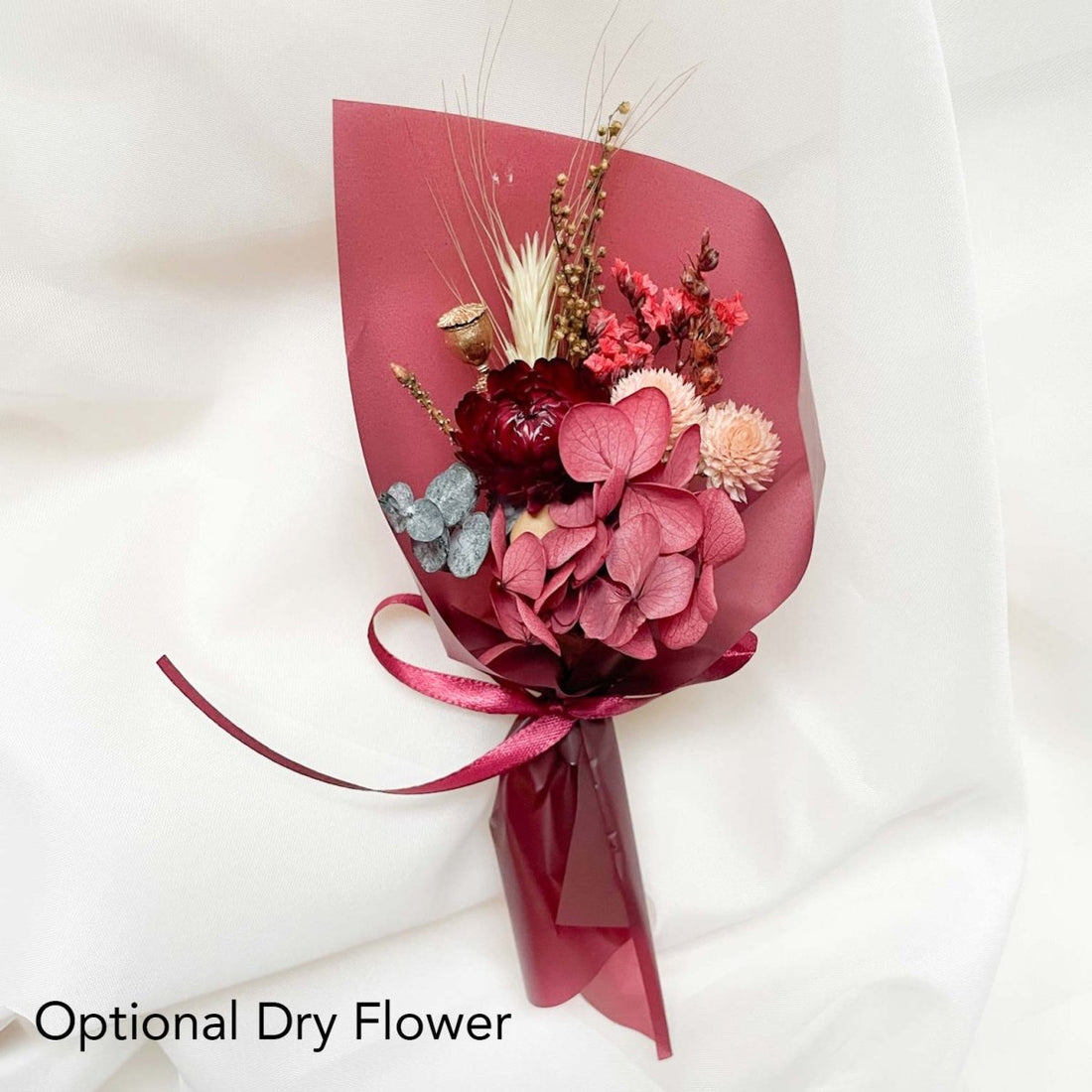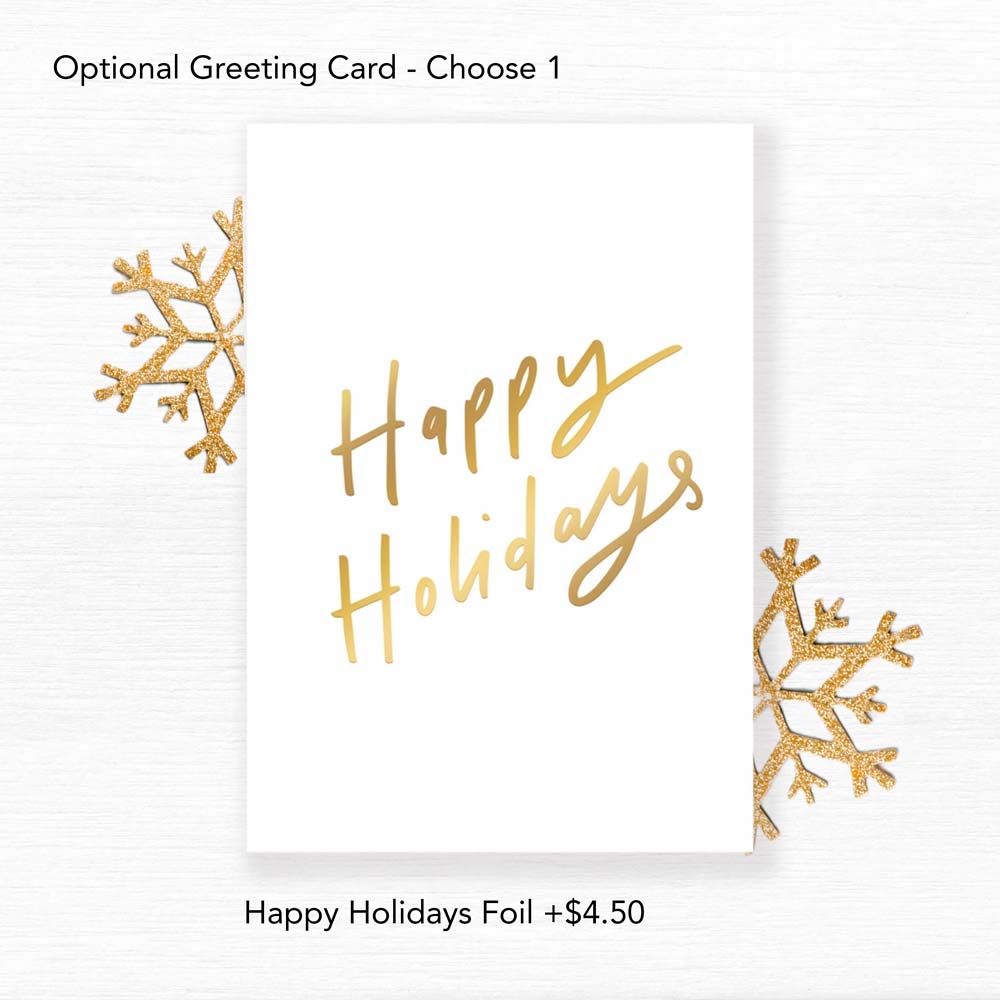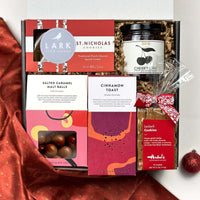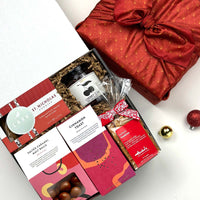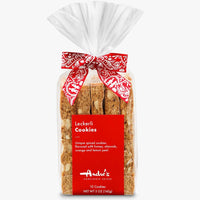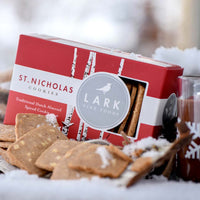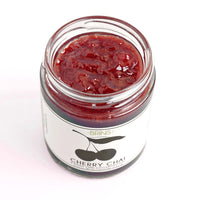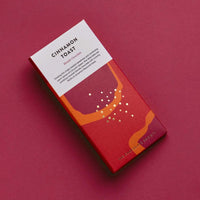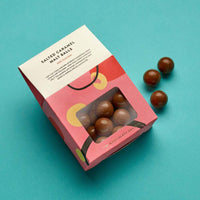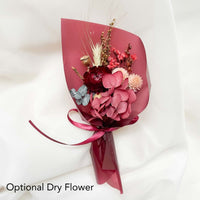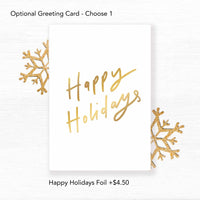 Holiday Cheers Curated Gift Box
*SOLD OUT*
Welcome to the perfect holiday gift box for any cookie and sweets lover - the KADOO Holiday Cheers Gift Box! This festive box is packed with traditional spiced cookies, a decadent chocolate bar, mouth-watering salted caramels malt balls, and a jar of delightful cherry chai jam preserve. What makes this holiday gift box even more special is the reusable furoshiki fabric that it's wrapped in. Not only is it eco-friendly, but it adds an extra touch of elegance to your gift-giving.

Featuring:
Gourmet Swiss-style Leckerli Cookies from Andre's Chocolates.
Dutch Almond Spiced Cookies from Lark Fine Food.
Cherry Chai Jam Spread from Brins X Dona Chai.
Light 'n' crispy Salted Caramel Malt Balls from Chocolate Society.
Cinnamon Toast Chocolate Bar from Chocolate Society.
A Furoshiki wrap made from 100% cotton, designed for multiple uses.
Your personalized message on a complimentary KADOO notecard or

 

choose to add an optional 'Happy Holidays' festive greeting card in foil gold.

An option to add

 

a delicate arrangement of dried flowers by Smitten Blooms, thoughtfully enclosed within a secure kraft box.
Leckerli Cookies by Andre's Chocolates. These unique spiced cookies are made with honey, almonds, orange and lemon peel. Made using a centuries-old recipe from Basel, Switzerland. No peanuts. No preservatives. No gluten. No sodium. No cholesterol. Low fat. No dairy.

Cherry Chai Spread and Preserve by Brins. Tart, bright local New York sour cherries are bathed in the warming spices cinnamon, cardamon, and ginger of traditional chai.

Saint Nicholas Traditional Dutch Almond Spiced Cookies by Lark Fine Food. Crisp and buttery with a distinctive blend of warm winter spices and a splash of brandy, Lark's St. Nicholas cookie is fragrant with a delicate snap.

Salted Caramel Malt Balls by The Chocolate Society.
Light and crispy malt balls enrobed in sumptuous salted caramel milk chocolate.

Cinnamon Toast Chocolate Bar by The Chocolate Society. Evoking the crispy toasted sweetness and comforting warm spices of a brunch classic, this delectable bar combines blonde chocolate with crunchy flecks of cinnamon-flavoured toast.



Andre's Chocolates – a three generations of Swiss confiseurs have made André's one of America's premier chocolatiers. Handcrafted using old-world methods, classic recipes and pure ingredients to create distinctive chocolate experiences with a dedication to tradition, innovation and excellence. Whether it's creamy milk chocolate, rich dark chocolate, or a variety of our gourmet Swiss-style confections, you can taste the superior quality in everything we create. Women-Owned.

BRINS was founded by Candice Ross, an architect who traveled extensively in Asia, Europe & Middle East. She found herself tirelessly wandering the spice markets & souks; exploring each culture through its oldest flavors.
Her mission when starting BRINS was to marry the highest quality spices & favorite fruits to build the perfect "space," one balanced with the comfort of familiarity & excitement of a new experience. To her preserving is architecture at its core: the meeting of science, craft & emotion. BRINS is a cajun french word that means "little bit"; a nod to her Louisiana Cajun French home, heritage & a small way to share home. Women-Owned.

Lark Fine Foods was founded in 2008. A 100% woman-owned and operated specialty foods company located north of Boston in historic Essex, Massachusetts. Distinctive line of baked goods and specialty items inspired by "grown-up" consumers with sophisticated tastes–where every bite excites the senses with flavor combinations that are sometimes unexpected, but always delicious! Their unique recipes include only premium, natural ingredients (sourced locally whenever possible) that adhere to non-GMO and kosher standards. Women-Owned.

The Chocolate Society was established in 1991. Small batch chocolates made in rural Somerse, UK by a talented team of artisan chocolatiers. For every kilogram of chocolate we sell, we donate £0.20 to social causes in the cocoa growing regions of Colombia.